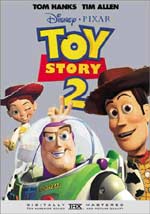 Toy Story 2


- for not containing material to warrant a higher rating.
Director:
John Lasseter
Starring:
voices of Tom Hanks, Tim Allen
Running Time:
1 hour, 32 minutes
Plot Summary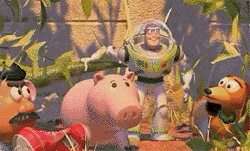 In a desperate rescue attempt by Woody to save a toy friend who's about to be sold at a yard sale, Woody accidentally lands in the hands of a toy collector who takes Woody into his possession. As Buzz forms another rescue team to this time rescue Woody, Woody meets some new friends from his era and soon is faced with an important decision. Should Woody go back to his loving owner Andy or stay with his new found friends who he fits in with?
Film Review
Still searching for "the perfect movie?" Don't think they can make a good, wholesome family movie these days? Well, Disney and Pixar have proven it can be done. Wait no longer, look no further, and hold onto your cowboy hats, because Toy Story 2 is the answer to our theatrical prayers.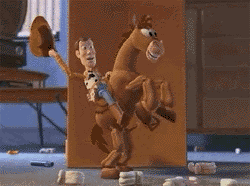 Woody and Buzz return, as do all of the original cast from 1995's first installment. The computer animation is crisper, smoother, clearer, cooler. The jokes are funnier, the plot even more clever, and the characters even more lovable. Despite its ingenious, engaging plot, the creators throw the crowd some extra tasty pop culture jokes with references to Jurassic Park and Star Wars (Empire Strikes Back).
It's nice to see each main character getting more screen time and given more of a personality. In the first movie, we saw the vulnerability of Buzz and the jealousy of Woody, while in Toy Story 2, we get to see the group more as a team and as friends, which made it more enjoyable as a whole. Also, we're treated to some brand new characters that fit right at home with the gang: Jessie the cowgirl and Bullseye, Woody's trusty steed. They're great additions to an already stellar team of characters.
With a lot of fun, a pro-friendship message, and a whole new look at old toys and how they "feel," Toy Story 2 pulls at the heartstrings maybe even a little more than the first. After the film, you'll probably feel the need to hug your dusty old Winnie the Pooh or whip out your war-torn G.I. Joe's from the cold, dark, dusty corners of your attic. (Talk about a guilt trip!)
In summary, the movie is fantastic, and one of the few examples of when a sequel just may top the original. Toy Story 2 is good family entertainment and I recommend it to everyone.
-
John DiBiase
(Reviewed: 11/28/99; Updated slightly: 6/25/19)
Parental Guide: Content Summary

Sex/Nudity
: None.

Vulgarity/Language
: None.

Alcohol/Drugs
: None.

Blood/Gore
: None.

Violence
: Few explosions, Woody's arm rips a couple times. A toy punches another toy. Some toys wrestle, etc...
Disclaimer: All reviews are based solely on the opinions of the reviewer. Most reviews are rated on how the reviewer enjoyed the film overall, not exclusively on content. However, if the content really affects the reviewer's opinion and experience of the film, it will definitely affect the reviewer's overall rating.
To find out why we don't typically review R-rated movies,
click here