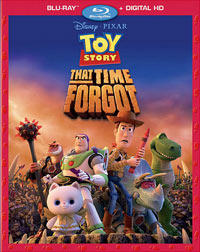 Toy Story That Time Forgot

Director:
Steve Purcell
Starring:
voices of Tom Hanks, Tim Allen, Kristen Schaal, Kevin McKidd, Wallace Shawn, Emily Hahn, Steve Purcell
Running Time:
22 minutes
Television Release Date:
December 2, 2014
Blu-Ray Release Date:
November 3, 2015 (
Amazon.com
)
Plot Summary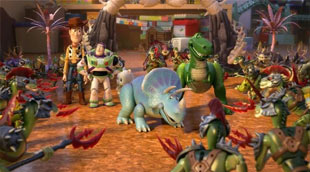 Disney/Pixar proudly presents a hilarious new animated adventure, TOY STORY THAT TIME FORGOT, Join Woody (Tom Hanks), Buzz (Tim Allen) and the gang for an unforgettable tale packed with family fun and a must-have for every Pixar fan's collection! During one of Bonnie's post-Christmas play dates, the "Toy Story" crew find themselves in uncharted territory when the coolest set of action figures ever turn out to be dangerously delusional. It's all up to Trixie, the triceratops, if the gang hopes to ever return to Bonnie's room. (from Walt Disney Pictures)
Film Review
As the world waits for the 2018 release of Toy Story 4, Pixar and Disney have released a few post-Toy Story 3 shorts, as Andy's toys now reside under the ownership of a little girl named Bonnie. The first three of these new adventures were just 5 or 6 minutes in length, with the toys putting on a "Hawaiian Vacation" for Ken and Barbie, having a scuffle with fast food kids meal toys in "Small Fry," and Rex having a party in the bath tub in "Partysaurus Rex." The toy adventures got an upgrade in 2013 with their first television special, Toy Story of Terror!, a 22-minute Halloween special. For 2014, Toy Story That Time Forgot served as a Christmas special, taking place a mere two days after Christmas when Bonnie takes Woody, Buzz, Trixie, Rex and a kitty ornament to her cousin Mason's house for playtime. However, Mason also got a new game system called Optimum X that has seized his attention, leaving his brand new complete set of Battlesaurs completely unplayed with. The prehistoric figures have no idea they're toys, so they end up waging war with a few of Bonnie's favorites.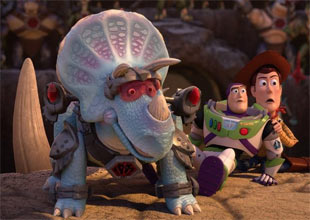 It's a terribly fun concept that reuses Buzz's delusion from the very first 1995 film and not only makes our beloved Story toys fall victim to it, but it introduces a new array of characters that harken back to the battle toys of the 1980s. The Battlesaurs have a bit of that He-Man / Inhumanoids feel to them, and it's pretty fun to see the larger-than-life, gladiator-style hero Reptillus fall for the more unassuming Trixie. Much to the surprise of the viewer, I'm sure, Trixie is the star here. Much like how Rex was the center of "Partysaurus Rex" (as he deserves to be), Trixie is in the spotlight here, finding a whole race of dinosaurs who are ready to accept her and Rex into their tribe. This, of course, puts our previous heroes Woody and Buzz in the crosshairs.
The relationship between Trixie and Reptillus is also pretty front-and-center, and the relationship is also a bit on fast-forward considering how much story has to happen in such a short amount of time. The filmmakers only have 20 minutes to tell the story, as opposed to previous hour-and-a-half features that were in the theater. If I had anything to compare it to, I'd liken it to the whirlwind romance of Ken and Barbie in Toy Story 3. Aside from the fact that we're expected to not overthink the fact that one child received an entire toy collection for Christmas--AND the latest game system--at today's retail prices, one might be surprised at how little of a fight Woody and Buzz put up near the climax of the film that has them nearly meeting their doom. The arena fight is a whole lot of fun, but when they're marched to "the pit" (a fan under a floor grate) to be executed, they just let themselves be carried there by their ankles.
But any criticisms are really minor. I found myself thoroughly enjoying the tale, especially when Trixie found herself having to convince Reptillus to help her save her friends. There are just a lot of great moments in such a short amount of time. And a lot of the story's enjoyment has to do with just getting to see these characters in action once again. Hopefully we'll see them again a few more times before 2018.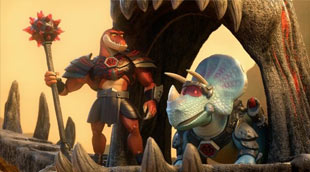 The content is on par with any Toy Story, but the battle arena is certainly one of the more tense moments. Two little toys get throttled by Reptillus' battle staff, with one "Little People" style figure falling apart as it flies through the air, and a little penguin getting decapitated. Finally, a "sock ape" has its arm ripped off and when it falls off the arena platform, we see stuffing fly through the air. However, later we see the plush toy with a battle arm in place of the arm that had been ripped off.
I love the Toy Story films. While I had high hopes for a good entry with Toy Story That Time Forgot, I found it to exceed my expectations. Fans of the series or the characters won't want to miss this latest adventure!
-
John DiBiase
(reviewed: 11/1/15)
Blu-Ray Special Features Review
Toy Story That Time Forgot
is available on DVD or in a Blu-Ray/Digital HD pack. Along with the short film are the following extras:
Reptillus (10:51) - This featurette focuses on the new character of Reptillus, voiced by actor Kevin McKidd (Percy Jackson and the Lightning Thief). It discusses how they came up with a whole back story for him and the rest of the Battlesaurs. We also hear from McKidd himself about his experience, and how he even recorded his lines with Kristen Schaal, who voiced Trixie.
Toy Story Goes to Comic-Con (3:39) shows the director and some of his team, including actress Kristen Schaal, going to Comic-Con to help promote the new episode. They also talk about their own personal histories of having been to Comic-Con in past years.
Battlesaurs Animated Opening (0:50) - This is a 2D animated cartoon in the style of opening credits for a TV show. It uses the Battlesaurs theme song and the characters to mimic the old school 80's cartoons series opening credits.
Karaoke: My Unexpected Friend (3:59) - This is a ballad sung by Reptillus which you can listen to with him singing or as just music for you to sing along to.
Deleted Scenes (9:25) - There are 5 deleted scenes with director introductions for each one (explaining why stuff was cut). All of the deleted scenes are shown in unfinished, storyboard form. The voices for these scenes are also just "scratch vocals," not the official actors for the characters. The first scene is an alternate opening which has the Battlesaurs theme song and here we see Bonnie's toys watching the show on TV. We also learn here that Trixie was already a fan of the show before she meets the toys at Mason's house. The second scene shows Woody and Buzz locked in a cage and meeting toys who were previously in the battle arena before. There's then a deleted subplot of Woody and Buzz going on a mission to try to get Bonnie's attention (who's playing games with Mason). Next, Trixie is out with Reptillus trying to find Woody and Buzz when they encounter the sock ape. Finally, there's deleted footage from the play scene at the end between Bonnie and Mason.
-
John DiBiase
,
(reviewed: 11/1/15)
Disclaimer: All reviews are based solely on the opinions of the reviewer. Most reviews are rated on how the reviewer enjoyed the film overall, not exclusively on content. However, if the content really affects the reviewer's opinion and experience of the film, it will definitely affect the reviewer's overall rating.
To find out why we don't typically review R-rated movies,
click here