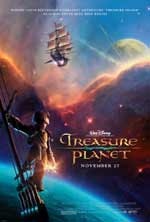 Treasure Planet


- for adventure action and peril.
Director:
Ron Clements, John Musker
Starring:
voices of Joseph Gordon-Levitt, Brian Murray, Martin Short
Running Time:
1 hour, 35 minutes
Plot Summary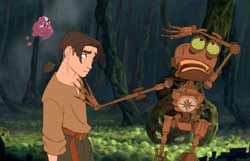 A futuristic twist on Robert Louis Stevenson's Treasure Island, the film that follows Jim's fantastic journey across the universe as a cabin boy aboard a majestic space galeon. Befriended by the ship's charismatic cyborg cook, John Silver, Jim blossoms under the guidance and shows the makings of a fine shipmate as he and the alien crew battle a supernova, a black hole, and a ferocious space storm. But even greater dangers lie ahead...
Film Review
I saw the teaser trailer for this film multiple times and it failed to get my attention in the slightest. I wasn't really aware that it was a new spin on Treasure Island and the long haired surfing teen in a futuristic setting just looked like a poor teen flick. Boy was I wrong!
I wrote off Treasure Planet with little consideration for ever seeing it. So when my fiance' Amy suggested it, I wasn't too excited about the movie but decided to go for it. I was thoroughly and completely impressed with what I saw. The characters were fleshed out really well with feeling and personalities all quite realistic. Disney tossed in plenty of comic relief to balance the sometimes hard drama between Hawkins and Silver or the mutinous crew about the ship. Dr. Doppler, brilliantly voiced by they talented David Hyde Pierce (most known for his work on the TV show Frasier as Niles Crane), is the film's first real dose of comedy but once Silver's little friend Morph -- a shape-changing pink blob -- is introduced, his adorable and funny presence steals the show. But as if that weren't enough, Disney pulls out all the stops for a robot called B.E.N., voiced by comedian Martin Short, that totally left us in stitches. For those who were enjoying the almost exclusive action/adventure side minus the frequent funnies offered by B.E.N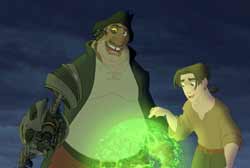 might be disappointed by his presence, but I found him to be my favorite character alongside Morph.
There isn't much I didn't like about this film. In fact, I can't really place my finger on anything out of place or missing. According to production notes, this film has been in plans for over four years and its end result shows. The animation is beautiful and expressive, and just the right amount of computer animation was utilized to enhance camera angles or effects. While I enjoyed certain aspects of last year's Atlantis, Treasure Planet truly puts that film to shame.
In closing, I just have to say Treasure Planet really impressed me. It's better than I expected in every way and I see no problem in recommending it to almost everyone. One warning is it can be intense and a little violent at times, but nothing Disney hasn't offered before. Check it out. You may be as pleasantly surprised as we were.
-
John DiBiase
,
(reviewed: 12/2/02)
Parental Guide: Content Summary

Sex/Nudity
: None.

Vulgarity/Language
: None.

Alcohol/Drugs
: None.

Blood/Gore
: None.

Violence
: An assortment of non-graphic adventure-related violence.
Disclaimer: All reviews are based solely on the opinions of the reviewer. Most reviews are rated on how the reviewer enjoyed the film overall, not exclusively on content. However, if the content really affects the reviewer's opinion and experience of the film, it will definitely affect the reviewer's overall rating.
To find out why we don't typically review R-rated movies,
click here