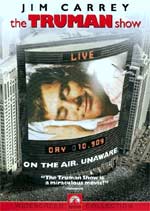 The Truman Show


- for thematic elements and mild language.
Director:
Peter Weir
Starring:
Jim Carrey , Laura Linney, Ed Harris
Running Time:
1 hour, 43 minutes
Plot Summary
Ever Wonder if people are watching you? For Truman Burbank (Jim Carrey), a "wonder" becomes reality. One day, as Truman goes about his daily business, a TV Show set light falls from the sky,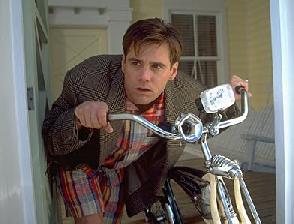 and Truman begins to wonder what this could possibly mean. For the 30 years of his life, Truman has had each day broadcasted live on national television in what is known as The Truman Show- the world's most popular television show. There were restaurants & bars based on the show where people could go and watch the show anytime. You could even order anything you see in the show through the "Truman Catalog." But Truman never knew he lived inside a huge dome where the "Sea haven" set was & that everything that went on in the show was staged. But once Truman sees his dad on the street, who had supposedly drowned in a boating accident, he starts to wonder what is going on & memories of bizarre events resurface. He could never forget a girl he met when he was young who he fell in love with & she felt the same, but she wasn't "allowed" to associate with him because it wasn't written into the show. And as they tried to meet alone on the beach, she was taken away by her acting father as she tried to tell Truman his life was a TV show. Later Truman marries, but he never forgets his first love, Sylvia. As things get weirder and weirder for Truman Burbank, the creator, Christof, and his crew try to control Truman's suspicion that the world revolves around him & everyone is just playing. He knows he must escape and find out.
Film Review
The Truman Show is possibly the best film of 1998 so far. Aside from it having one of my favorite actors in it (and playing a clean role?!), the film features a great plot and great acting. The whole idea that a man adopts a child and decides to film him everyday of his life without him knowing it is a really clever idea for a movie. I'm sure everyone at times has felt like their life is being watched my millions, so to have a movie that sort of plays on that paranoia is fun.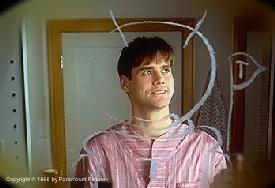 Since Carrey always seems to play an underdog in his films, he fits well in this role and it helps you to feel sorry for him because of his life being controlled and manipulated as TV entertainment. A little note to any Jim Carrey fans: this isn't the Jim Carrey you know. Expect a more dramatic role unlike any other of his previous roles! But although dramatic, Carrey is still himself and still manages to be funny although appearing more subdued here. But the biggest applause goes to the fact that the movie is clean and without innuendo. A first for Jim Carrey? Let's see more, Jim!
As far as the content goes... it's funny, it's dramatic, it's weird, it's freaky, it's different. Different is good, right? In this case, indeed it is. While rated PG, the movie doesn't show any sex in it, has a little violence, has some suspense, is funny without being crude, and has mild language. This movie's biggest problem is probably language, however, offering about 2 "s" words and an "S.O.B." as well as a few uses of blasphemy. Not too bad, but the language could have been better. It felt really unneeded for this kind of movie. For that reason, it doesn't score a higher star rating. But this movie does make you think. It's very thought-provoking, as it makes me wonder what some of the parallels and metaphors mean. For instance, the creator of Truman's world, who is kind of a self-centered ego maniac is a man named "Christof." How are we to interpret this? Is it pro or anti-Christian (Is he just the "Christ of" Truman's world? Or is this an intentional dig on Christianity?) Unfortunately, I think you, as the viewer, need to be the judge.
I do recommend this film, however it's not really a kids movie. They may get bored at times due to its more adult theme and slow pacing, and they may get lost in the plot-- and may not pick up on some of the important, easy-to-miss bits of information thrown in there to aid the story. If you're not a Jim Carrey fan, that's OK, this role may be different enough for you. And if you are a fan, have no fear-- it may be a cleaner, more serious Jim, but still funny.
-
John DiBiase
(reviewed: 6/7/98)
Parental Guide: Content Summary

Sex/Nudity
: No sex (though 1 instance between a married couple is implied). They show infant Truman's bare butt while standing on the beach. We see a man several times as he's watching the show from the bathtub.

Vulgarity/Language
: 2 "s" words, 1 "g*dd*mn," 4 "h*ll," 1 S.O.B., 3 "d*mn," 2 "a" words, 2 "J-sus," 1 "Oh my G-d"

Alcohol/Drugs
: Truman and Marlon have beer together. Truman's friend Marlon often shows up to Truman's house with a 6-pack of beer. People in a bar watching the show have drinks. Two people watching the show have drinks.

Blood/Gore
: None.

Violence
: Nothing severe, although there is a semi-suspenseful ending. Not to give it away, but there is a severe weather storm where someone is almost killed; Truman runs through crowds of people, at times knocking people over accidentally; his father (although fake & just acting) dies drowning in a storm
Disclaimer: All reviews are based solely on the opinions of the reviewer. Most reviews are rated on how the reviewer enjoyed the film overall, not exclusively on content. However, if the content really affects the reviewer's opinion and experience of the film, it will definitely affect the reviewer's overall rating.
To find out why we don't typically review R-rated movies,
click here