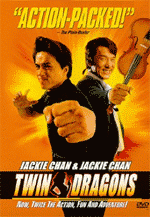 Twin Dragons


- for some shootings, nonstop martial arts violence, and sensuality.
Directors:
Ringo Lam, Hark Tsui
Starring:
Jackie Chan, Maggie Cheung
Running Time:
1 hour, 40 minutes
Plot Summary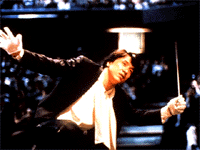 John Ma & Boomer (both Jackie Chan), are identical twins separated at birth and have never met. John Ma is a world famous maestro and pianist while Boomer is a Hong Kong mechanic and martial arts expert. When Boomer and friend Tyson try to rescue Barbara, a new club performer, they find themselves in more trouble than even Jackie Chan can handle. To escape with their lives, they make a race bet, which they lose, and then try to flee to mainland China. In the process, Boomer runs into John Ma, and Tyson gets kidnapped. Things get rough as the brothers have their identities mistaken for each other and problems surface. It becomes up to the brother team to work together to save Tyson.
Film Review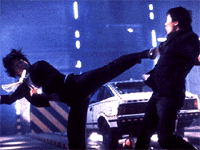 I'm a big Jackie Chan fan. I must come clean. Ever since i saw First Strike on video, I've loved his fast moves and awesome stunts. But most of his films have suffered from corniness. Operation Condor had some of his best stunts, but the support acting was horrible! Mr. Nice Guy had a few cool stunts but the film in itself was pretty bad (trust me, don't rent it! unless you want to sit there and mock it). The acting was just not present and the corniness was at an all-time high. Maybe this is all why I loved last year's Rush Hour so much. It was Jackie's first big-budget American-made film and it rocked! Too bad no one ever thought of hiring him in the U.S. before!
So enter 1992's Japanese-made
Twin Dragons
, Chan's latest theatrical release to the U.S. The corniness is present. The ho-hum plot is there. The fun is there. Although the over-dubbing was lame, as well (at least we had Chan's voice speaking American), the movie is highly enjoyable. When the two Chan's are mistaken for the other and when they are together, the fun is at it's all-time high during the film. The only drawback is that John Ma is a wuss. Boomer fights like "Jackie Chan" while John Ma runs away like "Jackie Chan." The humorous extremes were split between the two Chans. But what really makes this film so good is not the mediocre acting, occasional corniness, lame jokes, or bad over-dubbing, but it's the ending.
In the end battle sequence, Boomer takes on the gangsters at a Car testing site. Chan does everything from just barely escaping a car speeding toward him to fighting in a car wash, to brawling in a steaming heat-testing room.
The language in the film was the worst I've heard in an over-dubbed film yet. There were several "s" words, as well as "S.O.B.s" and an assortment of others. The sexually-related comments & innuendo were the highest in a Japanese film like this that I've seen, too. Nothing was extremely bad, but it wasn't necessary to be in the film. Most of it was used for comic relief. The bulk of nudity-related material comes in the form of a statue and a slight side-view glimpse of Tammy's chest. but nothing major. Also, Boomer, mistake for John Ma, thinks Tammy wants to have sex, and ends up taking off his shirt and jumping into bed with her. Nothing is shown, but it is implied they have sex. Several jokes are played off this scene, as well.
Overall, the movie was good. It's not a great movie for the reasons of the plot, corniness, and over-dubs, but Chan's double presence and awesome stunts make the picture, and in essence, save it. I couldn't give it any lower than 2 and a half, but for the above reasons, couldn't give it any higher. Jackie Chan fans: if you like him, you'll like this movie. And for people who want to be introduced to Chan, rent Rush Hour (but the content of that one makes it a difficult recommendation). If you have any questions about the film before you see it, feel free to contact me. - John DiBiase (reviewed: 3/22/99)
Parental Guide: Content Summary

Sex/Nudity
: There are a few short sexual-related conversations exchanged. We see an extremely brief glimse of the side of Tammy's chest as she climbs into a tub. In one scene, Tammy, thinking it's John Ma, but it's really Boomer, wants him to massage her like in an earlier instance. Boomer takes it as an invitation for sex and leaps into bed with her after taking off his shirt and undoing his pants. We see them in bed together afterwards and Boomer refers to it as a workout.

Vulgarity/Language
: 4 "s" words, 2 "g*dd*mn," 1 "pr*ck," 9 "h*ll," 6 "a" words, 6 "d*mn," 3 S.O.B.s, 1 "cr*p," 1 "b*tch," 1 "b*stard," 1 "Oh G-d," 1 "Oh my G-d"

Alcohol/Drugs
: Several people drink in the film, including Boomer

Blood/Gore
: A gangster during a black & white flashback has a tiny bit of blood on him. When he shoots a couple people, a little bit of blood squirts out. The mob boss has a few minor bloody bandages on. A little bit of blood trickles from John Ma & Boomer's noses simultaneously.

Violence
: Lots of kicking, punching, things blowing up, shootings, people being hit with objects, car crashes, etc.
Disclaimer: All reviews are based solely on the opinions of the reviewer. Most reviews are rated on how the reviewer enjoyed the film overall, not exclusively on content. However, if the content really affects the reviewer's opinion and experience of the film, it will definitely affect the reviewer's overall rating.
To find out why we don't typically review R-rated movies,
click here