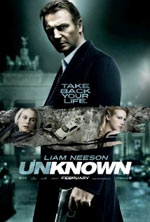 Unknown


- for some intense sequences of violence and action, and brief sexual content.
Director:
Jaume Collet-Serra
Starring:
Liam Neeson, Diane Kruger, January Jones, Aidan Quinn
Running Time:
1 hour, 53 minutes
Theatrical Release Date:
February 18, 2011
Blu-Ray Release Date:
June 21, 2011 (
Amazon.com
)
Official Site
Plot Summary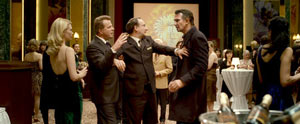 Dr. Martin Harris (Liam Neeson) awakens after a car accident in Berlin to discover that his wife (January Jones) suddenly doesn't recognize him and another man (Aidan Quinn) has assumed his identity. Ignored by disbelieving authorities and hunted by mysterious assassins, he finds himself alone, tired and on the run. Aided by an unlikely ally (Diane Kruger), Martin plunges headlong into a deadly mystery that will force him to question his sanity, his identity, and just how far he's willing to go to uncover the truth. (from MovieWeb.com)
Film Review
Ever since the runaway success of Taken in 2009, where Liam Neeson played a retired government agent who chases down some low lifes in Paris after they kidnap his daughter to sell her into human trafficking, the actor has become somewhat of an action hero. Despite the fact that Neeson will be 59 years old this year, the actor went on to star in action movie The A-Team and fantasy blockbuster Clash Of The Titans (although his role didn't require him to do all that much). Now Neeson returns to a role that looks and feels a lot like Taken, bringing another unlikely "action hero" to Europe in Unknown. This time, he's a doctor of sorts who wakes up from a car accident and finds everyone he knows - even his wife - don't know him at all. What unfolds is a twisting, turning thriller that will have fans of the genre saying, "Hey! That's just like _____ movie!" but will likely still enjoy the film thanks to Neeson's star power.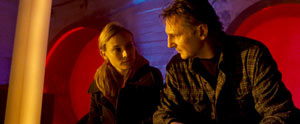 Unknown takes place entirely in Berlin, giving Neeson's Dr. Martin Harris a bit of a fish-out-of-water element, although almost everyone in Germany he comes in contact with just happens to also know just enough (or a lot) of English to communicate with him. His wife, played a bit too woodenly by January Jones (now I know why I haven't seen her in a movie since 2001's Bandits) accompanies him to Berlin for a conference he is supposed to speak at - that is until an unexpected car accident renders him in a short coma and unable to remember everything about himself. When he awakens, he finds his wife insisting she doesn't know him and another man assuming his identity. As this nightmare unfolds in front of him, he seeks out to find the truth about what is happening in this tense thriller.
Neeson was solid as the unassuming action hero in Taken. He played a seemingly weak man who didn't really know how to relate to his family, but he proved to be a much stronger man once his daughter's well-being had been threatened. For Unknown, Neeson's character isn't repeating the same personality or situation, but this time his own way of life is being threatened and he leaps into action accordingly. However, don't expect a non-stop beatdown like Taken turned out to be; Unknown takes its time to develop the characters and story, saving most of the action until the last act of the film. This works just fine, although some may find the pacing too slow, as Neeson keeps the story interesting and the movie slowly reveals its puzzle one piece at a time.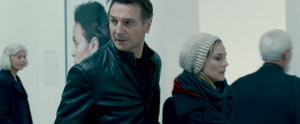 As far as content goes, there is some profanity, but it's surprisingly light for such a film. At least 2 noticeable "s" words are used with a possible 2 others used quickly, while a few uses of "J-sus" and a single "g*dd*mn" accompany a couple other cuss words. Before the violent conclusion to the film, the most cautionary content is seen in quick flashbacks of Martin's memory as he's remembering some romantic encounters with his wife. Later, during an MRI, we see a longer, steamier encounter where Martin and Liz are in the shower together, kissing heavily and nuzzling each other. It goes on kind of uncomfortably long, but no explicit nudity is shown. There's also a scene where Martin and Gina are in her apartment and we hear the sounds of a couple having sex in the room next to Gina's. As we hear the rhymic slamming of the bed against the wall, we briefly hear some pleasured sounds coming from the couple. It causes Martin and Gina to awkwardly laugh about it, but it was entirely unnecessary to include in the movie. When it comes to violence, we see the quick motion of a man snapping a nurse's neck and we see some already dead victims laying on the ground at different times (oftentimes with their eyes wide open in a rather creepy fashion). Another thug is rammed by a car into another car, and we see an explosion happen around someone (who then also dies). Finally, there's a pretty violent one-on-one fight between Martin and another character towards the end of the film that even involves a shard of glass being used like a knife. Although the entire sequence happens in a darkly-lit room, we do see the shard thrust into the villain's neck (with a little blood spurting out) and some blood all over, and dripping from, the shard afterwards. The violence is about on par with Taken or a Bourne film, but it's still rather intense at times.
All in all, I enjoyed the mysterious aspects of Unknown's plot as well as Neeson's acting and teaming with National Treasure's Diane Kruger. Fans of the spy thriller genre or of Neeson in general should enjoy this film, but those sensitive to unoriginal concepts or the feeling they've "seen this before" (as well as violent action films) should probably stay away. It's a well-made thriller but the violence and sensuality are especially enough to warrant caution before choosing to see Unknown.
-
John DiBiase
,
(reviewed: 2/26/11)
Blu-Ray Special Features Review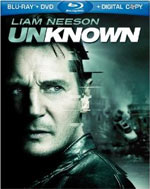 If you've read a few of my Blu-Ray reviews, you've noticed that I seldom ever complain about the quality of the picture in a movie on a Blu-Ray disc. While I have nothing negative to say about Unknown, I feel like it's possible I've begun to get far too used to seeing one crystal clear image after another while watching these HD releases. But the truth is, not all Blu-Ray discs are alike, and some are superior to others. I recently watched a 1998 romantic comedy on Blu that looked frightfully grainy. The color was up to par, but the movie did not look any better than watching a normal DVD otherwise. That same night we watched a 1984 sci-fi film on Blu-Ray. This movie was beautifully clear and vibrant in color -- it looked worlds better than the 1998 film. Why is this the case? Perhaps it's just a differing in the actual film quality that was used to make the movie or the care (or lack thereof) taken in porting the movie over to high definition. With that said, by the time we got around to viewing Unknown in Blu, I was pleasantly impressed with the presentation of this movie. However, I can't say the same for the extras included on the BD.
Liam Neeson: Known Action Hero (4:33) - The first of just two featurettes on the Blu-Ray disc is a very short one dedicated the film's star Liam Neeson and his newfound status as an action hero. For being just under four minutes in length, this video packs lots of on-set footage and interviews into a short amount of time. After Neeson remarks on looking forward to seeing the car crash scene in the finished film, it just reminds me how strange it seems not to have any featurettes dedicated to the film's stuntwork and big set pieces.
Unknown: What Is Known? (4:24) - The second featurette reveals that these two videos are merely promos made for the film, which then explains why some of the footage shown in the first featurette is reused for this one despite each one being very brief. This is another great video, but the lack of more interviews and special effects featurettes make this feel way too thin.
In the end, the Blu-Ray/DVD/Digital Copy Conbo pack is a nice buy for fans of the movie, but the extras are next to none, which is disappointing. After viewing the film a second time, I enjoyed it again, but it's definitely a very edgy thriller with plenty of violent and sensual content to warrant exercising caution before diving into the unknown. Neeson did a great job here and it's enough to have me crossing my fingers in hopes that the actor isn't done with the action genre just yet.
-
John DiBiase
,
(reviewed: 6/19/11)
Parental Guide: Content Summary

Sex/Nudity
: As Martin experiences a few flashbacks, we see very brief shots of Liz and Martin kissing, in the shower together and in bed together. But none of these are explicit; During an MRI, Martin experiences a flashback of being in the shower with Liz. We see them kissing passionately and him nuzzling her neck and kissing her body in front of her and behind her. It's a head-and-shoulders shot but we see no explicit nudity. Still, it's a pretty sensual sequence; While Martin and Gina sit talking in her apartment, we hear her neighbors having sex on the other side of the wall. We hear their bed rhythmically slamming against the wall and some pleasured sounds from the couple, which causes Martin and Gina to awkwardly laugh. He then asks how Gina can tolerate that and she says "He doesn't last very long," to which Martin laughs. A friend of Gina's shows up at the door and sees Martin in the room and Gina rolls her eyes and jokes that she sleeps with every American he sends her way (Nothing at all happens between Martin and Gina); We see Gina in a tank top that shows some cleavage while she's clearly not wearing a bra underneath it; We see a sign on the street that says "Erotik Sex Shop" but don't see inside; Liz shows a little cleavage in an evening gown as well as most of her back is exposed.

Vulgarity/Language
: 4 "s" words, 7 "h*ll," 1 "*ssh*le," 2 "J-sus," 1 "Chr-st," 1 "g*dd*mn," 1 "S.O.B," 1 "d*mn," 3 "G-d," 1 "b-tch"

Alcohol/Drugs
: A man comments that he will make a murder look like just another junkie's death and drops some drug paraphernalia onto the ground; There is some drinking by random characters during the film

Blood/Gore
: Martin has some blood on his head after hitting it against a window during a car accident; We see the quick motion of a man snapping a nurse's neck and she falls to the ground with her eyes wide open and a shocked expression frozen on her face; As Martin's wrist is zip-tied to a hospital gurney, we see his wrist drip blood as he strains to reach something; After a thug is rammed by a car into another car, we see the man's scuffed and slightly bloody face as he lays dead with open eyes on the ground; We see an explosion happen around someone (who then also dies), but it's not graphic; Martin fights a man with a knife and it gets pretty violent, with him and the other man getting pretty bloodied up during the fight. A shard of glass is used like a knife and, although the entire sequence happens in a darkly-lit room, we do see the shard thrust into the villain's neck (with a little spurting out) and some blood all over the shard (and dripping from it) afterwards. We also briefly see a cut sleeve with some blood through it during the fight. Martin then has some blood running from his nose and mouth and on his hands afterwards.

Violence
: A car goes veering off the road into a river, causing a passenger to hit their head and get knocked out. They're then in a coma for a few days; Martin passes out due to shock; A man flips Martin onto a gurney and ties him to it. He then breaks a nurse's neck and leaves the room. He then comes back and hides the nurse's body next to another dead body (we just see their legs). Martin pulls scissors from the dead nurse's pocket, cuts himself free and escapes. He's pursued down the hall by the villain who pushes and shoves people out of the way; We see the video of a failed assassination attempt on the web that shows an explosion but nothing explicit; While Martin showers inside Gina's apartment, the place is raided by two thugs who wrestle Gina to the ground and chase after Martin. We see they've killed a friend of Gina's and just see his dead body lying in the dark. Martin fights one of the men, breaking through a wall into the nearby apartment, and at one point, Martin pushes his thumb into the thug's eye. When the thug has Martin pinned to the floor, Gina sticks a needle that they were going to use on her into the man's neck, killing him; A car chase ends up causing a lot of damage on the street and overturns Martin and Gina's vehicle which then gets hit by a train (after they get out of it) and an SUV slams into a barrier (but the driver is OK); A woman slaps a man in the face; Knowing he's about to be killed, an older man puts a packet of cyanide into a tea cup and drinks it. We then see him choking/coughing and die in another man's arms (he just falls into the man); A man is zapped with a taser in the neck and thrown into a van; A thug punches and beats Martin to the ground. A car then hits the thug several times, rams him into a van and pushes the van off a parking deck. The van explodes, killing a man inside of it, while the man who was initially hit is seen lying dead on the ground; Martin and Gina hit some security people to escape; A person tries to diffuse a bomb which then goes off, killing them and destroying a big section of a hotel building; A man goes after a helpless victim with a knife, but Martin stops the villain and starts a fight with him. The two beat each other up pretty good before the villain nearly strangles Martin to death. Martin then stabs the man in the neck with a shard of glass, killing him.
Disclaimer: All reviews are based solely on the opinions of the reviewer. Most reviews are rated on how the reviewer enjoyed the film overall, not exclusively on content. However, if the content really affects the reviewer's opinion and experience of the film, it will definitely affect the reviewer's overall rating.
To find out why we don't typically review R-rated movies,
click here