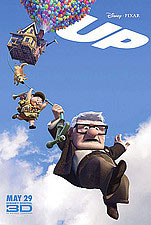 Up


- for some peril and action.
Director:
Pete Doctor
Starring:
voices of Ed Asner, Christopher Plummer, John Ratzenberger, Delroy Lindo, Jordan Nagai
Running Time:
1 hour, 36 minutes
Theatrical Release Date:
May 29, 2009
Official Site
Plot Summary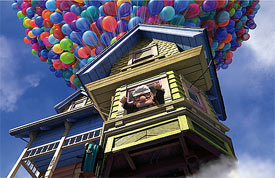 From the Academy Award®-nominated team of director Pete Docter ("Monsters, Inc.") and co-director Bob Peterson comes "Up", a comedic adventure taking off (and lifting spirits) in summer 2009. Carl Fredricksen spent his entire life dreaming of exploring the globe and experiencing life to its fullest. But at age 78, life seems to have passed him by, until a twist of fate (and a persistent 8-year old Junior Wilderness Explorer named Russell) gives him a new lease on life. "Up" takes audiences on a thrilling journey where the unlikely pair encounter wild terrain, unexpected villains and jungle creatures. When seeking adventure next summer – look "Up". (from MovieWeb.com)
Film Review
Pixar Animation Studio has made a name for themselves through making quality and often complex animated feature films (and shorts) since their first feature-length movie, Toy Story, in 1995. Last year, Pixar wowed critics and audiences alike with Wall-E, the unique tale about a garbage collecting robot on a post-apocalyptic Earth that falls in love with a visiting robot and finds adventure on a glorified yacht-like spaceship. Pixar's latest feature film, Up, is hardly simpler as it follows an elderly man on an adventure through the sky.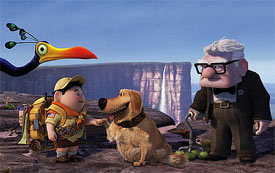 It's tough to dig into talking about Up without giving away much of the story. So if you rather know as little as possible, you should probably just skip to the last paragraph now. But with Up, the story goes a lot deeper than most animated films do. Yes, it's still funny and entertaining, but Up aims at the heart and hits its mark really early on. We meet Carl Fredricksen at a young age and are introduced to his shy demeanor and fascination with adventure and exploring. We see him meet an outgoing tomboy girl named Ellie who helps break Carl out of his shell a little bit, and from there, we're treated to a beautiful and emotional montage through the couple's entire life together -- even until Ellie's passing. After the montage, we see Carl as we're expecting him to be... a lonely and rather grumpy old man. The film's trailers and commercials don't go into too much detail about Carl's story, so to have his backstory grounded in such heartwrenching reality may be more than some viewers are bargaining for in an animated flick like this. If you want fluffy entertainment, Up isn't really it.
Up has the look and feel of a classic film. It feels rather original from top to bottom -- which is especially tough to accomplish these days -- and Ed Asner (who many these days may recognize as having played Santa Claus in Will Ferrell's Christmas pic, Elf) brings a lot through his voice to Carl Fredricksen. Carl is grouchy but likable, and it's easy to be able to relate to the man after we know all he's been through and what he has lost. Up is a bit of a reality check because of how much the characters themselves are grounded in reality. The brief montage through Carl and Ellie's life reveals all kinds of realistic experiences (Spoiler: from hinting at a miscarriage to things like sacrificing what they want to do because of sickness or finances). Carl's unwanted companion, a little boy scout named Russell, also happens to come from a broken home where he lacks a father figure and the pair end up helping each other out a great deal. So through the drama, which can be a bit heavy at times, it's the kind of story and the kind of material that often feels more sculpted for adults than children, yet there's still some adventure there for the young ones to enjoy.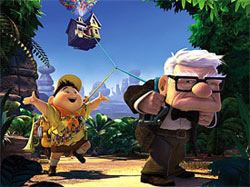 Once Carl inevitably lifts his house into the air via a swarm of helium-filled balloons, the film itself gets a bit lighter in mood and tone. There are some intense moments when our heroes encounter a pack of vicious dogs (who can also fly airplanes?!), and then we meet the film's villain, so it kind of adds a little to the feeling this isn't the best film for all younger viewers (taking the aforementioned dramatic and potentially boring moments for the kids). Content is squeaky clean, except for two brief moments where we actually see some blood -- which comes as quite the surprise. It adds more to the realistic tone Up strives for as well. The first instance is when, out of justified frustration, Carl whacks a truck driver who just broke his mailbox on the head with his walking stick. The man falls and is stunned but seems okay for the most part, but we see a patch of blood on the man's forehead. Later, after a bird is attacked by a dog, we see some blood through a bandage on its leg.
Visually, Up is yet another masterpiece of artwork from Pixar. Thematically and when it comes to its story, the animation studio has once again achieved something incredible. However, at the same time, I felt like it's a movie I can't really see myself wanting to revisit over and over again. The story does have a timeless quality, but if the viewer is looking for something a little lighter in tone for their entertainment, Up may not be the best choice. It's a fantastic film that exercises a great deal of creativity and displays warmth and heart in spades. Fans of film in general - even if they don't generally like animated movies - will do well to check out Up. But if you're looking for a distraction from the realities of life and maybe something a little more upbeat, you may be surprised to find that Up will keep you more grounded than you'd expect.
-
John DiBiase
,
(reviewed: 6/1/09)
Parental Guide: Content Summary

Sex/Nudity
: None.

Vulgarity/Language
: None.

Alcohol/Drugs
: None.

Blood/Gore
: Carl hits a man on the head with his walking stick and it leaves a bloody wound on the man's head; A bird is attacked by a dog, and after its leg is wrapped up, we see some blood soaked through the bandages.

Violence
: Young Carl accidentally falls through a broken roof and breaks his arm; A storm threatens to destroy the flying house; We see a large animal which threatens Carl, but it doesn't harm him; A pack of dogs threaten an animal as well as Carl and Russell. They chase them; A man throws a lantern under the house and causes part of it to catch on fire; A person is tied to a chair and almost falls out (from a significant height); A man swings a sword at another man; We see some dogs fall off a cliff into water below; Dogs chase another dog; A man tries to catch another man but falls off of an airship (presumably to his death); We see dogs flying airplanes and firing darts like bullets.
Disclaimer: All reviews are based solely on the opinions of the reviewer. Most reviews are rated on how the reviewer enjoyed the film overall, not exclusively on content. However, if the content really affects the reviewer's opinion and experience of the film, it will definitely affect the reviewer's overall rating.
To find out why we don't typically review R-rated movies,
click here