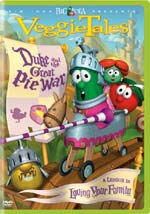 VeggieTales: Duke and the Great Pie War

Company:
Big Idea Productions
Release Date:
March 5, 2005
Running Time:
45 minutes
Buy It:
Jesusfreakhideout Store
Official Site
Plot Summary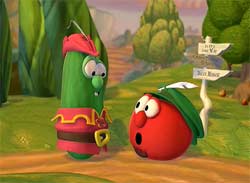 When the armies of Rhubarb go to battle against the Kingdom of Scone, the Great Pie War breaks out and things get really messy! Sweet Petunia, a charming young rhubarb, is forced to flee her homeland and live in a tree stump in a foreign land! When the Duke (Larry the Cucumber) learns of the Princess's plight, he risks his life to help her and learns that true love means thinking of others first.
Film Review
In August, Sumo of the Opera, the latest in the VeggieTales series released, a clever twist of cultures that brought sumo wrestling and Rocky together in a way I don't think anyone -- especially not Sylvester Stallone -- could ever dream of. The outcome was somewhat mixed and ultimately didn't quite leave the lasting impression so many of the series' other stories have through the years. Their latest adventure, Duke and the Great Pie War remedies any problems Sumo may have possessed.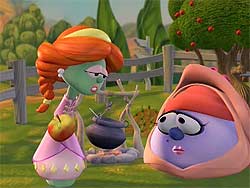 The story opens with Larry and Bob greeting their viewers from their familiar kitchen counter top. This is where Bob addresses a fan's concern of sibling envy when an older sibling must deal with the excessive attention a new, younger sibling suddenly receives. The fan's concern over their loss of attention leads Larry to recollect his experience with his three brothers... a small bit of information that sends Bob into a tizzy as he realizes his best friend has never shared this detail with him. All of this is a cute setup for the episode's first story, "Baby Sitter In De-Nile," a retelling of the Biblical tale of Miriam and Moses. Here, Moses appears as just a baby carrot with Miriam struggling with having to care for him. The story unfolds in classic VeggieTales fashion and is just priceless.
Larry sings the blues in the latest silly song, which manages to successfully work a cookie, an ice cream pop, and a strudel into his comical attempt at the style. Finally, the title story follows, driving home the theme of loving your family. Through the quirky storytelling that only VeggieTales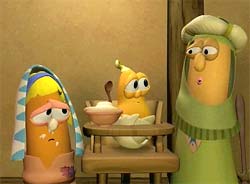 can do, the lovable vegetables are transported to a sort of medieval time during the great "pie war" of its time. Larry the Cucumber plays Duke Duke, a young knight in training, who helps the rhubarb Sweet Petunia despite his people's intolerance for the rhubarb kind. The story climaxes when Duke must challenge Petunia's brother to a jousting match and... well, you can only imagine how that might go!
I was heartily impressed with the episode's outcome and presentation. Sometimes when stories and films try to push the pro-family message - although important, especially today - it's often either too heavy-handed or too sappy and silly. Instead, the Big Idea team did a nice job modernizing the Biblical stories for today's kids in a way that's relevant, fun, and easy to understand. Duke and the Great Pie War is one of the best episodes I've seen in years and I can only await future installments with great anticipation!
-
John DiBiase
(reviewed: 3/1/05)
DVD Features
Audio Commentary - Watch the show with an audio commentary from the creators!
Behind the Scenes - Featurette that looks behind the scenes during the production of Duke and the Great Pie War
Jousting Documentary
Art Gallery - View concept art from the production
Progression Reel - Check out a scene from the final show alongside early concept sketches
Deleted Scenes - Cut during the making of the show
Previews - See what's coming soon from Big Idea!
Duke Trivia - Challenge your brain with trivia questions from Duke and the Great Pie War!
Obstacle Course Game - Play this game right on your TV screen with your DVD remote.
Veggie Karaoke - Sing along to a song from the show!
How to Draw - Learn to draw Petunia and Miriam
Family Activity - Play an interactive game with your family
Interactive Storybook - Read along with a VeggieTales story
DVD-ROM Fun - Use your DVD-ROM drive to find more goodies!
Hidden Easter Eggs - More hidden goodies for persistent hunters
5.1 Dolby Digital Surround - For the ultimate VeggieTales sound experience!

Disclaimer: All reviews are based solely on the opinions of the reviewer. Most reviews are rated on how the reviewer enjoyed the film overall, not exclusively on content. However, if the content really affects the reviewer's opinion and experience of the film, it will definitely affect the reviewer's overall rating.

To find out why we don't typically review R-rated movies, click here