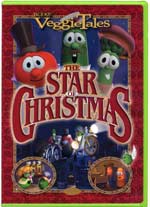 VeggieTales: The Star Of Christmas

Company:
Big Idea Productions
Release Date:
October 29, 2002
Running Time:
45 minutes
Buy It:
Jesusfreakhideout Store
Official Site
Plot Summary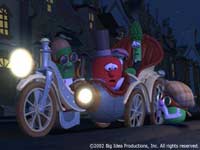 Cavis Appythart and Millward Phelps (Bob and Larry) are putting the finishing touches on their first Christmas musical -- "The Princess and the Plumber." With more electric lights than 1880's London could ever hope to illuminate, Cavis is sure his show will "teach London how to love!"
Unfortunately, little Edmund's (Junior Asparagus) Christmas pageant, featuring the unveiling of a beloved artifact, is scheduled for the same night. Which will London turn out to see? Find out in this classic new look at the one Christmas story that really can teach us to love each other.
Film Review
In 1996, children's' series VeggieTales released their first Christmas special, the fun and creative, The Toy That Saved Christmas. Being six years ago with a much smaller budget, the animation was blockier and much simpler. In 2002, after VeggieTales popularity has long past shot through the roof, the fun, clever, and action-packed The Star of Christmas is made possible.
In the mid to later 90's when these lovable veggies first debuted, I was introduced to the series with the first couple available episodes. Since then, the stories and animation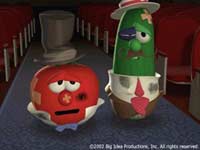 have grown more elaborate, yet remaining just as fun (if not more) and creative as it began -- if not more. I lost connection with most of the series in recent years, but after seeing their first feature film, Jonah on the big screen and the new Star of Christmas special, I'm literally in awe. Star... is an amazing production.
What I loved most about The Star of Christmas was how much wider its target audience is. As I watched it, it was extremely easy to forget I was watching a children's show. It reminded me most of Disney's Pixar films like Monsters Inc. or Toy Story. Jokes were plenty and they bordered mostly on the side of witty and clever than corny or cheesey. The animation is crisp and clean here, moreso than the episodes years ago. I also loved the concept of making the show feel more like a movie than an episode from a series. I especially liked the idea of using all the regular characters as different characters instead of Bob and Larry consciously acting out a story for their audience. I had to keep reminding myself several times that this is a children's film because it's really not... it's a family film. It's smart, funny, and quite honestly one of the best Christmas specials I've ever seen. I couldn't get over the quality of the production. The story was original and the message loud and clear. The ending is especially touching. The closing scene is so amazing, it's chilling. It's amazing how the brilliant Phil Vischer and crew can put so much emotion, feeling, and heart into a set of computer animated vegetables. This really was a beautiful video.
For this Christmas season, VeggieTales' The Star of Christams is a must-have addition to your Christmas films and videos. It's a story to put your mind in perspective this holiday season while you're running around doing last minute shopping and pulling your hair out. Pick this up, prop your feet up with a cup of warm capuccino. Grab your child or a friend and prepare to laugh. Also, be sure to check out the DVD which has an excellent "behind the scenes" feature with crew interviews as well as a list of other cool features including humorous baking session with one of the characters. Fun for the whole family -- don't miss out!
-
John DiBiase
,
(reviewed: 11/9/02)
DVD Features
Audio Commentary - Writer Phil Vischer and director Tim Hodge talk you through the show
Behind the Scenes - The creators talk about bringing The Star of Christmas to life
Concept Art - Check out early production sketches
Progression Reel - Watch an early concept reel side-by-side with the final show
Character Bios - Get to know Cavis, Millward and their friends!
Trivia Challenge - Tax your thinker with these tough trivia questions from the show
Ye Olde Silly Synthe - Synthesize your favorite Christmas tunes with Larry the Cucumber!
Sing-Along - Sing along to the Christmas classic "While By My Sheep"
The Toy That Saved Christmas Storybook - Read-along with another VeggieTales Christmas tale in storybook form
Very Veggie Christmas Tunes - Featuring songs from the Christmas CD, A Very Veggie Christmas
Milward's Mirror Morpher! - Twist and contort your Veggie friends in Millward's wacky mirrors
Bob & Larry's Countertop Recipes - Make yourself a delicious batch of Turtles of Damascus
Family Fun Activity - Play "Secret Agent" with your family
DVD-ROM Fun - Exclusive fun and activities
Previews - See what's coming soon from Big Idea!
Hidden Easter Eggs - More hidden goodies for persistent hunters
5.1 Dolby Digital Surround - For the ultimate VeggieTales sound experience!

Disclaimer: All reviews are based solely on the opinions of the reviewer. Most reviews are rated on how the reviewer enjoyed the film overall, not exclusively on content. However, if the content really affects the reviewer's opinion and experience of the film, it will definitely affect the reviewer's overall rating.

To find out why we don't typically review R-rated movies, click here