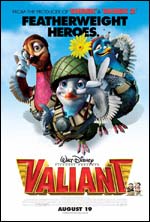 Valiant


- for not containing material that would warrant a higher rating.
Director:
Gary Chapman
Starring:
voices of Ewan McGregor, Tim Curry, John Cleese, Hugh Laurie
Running Time:
1 hour, 20 minutes
Theatrical Release Date:
August 19, 2005
Official Site
Plot Summary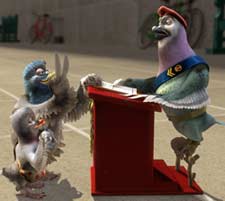 During World War II, England communicated with the French Resistance and Allied troops in Europe using the Royal Pigeon Service, using carrier pigeons that went through a rigorous training regimen. This is the story of Valiant, a comically clumsy misfit of a (wood) pigeon who sneaks his way into the Royal Pigeon Service, eager to contribute his efforts to the needs of his country, even though he is vastly unqualified to do so. Immediately given an assignment, Valiant's job turns out to be one of the most important of the war... carrying essential messages from the French to the Allied forces who are about to storm the beaches of Normandy on D-Day. (from MovieWeb.com)
Film Review
Where some films may lack in originality, they can excel in creativity. Disney's British animated comedy Valiant definitely fits this description. Valiant is Ewan McGregor's second outing this year voicing a lead animated character (first was Rodney in Robots), but is a far different film. While both Robots and Valiant center on a character set out to follow his dreams against the odds, Valiant feels like a much more low budget project. Does this mean it's not as good? I wouldn't jump to say that...
Watching Valiant reminds me of listening to a new band who is nothing really original, but still has something unique about them that makes it very hard not to like them. The film recycles common plot elements, like a main character who doesn't share the same heroic passion as the lead and, well, flies the coop when the going gets tough. Of course, we know they'll return when needed, in that sort of 'Han Solo comes back to save Luke' fashion. There's the typical underdog who wants to make a difference, the unbeatable villain, the love interest, and the team of hopeless losers who save the day. It's all hear. And despite it being very familiar, it works because its packaging is completely new. British messanger pigeons during WWII? You have to love it!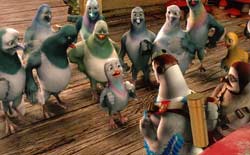 With the outrageous plot comes the outrageous jokes, and there's plenty of them. While most of the gags are subtle, it's the idea of the story, the mannerisms of the pigeons (seeing Valiant move and twitch like a real pigeon when reacting to things or listening to someone talk is priceless), and the subtle British humor that are the real charm of the picture. The inclusion of Monty Python alumnus John Cleese as a POW is the clincher. And when you're starting to just sit and take in the story and characters, the filmmakers toss some fantastic random humor into the mix, like the introduction of two French mice (including a pudgy little demolition-happy one). The scenery in the film is also often dazzling, while some aspects of the animation seem second-rate at best. For example, some objects actually seemed blocky or pixelated close-up, while that's something you would almost never see in a big animated production from Pixar or DreamWorks. The animation lacks the intense detail of those studios as well. Everything sort of has a strangely polished glow. It created a unique look that sets the film apart from others made in recent years, but it also seemed like less time was put into the detail of the animation. The quality appears to be a step backward. But perhaps this is intentional to give the film an older feel because of the era it's representing?
Valiant makes for good family entertainment, but I do wonder if most of the humor will go over kids' heads. Because it does take place mostly in London, the British accents and lingo can be a tad hard to decipher at times, and I can bet it would be much harder for the kids to pick up. It seems much more like something the adults would appreciate more than the kids. But the best word to describe Valiant is that it's absolutely "cute," and that alone will probably attract the younger audiences.
All in all, I enjoyed Valiant a lot. It may seem painfully familiar at times or contrived as far as the story goes, but examining the world of pigeons in WWII as brilliantly as they did is what makes Valiant a winning film.
-
John DiBiase
,
(reviewed: 9/14/05)
Parental Guide: Content Summary

Sex/Nudity
: Bugsy suggestively and jokingly asks a female nurse if she has anything for him and she shows him a large needle (to which he and others faint); A French female mouse talks to the boys about a message, which sounds like "massage" when she says it. Bugsy jokingly says he'd like a fully body massage.

Vulgarity/Language
: None.

Alcohol/Drugs
: Some birds have various drinks in a bar, including "bug juice."

Blood/Gore
: Valiant regurgitates a piece of paper and we see yellow goo all over it and on the ground.

Violence
: Cartoon-style violence that includes war-related violence. We see a plane crash, falcons chasing the pigeons (in an attempt to kill them); the bones of previously imprisoned pigeons; some characters fighting played for laughs, and some for excitement, etc
Disclaimer: All reviews are based solely on the opinions of the reviewer. Most reviews are rated on how the reviewer enjoyed the film overall, not exclusively on content. However, if the content really affects the reviewer's opinion and experience of the film, it will definitely affect the reviewer's overall rating.
To find out why we don't typically review R-rated movies,
click here