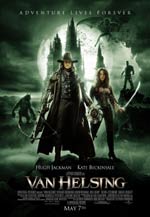 Van Helsing


- for nonstop creature action violence and frightening images, and for sensuality.
Director:
Stephen Sommers
Starring:
Hugh Jackman, Kate Beckinsale
Running Time:
2 hours, 5 minutes
Theatrical Release Date:
May 7, 2004
Plot Summary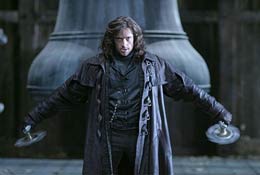 Set in the late 19th century, monster hunter Dr. Abraham Van Helsing (Jackman) is summoned to a mysterious land in East Europe to vanquish evil forces... evil forces with names like Count Dracula (Roxburgh), the Wolf Man (Kemp), and Frankenstein's Monster (Hensley). Assisting him once he gets there is Anna (Beckinsale), the heir of a long-running family committed to hunting down and destroying Dracula. (from MovieWeb.com)
Film Review
I must confess that The Mummy films from recent years (starring Brendan Fraser), are guilty pleasures. While I sternly don't agree with all of their content, the adventure aspect of the films tug at the inner boy inside me who always enjoyed the sword-swinging heroics. So naturally when I heard that the director of those films, Stephen Sommers, was taking on the task of monster-hunter Van Helsing featuring Hugh Jackman and Kate Beckinsale, well, I just had to check it out.
What I liked about the 1999 film The Mummy, was the attention to detail in the story. It was action-packed, but paced with plenty of building-up to the story. The Mummy Returns was a letdown for the most part as it played too much with the origins of the characters I'd grown attached too and spent way too much time rushing through the story and focusing on action to stop and give us a breather. Van Helsing suffers the same ailment. But while we have no previous knowledge of the characters in this film prior to this film (while we knew the Mummy Returns cast already), this hurts the overall story even more. Once we finally get a moment alone with a character with potential backstory being revealed, the characters are literally interrupted by action.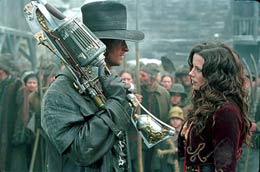 Van Helsing seeks to be a throwback to the classic monster movies of yesteryear, but unfortunately never quite achieves that goal. While it does have its moments, Van Helsing is not much more than a well-packaged creepy summer action movie. Sommers doesn't hold back on the disturbing images and instead even seems to seek to gross out his audience as much as possible. We're treated to the grotesque faces of the seemingly countless vampires as well as intense and horrifying looking werewolves. In fact, I have to admit that this film would probably have been more appropriately rated R as opposed its final PG-13 score. Violence abounds as well. From an ultra-violent duel between Van Helsing and a monster that opens the film, to the skin-shredding sequences involving the werewolf transformation, the film doesn't hold back.
The film's unwavering devotion to vampires helped make Van Helsing a darker and more disturbing experience. The story is classic good vs. evil, even acknowledging God at times despite circumstances. But the intensity of this film coupled with the disturbing horrific images make this one I not only don't recommend, but suggest is passed by. While the cast was quite good (and Lord Of The Rings fans will be amazed to find David Wenham, who played Faramir in those films, appearing here as a goofy and lighthearted friar), Sommers doesn't stop to develop them enough and we're left instead with cardboard cut-outs of nearly all of them.
And while the hideous images ultimately never letup, some sexual content creeps in as well. This is especially worth consideration when Dracula's brides are shown in their vampiric persona and their bodies appear to be nude (as such we don't see any explicit nudity, just what appears to be skin stretched over their femininely shaped bodies). Also, it is heavily hinted that Van Helsing's friar character sleeps with a woman (and we see them wake up next to each other).
All in all, the film's cast and the adventurous aspects (not to mention the good vs. evil aspect) are the only saving graces of the film, but however are not enough to make this one to recommend. So while I wanted to really like it, I was left instead with a jumbled romp through the world of classic monsters. Van Helsing had its moments but missed more often than it hit its target. As such, I can only grant 2004's action/adventure horror film Van Helsing, a 2 out of 5.
-
John DiBiase
(reviewed: 5/7/04)
Parental Guide: Content Summary

Sex/Nudity
: When Dracula's brides are shown in their vampiric forms, their bodies appear to be nude (as such we don't see any explicit nudity, just what appears to be skin stretched over their femininely shaped bodies); When Carl saves a villager from a vampire, she asks how she can repay him. He whispers in her ear and she responds "But you're a monk!" and he responds that he's only a friar. We later see them waking up together presumably after having sex.

Vulgarity/Language
: 3 "d*mn", 2 "h*ll", 9 "Oh my G-d", 2 "G-d"

Alcohol/Drugs
: We briefly see Anna and Van Helsing sharing a bottle of liquor.

Blood/Gore
: Mostly done off-camera, but we see Dracula's face morph into a hideous form before biting a man's neck (we see some blood). We also see him emerge from a fire with all of his skin burned off but watch it slowly all grow back. We see a bloodless hole through Mr. Hyde's arm. Van Helsing's blades cut Mr. Hyde, delivering a deep slice across his abdomen. We then see that one of Hyde's arms have been cut off and we briefly see it fall to the ground and shrivel up. From that point on we see Hyde's stump of an arm and sometimes some blood on it. We then see a grappling cable impale Hyde but nothing gory is seen. We see a vampire with arrow scars in its flesh that soon heal up. We see a vampire impaled and pinned against a building and watch it as it disintegrates. We see a man rip off his skin as he turns into a werewolf. The werewolf then shreds part of its skin as it turns back into a human. We see the charred remains of a corpse burned up. Anna and Van Helsing find hundreds of small egg sack pods that drip with ooze and contain gross, gooey contents. We see baby vampires explode as their being shot, and again later. We see Frankenstein's gross sewn-together skin and at one point see his head coming apart and his brain exposed. We see another vampire impaled with spikes and then disintegrate. We see blood on Van Helsing's shirt. Acid melts a vampire's face, making it quite grotesque, but it heals quickly. Anna has some blood on her lip and forehead during a fight. We see a vampire stabbed and disintegrate. Dracula has some blood on his face while Van Helsing has a few scrapes on his chest. A werewolf bites a vampire's neck resulting in a great deal of blood oozing from its mouth; we then see it violently dissolve. We see more baby vampires explode.

Violence
: Immense action/horror violence.
Disclaimer: All reviews are based solely on the opinions of the reviewer. Most reviews are rated on how the reviewer enjoyed the film overall, not exclusively on content. However, if the content really affects the reviewer's opinion and experience of the film, it will definitely affect the reviewer's overall rating.
To find out why we don't typically review R-rated movies,
click here