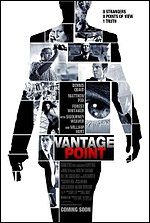 Vantage Point


- for sequences of intense violence and action, some disturbing images and brief strong language.
Director:
Pete Travis
Starring:
Dennis Quaid, William Hurt, Forest Whitaker
Running Time:
1 hour, 30 minutes
Theatrical Release Date:
February 22, 2008
Official Site
Plot Summary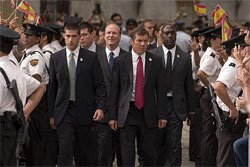 Thomas Barnes (Dennis Quaid) and Kent Taylor (Matthew Fox), are two Secret Service agents assigned to protect President Ashton (William Hurt) at a landmark summit on the global war on terror. When President Ashton is shot moments after his arrival in Spain, chaos ensues and disparate lives collide. In the crowd is Howard Lewis (Forest Whitaker), an American tourist video taping the historic event to show his kids when he returns home. Also there is Rex (Sigourney Weaver), an American TV news producer who is reporting on the conference. It's only as we follow each person's perspective of the same 15 minutes prior to and immediately after the shooting that the terrifying truth behind the assassination attempt is revealed...
Film Review
Vantage Point is an action thriller that utilizes multiple character viewpoints of the same terrorist attack to piece together a bit of a whodunnit? mystery. The story takes place in Spain where the U.S. President is speaking at a landmark summit, and it's here where the audience experiences the same event repeatedly from different perspectives. While the trailer for the movie not only gives chunks of the story away (but thankfully not all the twists and turns), it doesn't reveal just how these multiple stories are told. About five or six times in the film, we watch the plot play out through the moments where the President is shot and a series of bombs go off, before we're spun quickly backwards and the event is replayed through the eyes of a different character - each time starting at the same time: 12 noon. It becomes a unique plot device for telling the story, giving the viewer bits and pieces of the puzzle with each vantage point until the story is told in full with the final reveal.
The concept works nicely due to a creative method of telling the story as well as strong acting from Dennis Quaid, William Hurt, Forest Whitaker, Matthew Fox, and an assortment of other talents. Each viewpoint leaves the viewer at a bit of a cliffhanger moment, only to send them back to the beginning of the scenario but from a different perspective. While it may get tiresome for those eager to see progression of the story, it's all significant to the makeup of Vantage Point. Without this plot device, the film would merely feel more like an episode of 24 than a full-length movie. It's difficult to delve into the specifics of the plot and story without giving too much away - and I fear I probably have told more than some moviegoers would care to know before going into it - but one thing can be said about Vantage Point - when you think it may turn overly political or preachy, it stops before it gets too carried away. Vantage Point focuses on being a thriller first and in that case, it delivers.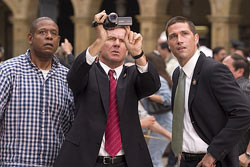 When it comes to content, Vantage Point earns its PG-13 badge with gusto. It's violent in every sense of the word, but surprisingly doesn't linger on gunshot victims or wounds. Everything is quickly cut. Even a bombing aftermath is brutal if not disturbing, but could have been handled considerably more gratuitously. The violence is still rough in many cases, especially as it nears its climax, but it's important to note that in similar action films like this one, the violence is often considerably more in-your-face than what is shown here. Language is the only other concern in the film, but for good reason. Quaid's character utters the "f" word in the heat of the moment while many of the other characters spout colorful words and phrases, particularly when the action picks up. There are actually lengthy sections of the film without much language, but after a series of profanities in the film's opening (almost exclusively from Sigourney Weaver's TV producer character), it seems mostly stuffed into the latter half of Vantage Point.
I suppose I can see why moviegoers may either love it or hate it, but when it comes down to it, Vantage Point is a pulse-racing, action packed film that may take liberties when it comes to the reality of things, but pulls off keeping its audience on their toes until the very end. Because the story has to be split many ways for the plot device to work, we can't really get in too deep with any one character. Besides being a fan of some of Dennis Quaid's previous work, I found his character as a secret service agent with some history to be one of the more interesting ones and would have liked to have gotten a deeper look into who he is. Also, once we see how things happened, there are some questions as to the motives behind the villainy that go unanswered. Still, by the time the credits roll, it all doesn't really matter because the film had accomplished what it set out to do.
The trailer for Vantage Point eluded to the idea that the movie would be a fast-paced action thriller showing how the lives of a series of mostly unrelated characters collide at a public gathering that falls prey to a terrorist attack. The end result delivers what movie fans can expect, while others may find the multiple retellings of the same moment a difficult pill to swallow. Due to the heavy violence, intense bombing sequence, and an assortment of profanities, it's sadly not a film that is recommendable, and certainly not one you can take the kids to. This probably one that will be great to catch in a bit more filtered state once it hits network TV. Still,
-
John DiBiase
,
(reviewed: 2/23/08)
Parental Guide: Content Summary

Sex/Nudity
: None.

Vulgarity/Language
: 1 "f" word, 17 "s" words, 2 "S.O.B," 3 "g*dd*mn," 1 "J*sus," 1 "J*sus Chr*st," 2 "Chr*st," 4 "h*ll," 1 "a" word, 5 "d*mn," 13 "Oh my G-d"

Alcohol/Drugs
: None.

Blood/Gore
: We see blood on a woman's face and a drop on her chest after an explosion kills her; We see the aftermath of an explosion with lots and lots of injured or dead bodies, with varying amounts of blood on them; We see blood on a hotel maid after they've been shot; We briefly see blood on some people as their shot; A man after a car accident has a great deal of blood on his head; Some people in a turned vehicle have blood on them after an accident; We see a man bound and gagged with blood on their head; A man is seen walking around with blood on their side after they've been shot. We see blood on his hand after he touches his side; A man is seen gunned down with blood on him and on the street; A man is shot multiple times and has some blood on his face after being shot; A man is shot in the shoulder and we briefly see the jacket burst there (with possibly some blood)

Violence
: Extreme. Lots and lots of shooting with most ending in deaths. We see an explosion several times from different perspectives that kills lots of people; We see a man with dynamite strapped to his body detonate himself in a hotel lobby; A lengthy car chase produces many crashed vehicles and a few deaths, etc...
Disclaimer: All reviews are based solely on the opinions of the reviewer. Most reviews are rated on how the reviewer enjoyed the film overall, not exclusively on content. However, if the content really affects the reviewer's opinion and experience of the film, it will definitely affect the reviewer's overall rating.
To find out why we don't typically review R-rated movies,
click here