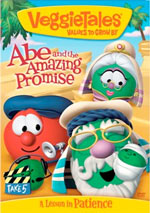 VeggieTales: Abe and The Amazing Promise

Company:
Big Idea Inc.
Release Date:
February 7, 2009
Running Time:
52 minutes
Buy It:
Jesusfreakhideout Store
Official Site
Plot Summary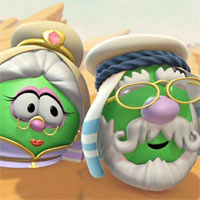 Learn the story of Abraham and Sarah as they wait... and wait... and wait... for a promised child. Junior Asparagus is anxious for the new show production to be finished. Bob the Tomato responds to a fan's letter about "waiting" by directing a Bible-times interview with Abraham, Sarah and their promised son. Bob & Junior's patience is tested by splitting camels, a confused nurse, an easily distracted film crew, and a host of other laughable filming disasters! (from BigIdea.com)
Film Review
Making Bible stories and life lessons relevant for children has always been priority one for the Big Idea folks. In the latest VeggieTales story, Abe and the Amazing Promise, we're taken down the difficult road of learning patience -- something children and adults can learn from alike.
This VeggieTales adventure starts us off in the usual spot on the kitchen counter with Bob The Tomato and... well, instead of Larry The Cucumber, we have Jr. Asparagus co-hosting this time around. As Bob begins his introduction, Jr. runs over to the gang's trusty computer, Qwerty to hurry a closing scripture out of the joyful little machine. When Bob acknowledges Jr.'s haste, we discover that the little vegetable is anxiously awaiting freshly baked cookies upon the completion of this particular episode. Our lesson on patience begins.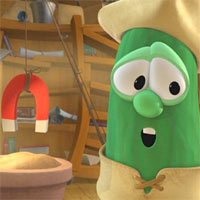 The first story is a rather spastic tale that's chock-full of random moments as Jr. and Bob film a staged interview with Abraham about the story of he and his wife Sarah (who's voiced unrecognizably by radio personality "Delilah") having to wait an especially long time to receive God's promise to them of a child. This first story connects children with a direct example out of the Bible of God's teaching of patience. However, it isn't one of the stronger VeggieTale tales. Its hyperactive storytelling may test the patience of a few viewers -- even if that is the intention. But after a brand new silly song interlude (where Bob needs to see a doctor to help him sneeze), we're brought to the real treat of this DVD - the story of Larry as an inventor who never takes the time needed to get the job done right, therefore never succeeds in inventing anything good. This is a lush, imaginative story that is brimming with wonderful visuals and creative inventions and situations. This story is also the longest one on the DVD, wonderfully driving home the entire disc's lesson on patience and the importance of it. As a side note, though, there's a very brief moment in the inventor story where Larry has to go to a sort of spooky mansion that is dark and eerie. Larry's scared stiff, but the creepiness doesn't last more than a minute before we're shown how benign the situation really is. It also ends up being one of the most visually fun moments on the disc too.
When all is said and done, Abe and The Amazing Promise is a wonderful story and a fantastic lesson that is just as applicable to the lives of adults as it is for growing, impressionable young minds. It's important to take our time and not rush things if we want God's best. And VeggieTales' latest DVD, Abe and The Amazing Promise is a great way to be reminded of this crucial truth.
-
John DiBiase
(reviewed: 2/5/09)
Disclaimer: All reviews are based solely on the opinions of the reviewer. Most reviews are rated on how the reviewer enjoyed the film overall, not exclusively on content. However, if the content really affects the reviewer's opinion and experience of the film, it will definitely affect the reviewer's overall rating.
To find out why we don't typically review R-rated movies,
click here