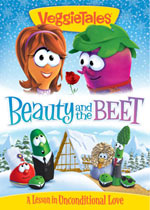 VeggieTales: Beauty and the Beet

Company:
Big Idea Entertainment
Release Date:
October 11, 2014 (Christian Retail) / October 14, 2014
Running Time:
57 minutes
Buy It:
Amazon.com
Official Site
Christian Film Database Page
Plot Summary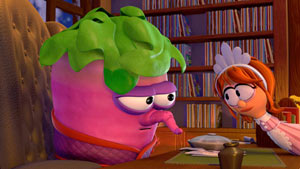 Mirabelle and her traveling family band, the VeggieTones, are determined to make their next gig at Vegetable Square Garden. On their journey, a fierce winter snowstorm hits, and the family gets stuck at a run-down resort! Mr. Beet, the grumpy manager makes them sing - and clean - for their supper. Why is Mr Beet such a beast? And can Mirabelle's kindness change him? Find out in this hilarious and heartwarming tale of unconditional love! Featuring 8 Songs performed by Kellie Pickler as "Mirabelle." (from VeggieTales.com)
Film Review
VeggieTales have certainly been making headlines of sorts lately with the recent announcement of the new character designs that will appear on the brand new NetFlix series, VeggieTales: In The House. Most of the fans' reactions have been of panic and negativity, but thankfully, the studio is continuing to produce classic straight-to-DVD (why not Blu-Ray?!) releases like the latest, Beauty and the Beet. However, for those especially intrigued (or worried) by the new character designs, those who get this new Veggie DVD will get a sneak peek of what to expect from In The House in the form of a clip-filled animated commercial before the feature begins.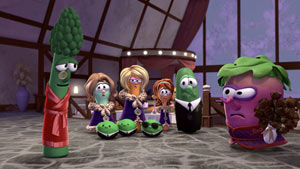 But it's no secret or shock that VeggieTales has changed a lot in the past two decades, and that's not a bad thing. Big Idea has seen some success lately with girl-centric releases like Princess and the Pop Star and Sweet Pea Beauty. The only problem with releases like these, however, is that they definitely limit their audiences quite a bit. While I found myself absolutely loving the space spoof Veggies in Space: The Fennel Frontier, Beauty and the Beet was, in comparison, a bit laborious to get through. It's a good story -- about a family band that gets stranded at an inn where a cantankerous Beet runs it and is in need of some serious TLC -- but it'll definitely be limited to a more feminine audience.
Country music and American Idol star Kellie Pickler is the main featured guest on Beauty and the Beet, and she voices a little sweet potato named Mirabelle who has a strong country music vocal style. So, as can be expected, pretty much all of the music in Beauty and the Beet has a country style base to it. It's certainly not a deal breaker for picky viewers, but if you're not inclined to even tolerate country music, you'll be out of luck here. Pickler certainly brings a professionalism to the music and a sweetness to Mirabelle. Meanwhile, the Beet has a gruff voice to drive home the idea that he's this grumpy, unlikable grouch. Fans of cartoons from the past 20 to 30 years who have a good ear for voice actors might just recognize this Beet, too. It's Rob Paulsen, who voiced Yakko and Dr. Scratchnsniif on Animaniacs, various characters in the original The Trans Formers cartoon series, Donatello in the recent Teenage Mutan Ninja Turtles series and Raphael in the original, and other classic cartoons. More recently, he could be heard as the voice of Toodles in Mickey Mouse Clubhouse. It's actually impressive to see that VeggieTales was able to recruit a respected voice actor like him, too. The story was also written by Hoodwinked director and former CCM TV/Signal Exchange host Cory Edwards. So it's pretty safe to say that there's a lot of talent behind this new episode.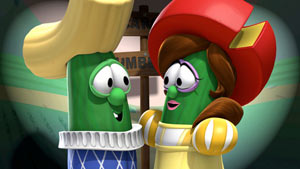 Beauty and the Beet is a lesson in unconditional love. It's driven by the music, with many characters randomly breaking into song at any point in time, and Larry The Cucumber is the only series regular with a prominent presence. Bob and Archibald are also present, but no one like Laura Carrot or Junior seem to get any screen time. The theme of loving regardless of how you're treated is presented exceptionally well. It's simple but crucial and parents will love to expose their children to that, while possibly taking away a lesson from it as well. I must admit, though, that the highlight of the episode for me was the new Silly Songs with Larry about Mac and Cheese and how it came to be. It's got a classic feel to it and is a whole lot of fun.
VeggieTales: Beauty and the Beet may not be the team's best release, but it also depends on what it is you like most about VeggieTales. If it's silly fun you're looking for, there's some here, but you're better off with something like The Fennel Frontier instead. Beauty and the Beet is a musical with a focus on young girls, so anyone with little ladies in the family will especially enjoy this one. And the moral of the story is a priceless lesson we can all embrace.
- Review date: 10/14/14; Written by John DiBiase of Jesusfreakhideout.com
Disclaimer: All reviews are based solely on the opinions of the reviewer. Most reviews are rated on how the reviewer enjoyed the film overall, not exclusively on content. However, if the content really affects the reviewer's opinion and experience of the film, it will definitely affect the reviewer's overall rating.
To find out why we don't typically review R-rated movies,
click here