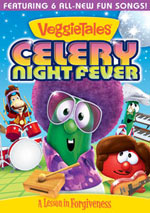 VeggieTales: Celery Night Fever

Company:
Big Idea Entertainment
Release Date:
August 2, 2014 (Christian Retail) / August 5, 2014
Running Time:
53 minutes
Buy It:
Amazon.com
Official Site
Plot Summary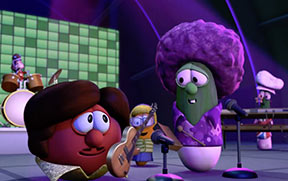 Veggie pals Laura Carrot and Junior Asparagus have a big job to do...save their beloved Celery Park from being destroyed! Laura and Junior plan a fundraising concert with the formerly famous Groovy Brothers, but the bandmates refuse to play together because of an old grudge. All hope of saving the park seems lost until the group remembers that God forgives without question, so why can't they do the same? Will the band reunite to save Celery Park? Find out in this fun, music-filled VeggieTales adventure! Featuring Terry Crews as the voice of "Bruce Onion" (from VeggieTales.com)
Film Review
The latest VeggieTales adventure starts out in 1975 when the popular disco group, The Groovy Brothers, are at the height of their career. We're then taken to the present day when the Groovy Brothers have long since disbanded and, instead of having left a legacy of fun music and close friendships, we learn that the group had come to a bitter end. When Laura Carrot and Jr. Asparagus learn that the town's beloved Celery Park is being threatened by Bruce Onion, a wealthy real-estate developer who wants to close it down, they decide to plan for the unthinkable: reunite The Groovy Brothers for one big benefit show!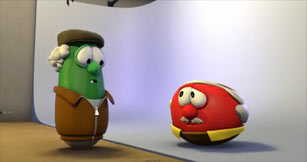 The main plot of Celery Night Fever is a lesson in forgiveness -- a big upgrade from the old school original Veggies' tale, God Wants Me To Forgive Them!?!, in which Jr. is harassed by the Grapes of Wrath. If anything, Celery Night Fever feels like a close cousin to 2011's The Princess and the Pop Star, a Veggies outing aimed at young girls and loaded with sugary, poppy kids songs. Celery Night obviously takes a distinctly more disco-flavored approach, with Bob and Larry sharing vocals on a couple songs, but Laura pops up with a tune or two of her own, and it has that girl power feel that Pop Star offered. It never quite makes Celery Night feel like an exclusively all-girls tale, but it does feel a bit more targeted at the little ladies than your usual Veggie video.
Fans of 70's pop music and even those who are familiar with the rocky lives of performers on and off the stage can appreciate a bit of that Walk The Line/White Christmas feel here. The aged Bob and Larry characters are appropriately stubborn and ever so slightly curmudgeonly in the way they handle each other and their falling out, but it helps drive home the forgiveness theme all the better. We then find out that there's a hidden agenda behind Bruce Onion's intent to shut down the park, and while it isn't the most original twist, it still serves the message of the story well.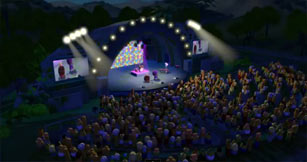 Celery Night Fever is fun from start to finish. The Silly Song, "Perfect Puppy," is a blast and it's a great intermission in the middle of a fun story with a very serious lesson. It's all about Larry wanting to find the right puppy to adopt, and the result might surprise you! We're then back to the Celery Night story and Larry has to put aside his differences with Bob (and vice versa) and ask for forgiveness, while Laura struggles to forgive Jr. due to their own problems. It's such an important lesson to get a handle on at a young age and I can't applaud Big Idea enough for tackling it yet again.
VeggieTales continue to be topnotch quality productions and easily the best, consistently excellent Christian visual media around. If only Christian feature films could follow Veggies' lead. Overall, some of the saccharine-charged pop songs might not hold up with repeat viewings as much as the standard VeggieTales silly songs or themes, but Celery Night Fever still packs in loads of fun and is a must-have for the Veggie fan in your family.
- Review date: 8/5/14; Written by John DiBiase of Jesusfreakhideout.com
Disclaimer: All reviews are based solely on the opinions of the reviewer. Most reviews are rated on how the reviewer enjoyed the film overall, not exclusively on content. However, if the content really affects the reviewer's opinion and experience of the film, it will definitely affect the reviewer's overall rating.
To find out why we don't typically review R-rated movies,
click here