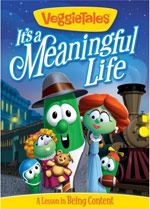 VeggieTales:It's A Meaningful Life

Company:
Big Idea Entertainment
Release Date:
October 5, 2010
Running Time:
50 minutes, 24 seconds
Buy It:
Amazon.com
Official Site
Christian Film Database Page
Plot Summary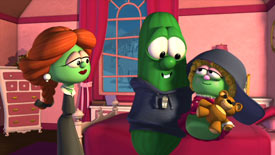 It was the biggest football game of his life and Stewart (Larry the Cucumber) had a chance to win it all. Injured in one bad play, his hopes of playing in the Salad Bowl—and living a life of fame and fortune—are dashed forever. Years later, silly-but-sweet Stewart loves his family, friends and job at the toy train factory, but still wonders "what if" things had been different. When he meets a mysterious train conductor who can turn back time, Stewart gets a chance to have the life he always wanted. Will he find all he's been looking for? And what does this mean for those he loves most? Find out in this story of wonder and a lesson in being content.
Film Review
We've come to expect a lot from VeggieTales over the years and with their Summer DVD release, Sweet Pea Beauty, the team delivered another pair of great stories, but the production (namely the quality of the animation) was surprisingly more than just a significant step backwards. But with their Fall episode, It's A Meaningful Life, the team is right back on track (and on par with the quality that Sweet Pea's predecessor, Pistachio, delivered).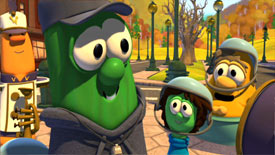 It's common for the VeggieTales stories to be encouraging and inspiring, and to offer themes and lessons that kids and even some adults can really relate to. However, with It's A Meaningful Life, not only is the story encouraging to children in several ways, but the theme may hit home a lot harder for most adults. First off, the story takes its central inspiration from the Frank Capra film It's A Wonderful Life -- even going so far as naming Larry The Cucumber's central character "Stewart" after actor Jimmy Stewart, and his wife "Donna" after actress Donna Reed. But to make the story more their own, yet still familiar, Big Idea Entertainment also spoofs The Polar Express and A Christmas Carol in the process. Instead of an angel named Clarence, we have an angel named Gabe who picks up Stewart on a ghostly train that makes "three" stops, thus changing Stewart's life. It tackles the big "what if" question that so many adults (and even some young people) struggle with during their lifetime. What if something did or did not happen? What would life be like? Would we be happier? It's A Meaningful Life takes the source material's theme and makes it much more God-centered, driving home the point that God's hands are very much involved in every part of our lives and that, if we trust Him and follow Him, we are exactly where He wants us to be.
And like in It's A Wonderful Life, ...Meaningful Life shows the central character how much just one person's life can affect those around them. It's an important lesson to learn and one that can be easily forgotten. There's a good chance that this will help children have the right attitude when facing life's trials in times to come, but it's also most likely going to encourage their parents to appreciate what they have and have been given.
There's just one story featured on It's A Meaningful Life, and the beloved Silly Songs With Larry sit one out for this episode. Instead, "Bedtime Songs With Junior" fills in as intermission and starts off as a seemingly slow and calming lullaby. Thankfully, the VeggieTales crew does not disappoint and the song begins to pick up until it becomes a more worthy substitute for the "Silly Songs." But since it's not quite as looney or ridiculous as the usual, fun silly songs, it's more a appropriate break from the more serious feature story here.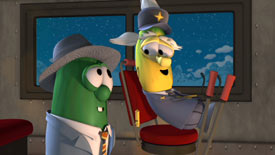 There's still a good blend of humor and seriousness in It's A Meaningful Life. The Big Idea team still tosses in its usual random humor here and there to lighten up the mood (the TV commercial jingles, for example). Mr. Lunt stars as Bumble Bee, a football player who accidentally steals the glory away from Stewart -- something that Stewart would regret for the rest of his life. When we see Stewart grown up, we find that he married his sweetheart and has three children - much like George Bailey does in It's A Wonderful Life. However, before the story's end, we learn that the littlest of Stewart's family was actually adopted. And who better to voice an adorable adopted daughter than one of Steven Curtis Chapman's adopted girls. Stevey Joy Ru Chapman does an exceptional job voicing the adorable little Emma, and it makes it all the more meaningful when Steven Curtis' new song "Meant To Be," which he wrote specifically for this DVD, plays over the credits.
It's A Meaningful Life is another great installment in the VeggieTales catalog of stories with important life lessons. It's a fine mix of fun, serious, and even a little Christmas spirit as the Big Idea folks tackle "A Lesson In Being Content." It's well worth adding to your children's entertainment collection -- and a wonderful story that you're likely to learn something from as well.
- Review date: 9/26/10; Written by John DiBiase of Jesusfreakhideout.com
VeggieTales:It's A Meaningful Life Media Links
It's a Meaningful Life Trailer:
http://www.youtube.com/watch?v=jLMdZjOg1LY
Steven Curtis Chapman's "Meant To Be Music" Video:
http://www.youtube.com/watch?v=l9ksMpwqjXQ
Behind the Music of "Meant To Be:"
http://www.youtube.com/watch?v=Lnm87SCGUds
Disclaimer: All reviews are based solely on the opinions of the reviewer. Most reviews are rated on how the reviewer enjoyed the film overall, not exclusively on content. However, if the content really affects the reviewer's opinion and experience of the film, it will definitely affect the reviewer's overall rating.
To find out why we don't typically review R-rated movies,
click here