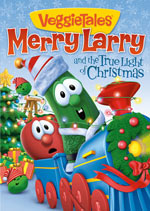 VeggieTales: Merry Larry and the True Light of Christmas

Company:
Big Idea Entertainment
Release Date:
October 22, 2013
Running Time:
47 minutes
Buy It:
Amazon.com
Official Site
Plot Summary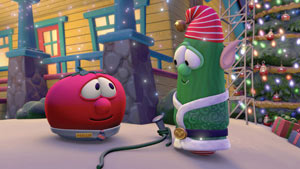 Larry The Cucumber is a Christmas elf at the Spring Valley Mall who just wants to spread joy at the holidays. When he meets a little girl with a big heart whose only Christmas wish is to help a friend in need, "Merry Larry" sets off on adventure that will light up the holidays like never before and show the town of Spring Valley what Christmas is all about - "Christmas shines most bright and true when you give the love God gave to you!" Featuring Si Robertson as Silas the Okra! (from VeggieTales.com)
Film Review
Christmas is no foreign topic to the world of VeggieTales. Since its early days, Big Idea has been producing Christmas tales fairly regularly, starting with the memorable (but now quite technically dated) The Toy That Saved Christmas back in 1996. The latest venture, however, is Merry Larry and the True Light of Christmas, a story about a deserted shopping mall trying to recapture the attention of holiday shoppers by upping their display of shimmer and shine for the Christmas season. They hire a pair of decorators (Bob The Tomato and Mr. Lunt) who go all-out in sprucing up the shopping establishment, while mall employee Larry, who dresses up as an elf each year to hand out presents to kids, is uncomfortable with the showy decor. But when a child's interest in recruiting help for a poor widow with a dilapidated house, Larry channels all of his energy into spreading Christmas cheer to those who need it most.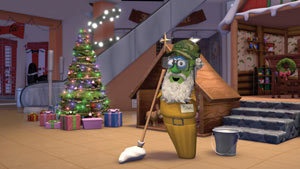 One of my favorite things about the Christmas season are Christmas movies and TV specials. Other recent VeggieTales outings for the holiday season have been fantastic, but they've often told period stories, like Saint Nicholas or about The Little Drummer Boy, than fully contemporizing it as a modern tale. Merry Larry does just that and ultimately reminds me of the kinds of Christmas TV specials and movies I grew up with in the 80s and 90s -- everything from episodes of Garfield and Darkwing Duck to movies like Jingle All The Way or Elf. The story of Merry Larry hits the commercialism of Christmas head-on and even lyrically pokes fun at things like stores playing lots of Bing Crosby and people watching White Christmas over and over (which, incidentally, are two things I love about Christmastime, but the jabs here are pure hilarity). The Veggie team load up Merry Larry with the usual heartfelt moments with a meaningful lesson and genuine laughs.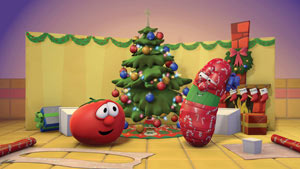 In fact, the latest Silly Songs With Larry finds the cucumber having wrapped himself up with wrapping paper amidst a flurry of covering gifts with festive disguise for Christmas. Titled "I Wrapped Myself Up For Christmas," it's pure VeggieTales and pure Silly Songs while serving as a great original Christmas song as well. And Merry Larry and the True Light of Christmas is really a gift that keeps on giving as it features a few familiar surprises for fans of TV and music. Si Robertson of the smash hit series Duck Dynasty appears as the narrator here, while Owl City and TobyMac team up for an exclusive new Christmas song, "The Light of Christmas," which runs over the movie's credits. Everything's in place here for VeggieTales to deliver a new holiday favorite to revisit each Christmas season--and they deliver.
I realize I'm virtually gushing about the latest VeggieTales story, but as a viewer of the series since its start, as well as a big fan of Christmas movies, TV episodes and music, Merry Larry and the True Light of Christmas hits all the right notes to feel fresh and classic at the same time. And it delivers a sweet little reminder about Jesus' birth being the heart of the season near the episode's finale that puts it all into perspective. The message of giving is all fine and dandy, but if the point isn't made that it was to celebrate the greatest gift of all--God's one and only Son--then we miss the whole thing. So as you're gearing up for another Christmas season, pick up Merry Larry and share the merriment with the whole family!
- Review date: 11/20/13; Written by John DiBiase of Jesusfreakhideout.com
Disclaimer: All reviews are based solely on the opinions of the reviewer. Most reviews are rated on how the reviewer enjoyed the film overall, not exclusively on content. However, if the content really affects the reviewer's opinion and experience of the film, it will definitely affect the reviewer's overall rating.
To find out why we don't typically review R-rated movies,
click here