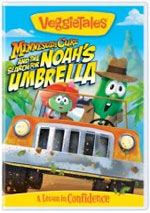 VeggieTales: Minnesota Cuke and The Search for Noah's Umbrella

Company:
Big Idea Inc.
Release Date:
August 4, 2009
Running Time:
50 minutes
Buy It:
Amazon.com
Official Site
Plot Summary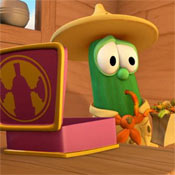 Larry the Cucumber is Minnesota Cuke, a children's museum curator and part-time detective hired to find the famous Noah's Ark. But his search gets complicated when he learns of Noah's mysterious and powerful umbrella ... and a clever villain who wants it for his own selfish gain! Will Minnesota find the confidence to continue the search, face the villain and protect the umbrella -- or will all hope of finding the Ark be washed away for good? (from BigIdea.com)
Film Review
Four years ago, VeggieTales debuted a brand new alter ego for Larry The Cucumber in Minnesota Cuke, an unmistakable nod to Indiana Jones in vegetable, child-friendly form. In his first Veggie adventure, Minnesota set out to find Samson's hairbrush (ha!), and now, "Minn" is back and out to find Noah's umbrella, said to possess special powers! In this homage to the Indiana Jones films, Big Idea Productions does a fantastic job referencing all four Indy films while making this adventure special and unique to Minnesota.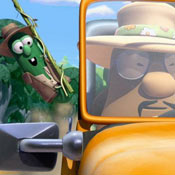 One of the charms of VeggieTales is its random and quirky use of humor. With things like pop culture references mixed with wordplay, VeggieTales is as relevant to adults as its targeted children audience. For example, if The Search for Noah's Umbrella isn't busy tipping the fedora to its source material, Minnesota is cracking jokes like "being stuck between Iraq and a hard place" or turning towards the camera and clearly (albeit playfully) mocking what is arguably the stupidest moment out of the fourth and most recent Indiana Jones film, Kingdom of the Crystal Skull.
The Search for Noah's Umbrella opens much in the same way that Indiana Jones and the Last Crusade begins -- with our hero as a small boy while in the Boy Scouts. And just like in the third (and my personal favorite) Indy film, our hero tries to rescue a stolen item from a couple of thieves so that it might be returned to its rightful owner. From there, we get the setup of the Noah's Ark/Umbrella plot (Get it? Like how Indy goes after the Ark of the Covenant in Raiders? I love it), and subtle references to the temple in Crystal Skull, and hidden maps/messages like in several of the films soon follow. In fact, much of Noah's Umbrella pays homage to Last Crusade. There's an "instruction book" much like the diary that Indy's father kept, as well as tests and trials Minnesota must overcome in order to reach the prized relic - much like Indy must do to find the Grail. Even his contact is dressed similarly to how Indy's father dressed in Crusade. Later, we also find our hero up in the snowy mountains at an Inn, much like Marion's place in Raiders. But while so many subtle - and obvious - references to the Indy films are made, the Big Idea team keep it fun and fresh and always clever.
The lesson in Confidence that the Veggie story teaches is a fun one. We first meet Larry The Cucumber on the kitchen counter wearing a bag over his head due to feeling embarrassing after singing his thanks to God over his food in public and being laughed at for it. Bob The Tomato responds in kind, tossing out his unannounced "original" plan for the show to tell a new adventure of Minnesota Cuke to encourage his friend. And throughout this story, Minnesota must overcome feelings of insecurity and embarrassment to get the job done. He fights the urge to throw in the towel and quit when he feels like others are teasing him for doing the right thing, and it ends up being a great and valuable lesson for viewers. Before the story is over, the veggie's computer friend "Qwerty" ties Proverbs 29:25 into the story to drive home the theme of confidence.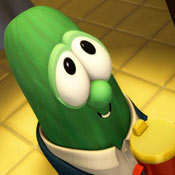 Now, I had viewed the latest VeggieTales story - Saint Nicholas - before this one (Noah's Umbrella is the only video directly prior to the latest one), and Nicholas had "Helpful Humanitarian Songs with Mr. Lunt" instead of the usual "Silly Songs with Larry." Minnesota Cuke and The Search for Noah's Umbrella incidentally has a new "Silly Songs with Larry," and it just reminds me how much I missed it on Saint Nicholas. This "Silly Song," entitled "Sippy Cup," is a classic one in every facet, and it was a lot of fun to note that CCM vet Steve Taylor had co-written the song with Larry-The-Cucumber voice and Big Idea's VP of Creative Development, Mike Nawrocki. It's just another highlight of this DVD and a great addition to the "Silly Song" collection.
Minnesota Cuke and The Search for Noah's Umbrella is yet another successful addition to the VeggieTales video library and even is a step above its predecessor, which was also a great story in its own right. Hopefully we'll be seeing more of Minnesota Cuke (who is quickly becoming one of my favorite things about VeggieTales) in the very near future!
-
John DiBiase
(reviewed: 11/5/09)
Disclaimer: All reviews are based solely on the opinions of the reviewer. Most reviews are rated on how the reviewer enjoyed the film overall, not exclusively on content. However, if the content really affects the reviewer's opinion and experience of the film, it will definitely affect the reviewer's overall rating.
To find out why we don't typically review R-rated movies,
click here