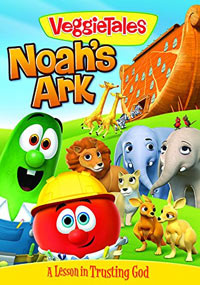 VeggieTales: Noah's Ark

Company:
Big Idea Entertainment
Release Date:
February 28, 2015 (Christian Retail) / March 3, 2015
Running Time:
51 minutes
Buy It:
Amazon.com
Official Site
Plot Summary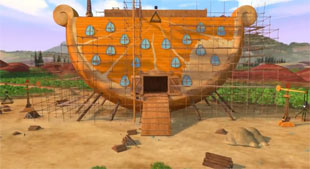 Noah and his family together with a zoo full of animals take an adventure aboard an orange slice ark. After 40 days and nights of rain, everyone's faith has been tested, and they're ready to jump ship. Will they chart a new course, or will they remember to trust God's promises? Grab your umbrellas and find out in this VeggieTales re-telling of the beloved Bible story. (from VeggieTales)
Film Review
Last thanksgiving, Big Idea Entertainment debuted a totally new design for the beloved VeggieTales characters on a brand new show created just for NetFlix, called VeggieTales: In The House. At the time, it was rumored, or assumed, that the new direct-to-DVD episodes would retain the original design for the characters, but the apparent sole DVD release of 2015 is proving the rumors false. Noah's Ark is the company's first home video release with the newly reimagined characters.
Big Idea addresses the changes off the bat when we first meet up with Bob and Larry on the countertop, but not before being introduced to a completely new intro. The episode begins with the classic close-up view from inside of Larry's tuba before we pan out to see it's the new look for the duo. To make things even more awkward, no other characters from the show join Bob and Larry for the theme song, and where clips of previous episodes could be frenetically seen in succession to the tune of the theme, now it's just "snapshots" of the cover art of each previous episode (displaying their original character designs) dropping onto a surface like Polaroids. By the time we get to the end of the song, it's just crazy-eyed Bob and Larry finishing the chorus (with the gang vocals still there). And that, sadly, sets the tone for the rest of the episode.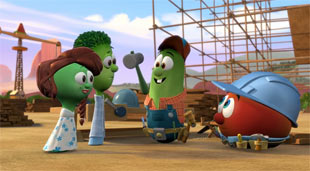 They also take this opportunity to make an "elephant in the room" joke by the veggies complimenting each other's looks before addressing said elephant... which of course ends up being a real elephant, setting things up for the Noah's Ark story. The story opens with the characters voiced by guest stars Wayne Brady (Whose Line Is It Anyway) and singer Jaci Velasquez, and it already feels weird. Once they happen upon an orange slice-shaped ark(?!), we see the rest of the cast, and if anyone has not seen the NetFlix show, it's a bit of a shock. It's still nice to have the addition of Tress MacNeille as Madame Blueberry, Laura Carrot, and Petunia--an A-list voice actress whose credits include Mickey Mouse Clubhouse, Animaniacs, Tiny Toons, and Chip and Dale's Rescue Rangers, among many other popular animated shows. Still, it's a lot of change all at once (not to mention, Laura looks completely different, and not in a good way). To make matters worse, most of the new songs sound sorely dated and about 20 years too late stylistically, as if lifted from a 90's adult contemporary album. Broadway talents Drew Fornarola and Marshall Pailet co-wrote all of the main songs for the video, aiming clearly for a musical vibe, but it feels more uninspired and lacks the fun and cleverness we've come to know and expect from VeggieTales. Even the silly song, "My Golden Egg," is oddly dry and forgettable. And this is just so sad to find from a gang that has before brought us songs for all ages to sing again and again for literally years.
The animation itself, as well, ironically feels like a step backward for the production. While some of the water effects are admittedly gorgeous, once we see splashes and leaks, it looks painfully unfinished (if not even glitchy). The animals, while obviously a daunting task to have to design VeggieTales versions of just about every animal, look more often like Playskool toys and lifeless creatures. Some work while others just, again, look unfinished or just behind in quality. Also, the veggies' mouths often feel ridged and awkward while talking. This new style seemed to work better for the NetFlix show, but here in this classic format, it just falls flat.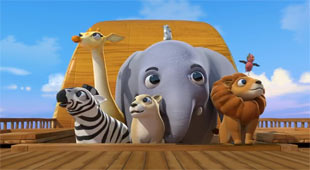 While Noah's Ark is largely disappointing, it's hardly a complete loss. And while it's oddly one of the first VeggieTales episodes to feel more like what you'd expect cheesy Christian biblical entertainment to be, it's still above average and definitely has a redeeming message. The lesson in following God's plan and trusting His ways is solid, if not wholly inspiring, but the quality we've come to expect from VeggieTales is, arguably, not there.
The content is mostly tame, but there are a couple scenes that might scare the little ones. When the storm hits and lightning strikes houses as a flood washes away buildings and geysers erupt from the ground, it's kind of intense imagery. Later in the story, a giant squid attacks the ark as kind of a gag, but again, some little ones might find it scary, but it's otherwise a fun moment.
Overall, VeggieTales' first DVD release with the new animation style is a mixed bag that mostly delivers one of the studio's most subpar releases to date. Even a mediocre VeggieTales episode is still a cut above most other faith-based entertainment, but that doesn't change the fact that their telling of Noah's Ark is mostly a disappointing journey.
- Review date: 3/1/15; Written by John DiBiase of Jesusfreakhideout.com
Disclaimer: All reviews are based solely on the opinions of the reviewer. Most reviews are rated on how the reviewer enjoyed the film overall, not exclusively on content. However, if the content really affects the reviewer's opinion and experience of the film, it will definitely affect the reviewer's overall rating.
To find out why we don't typically review R-rated movies,
click here