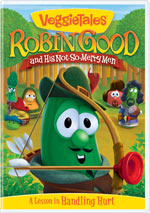 VeggieTales: Robin Good and His Not-So-Merry Men

Company:
Big Idea Entertainment
Release Date:
March 3, 2012 / March 6, 2012
Running Time:
45 minutes
Buy It:
Amazon.com
Official Site
Christian Film Database Page
Plot Summary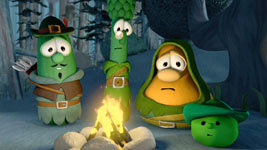 A long time ago, in the faraway town of Bethlingham, roved a band of merry men, led by the fearless Robin Good. Their mission: to help people by fundraising from the rich and giving to the poor! But when a greedy Prince starts stealing the townspeople's hams, donations are down and Robin's friends take off and decide to give robbing from the rich a try. Feeling rejected, Robin thinks things can't get any worse, until he finds out that the ham-hoarding Prince has also captured his friends. Can Robin overcome his own hurt, rescue his friends and restore the townspeople's hope? Find out in this fun Veggie story where kids learn that there's no hurt too big for God!
Film Review
VeggieTales has been a program that delivers relevant values for children and adults alike for nearly two decades. With the series' latest installment, Robin Good and His Not-So-Merry Men, our favorite computer animated vegetables tackle the serious topic of dealing with hurt--something that people of any age can relate to. But with such a real topic as this one, you can expect some more heavy subject matter, and Robin Good and His Not-So-Merry Men does offer just that.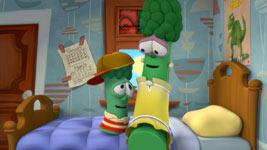 Robin Good opens with Bob and Larry on the yellow-tiled kitchen countertop once again. But there's a distinct, noticeable difference in Larry's appearance. This time, a glum-faced Larry is sporting a bandage that covers half his body, and when Bob asks what happened, Larry dismally informs his buddy that his pet hamster ran away (but there's no explanation as to how Larry hurt himself). When the latest kid who is seeking advice from our favorite cucumber and tomato asks what to do when he's not fitting in at a new school, Bob presents a couple of stories to help him deal with the pain. This leads us to Robin Good's first story: "Lenny and the Lost Birthday." In this colorful tale, Junior Asparagus plays a young boy named Lenny who wakes up on his birthday with anticipation for a fun-filled day ahead where friends and family honor his big day, only to find that everyone seems to have forgotten and it's instead the worst day of his life (thus far). To be honest, it's a little difficult to watch Junior go through his entire day with high hopes for a special birthday, only to be met with hardship and disappointment at every turn. For diehard fans of the show, seeing a beloved character like Junior be put through the ringer might be a tad difficult to watch, especially when the little guy bursts into tears before the story's end. While it does have a heartwarming conclusion, it's just not quite the happy and whimsical VeggieTales story we've come to expect. Granted, the kind of heartbreaks Junior experiences are pretty real in a child's world, and it has got to be pretty difficult to set up a lesson about dealing with hurts without showing a legitimate example of it.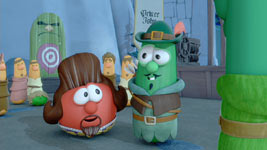 The short story is followed by the latest Silly Songs with Larry, which sees a return of the Boys In The Sink foursome who last brought us the famed "Bellybutton Song." This time, we have "Bubble Rap," which is a modern pop song literally inspired by bubble paper. It isn't one of the better Silly Songs (and seeing it among the top 20 songs of the past two decades on the recent If I Sang A Silly Song DVD only seems to confirm this), but it's still a fun one and a nice light moment to follow the opening cartoon. The remainder of the DVD is comprised of the feature "Robin Good and His Not-So-Merry Men" story, which parodies the famous tale of Robin Hood. It features the kind of silly and completely random humor you can expect from a VeggieTales parody--like "Bethlingham" instead of "Nottingham" and a strange importance placed on actual hams, which are almost treated as currency. Here, Robin Good "fund-raises from the rich and gives to the poor," but has his world turned upside down when his "Merry Men" abandon him over a disagreement regarding stealing (Robin's Men wanted to steal the hams for the poor while Robin refused to steal). It's then that the message of trusting God when we're feeling hurt and abandoned comes into play. The story actually seems to be almost as much about the wrongfulness of stealing as it is about handling hurt. In the end, Robin learns how to have a good attitude towards pain and disappointment, which he is able to pass on to the Sheriff of Bethlingham (played by Bob the Tomato) by way of a wonderful little song that children would do well to remember when they're feeling alone.
Here's just a side note that I feel I should mention: Since he was probably just a few months old, our son has been an absolute addict for VeggieTales cartoons. Saying he loves them may be an understatement. He saw Robin Good while being sixteen months old and he found a few scenes in the episode to be pretty scary. A giant cucumber terrorizes a few of the characters, and while it doesn't seem especially menacing, the smaller characters show fear toward the giant and he goes stomping around, roaring like a monster, swinging a club. So just keep that in mind if your children may be sensitive to more intimidating characters like that.
VeggieTales' latest outing, Robin Good and His Not-So-Merry Men, is a touching installment into a wonderful series that addresses the heavy topic of dealing with hurt in a sincere way like only those lovable vegetables can do. It's guaranteed to pull at your heartstrings and entertain from beginning to end... just remember to keep the tissues handy!
- Review date: 3/4/12; Written by John DiBiase of Jesusfreakhideout.com
Disclaimer: All reviews are based solely on the opinions of the reviewer. Most reviews are rated on how the reviewer enjoyed the film overall, not exclusively on content. However, if the content really affects the reviewer's opinion and experience of the film, it will definitely affect the reviewer's overall rating.
To find out why we don't typically review R-rated movies,
click here