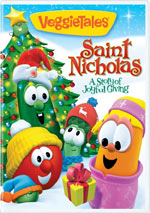 VeggieTales: Saint Nicholas

Company:
Big Idea Inc.
Release Date:
October 3, 2009
Running Time:
45 minutes
Buy It:
Amazon.com
Official Site
Plot Summary

Laura Carrot's Christmas stocking might be empty this year because her dad is in danger of losing his job. While Larry thinks a letter to the North Pole should fix the problem, Bob knows what will really help... and tells the story of a little boy named Nicholas who made a discovery in Bethlehem that changed Christmas forever. But what did Nick learn and how can it possibly help Laura and her family?! (from BigIdea.com)
Film Review
For the third VeggieTales Christmas tale outing, the Veggies tell a unique version of the origin of Santa Claus - AKA "Saint Nicholas." Pulling from one of the many legendary stories, Big Idea uses the most common one, of how Nicholas helped out a poor man who didn't have enough money to help his three daughters. Bob and Larry spin the story in a fun and accessible way for kids to embrace. Saint Nicholas starts out in the small vegetable town on Christmas Eve where Bob tries to explain the real meaning of Christmas through the telling of how Santa Claus got his start. It's a cute story and Big Idea's execution is fun and ultimately inspiring.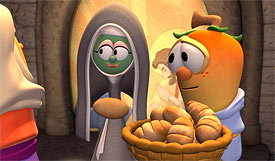 Admittedly, I wasn't sold on the story idea at first, but Big Idea knows when kids (or even adults) might start to lose interest and that's where the charm of the VeggieTales characters comes in. For example, throughout Bob's telling of Nicholas' story, Larry the Cucumber interjects hilarious imagery of what we know Christmas to be, only for Bob the Tomato to correct him with a stern objection. However, due to Larry's persistence, items like wreaths, candy canes, toys, and even a full-blown snow fall make their way into Nicholas' origin story for the viewer's benefit. The whole delivery is candid but it doesn't cheapen the message in any way. And when we flash back out of the story to present-day Christmas Eve, it's all tied in really nicely into how we can help give out of our own hearts and personal means. And to make it even more perfect, the Veggies drive home the meaning of Christmas being about Jesus' birth and God's gift of His son's life for us more than once. While VeggieTales used to skirt around Jesus' name a bit in the early days of the video series, it's wonderful to find them delivering such an unashamedly bold message now - and in a time when it's even less popular to do so.
To add to the fun, instead of the usual "Silly Songs With Larry" segment (which was kind of missed), we're introduced to a new "Helpful Humanitarian Songs with Mr. Lunt," called "Donuts For Benny." It starts out a bit slow and strange, but by the song's finale, the Big Idea folks have delivered another hilarious and original silly song concept. Lunt sings about giving donuts to a mangy mutt named Benny - but don't worry, parents! The moral of the story is "Don't give donuts to dogs." It's a fun and funny little interlude nonetheless.
In the end, Saint Nicholas is up there with The Star Of Christmas for classic, heartwarming and inspiring Veggie Christmas specials. Saint Nicholas doesn't entirely pull the rug out from under little ones excited for Christmas morning gifts, but it will certainly inspire them to give - and give from the heart. And the fact that it frequently reminds viewers of Jesus' birth being the reason for the season, it really can't get much better than that.
-
John DiBiase
(reviewed: 10/2/09)
Disclaimer: All reviews are based solely on the opinions of the reviewer. Most reviews are rated on how the reviewer enjoyed the film overall, not exclusively on content. However, if the content really affects the reviewer's opinion and experience of the film, it will definitely affect the reviewer's overall rating.
To find out why we don't typically review R-rated movies,
click here