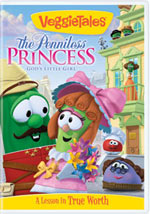 VeggieTales: The Penniless Princess

Company:
Big Idea Entertainment
Release Date:
August 11, 2012 / August 14, 2012
Running Time:
50 minutes
Buy It:
Amazon.com
Official Site
Christian Film Database Page
Plot Summary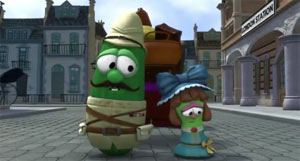 Sweet Sara Crewe has everything a little could want - a loving family, lots of friends and a closet full of frilly dresses! But when life takes a turn and Sara goes from riches to rags, will she realize that her true worth lies not in what she has, but what she has in her heart? Find out in this inspiring new story from VeggieTales that reminds kids who they are in God's eyes. (from VeggieTales.com)
Film Review
The most recent DVD release from Big Idea entitled, The Penniless Princess has definitely left me thinking about the important value of being content in life at all times, and has successfully illustrated the crucial importance of loving others because of how God is always faithful in His love for us no matter what the circumstances may be. Taking place in a familiar setting that fondly made me think of Mary Poppins, the scenery becomes a significant character in the newest VeggieTales story for little girls. This adds to the unique development of another fresh DVD from Big Idea, introducing a new adorable veggie character named Sara. A small asparagus, similar to the well-know and familiar Junior character (and another minor character named Ermingard), the character of Sara is illustrated as a delightful young daughter who is forced to embrace the difficult challenge of remembering that she is a child of God and deeply loved by her father in Heaven, even when events in her life test her ability to believe the promise that God is still there for her no matter what happens.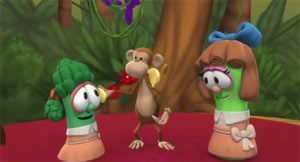 Borrowing from the Biblical tale of Joseph, the story shows Sara's current situation as an innocent child who seems to have everything in life that could possibly make her happy. She is very thankful to have her loving father, played by Larry the Cucumber, sending her to a French finishing school in London. The wishes of her father to enable Sara to pursue an education while he has to fulfill his responsibility as a soldier at war, seems to be the driving motivation behind why Sara has to relocate to this new environment. The song that Sara shares with her father during this time of transitioning to a new home (where she will live with other students learning how to be educated young ladies) is the perfect introduction to one of the main themes that will be seen throughout the story of Sara's experience at the school. With a new and charming song, Larry tries to illustrate to Sara how she is a true princess, because she is a daughter of Christ, who is the king of Heaven. The duet between father and daughter also discusses the commandment of loving others even when it does not seem like it is the popular thing to do. Sara will soon find out that it is very difficult to be the unfortunate center of attention when others try to ridicule her. Thankfully, she displays kindness to all of the girls who she meets at the school, with a very loving and selfless demeanor. Sara is even successful at being patient with one girl in particular, Lavinia, when Sara is embarrassed by her in front of the entire classroom. It is a scene too many young children today can most likely relate to, when the struggle to be accepted by your peers is often such an emotional rollercoaster that every child faces in a new environment. Sara must realize how important it is for her to show love to others even when they are not nice to her. This part of the story is such a wonderful example of how these lovable little veggies continue to successfully bring home powerful messages to children of all ages in a simple language with catchy songs that are memorable and easy to understand.
The characters that appeared throughout this enchanting story of Sara's life as a "Penniless Princess" varied from some of the more familiar VeggieTales faces, along with developing a few more unique veggies who have only had very minor roles in prior veggies DVDs. I was so excited to see one of my favorite supporting veggies, non other than Madame Blueberry, playing the role of the assistant to the head mistress of the finishing school for young little ladies. Her main responsibility was established as helping to teach the students French. The scene when Sara revealed to the head mistress that she already had an exquisite development of the French language, along with the distinct accent, began the conflict that would lead to Sara's confrontation with the head mistress. This was perhaps the fuel for the fire that started making Sara an envied student from the perspective of one of the other girls, Lavinia. Fortunately, the conflict between Lavinia and Sara allowed for Sara to show her love for others, even when these other individuals may seem undeserving of such love and understanding. Other important personality traits, such as patience, mercy, and forgiveness, were shown very clearly to viewers, when Sara chose to treat Lavinia the way God would want her to be treated.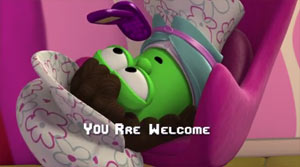 Many young viewers may be able to relate to the choices Sara was faced with in this story. Having to decide how we are going to act towards others who need our love and patience more than anything, even if they are unkind or may try to put us down in front of others, is not an easy task. Sara's encouragement from the Bible story of Joseph, which she shares with her fellow student, Ermingard, actually incorporates a discussion about making these important decisions. Sara explained how Joseph chose to treat his brothers with kindness and forgiveness, even though they were guilty of badly mistreating him. I am so thankful, that Big Idea continues to hold true to its devotion to teach its viewers how the Bible can apply to the challenging situations that the characters are experiencing in the story. It was a heartfelt moment for sure to see how Sara tried to illustrate the Biblical lesson to her friend, "Ermie," while the girls were sharing some time together up in the attic of the school house.
The most controversial character to mention that fulfilled the role of the villain in the story was the head mistress of the school, seen as a tall scallion, who I could recognize from some other minor roles in earlier veggies DVDs. Her name, "Miss Minchin," was comically delivered with such a scary tone when she first introduced herself to Sara's father, and then was immediately followed by the shrieking sound of a horse in the background of the scene. This would become a pattern that continued consistently throughout the rest of the episode, whenever the head mistress's name was mentioned. Although I truly found this to be humorous and innocent, parents may want to proceed with caution when showing the DVD to younger viewers. Speaking from experience that I had with my son, who was around 20 months old when we first watched the DVD together, the ominous deliverance of the villain in the story was so successful, that it actually caused my son to be very afraid of the character whenever she appeared on screen. I came to the realization that the frightening nature of how Miss Minchin's personality was so serious and rather stern towards other characters in the story, unfortunately made it rather difficult for my son to enjoy most of the rest of the DVD. However, for children who are a bit older and able to grasp the wider meaning from the story and who can relate to the challenges of dealing with unkind individuals, I think that the somewhat scary character of Miss Minchin could also appear comical to this school-age population of viewers. She is clearly not meant to be evil or purposefully determined to mistreat Sara in the story. Instead, she appears to be an individual who has become hardened by her years of duty as such a prominent individual responsible for shaping the lives of young little ladies in London.
The Penniless Princess DVD really did a wonderful job with the bonus features, from the standpoint of continuing to develop and discuss many of the themes and values highlighted throughout Sara's story. My favorite feature shows five different points to remember when learning more about becoming a true princess. All of the selections work in Bible verses to support the rationale behind how Sara chose to act towards others, as she tried her very best to love others no matter what. In addition to the five points that are sure to provide excellent avenues for discussion among young viewers with their parents, I also thought that the "Tour of London" from the perspective of the French peas was a priceless addition to this DVD. Once again reminding me of the beloved story of Mary Poppins, Jean Claude and Philippe try to take the viewers through key moments of the story when they can further explain some of the cultural significance behind the development of Sara's experiences in London. This also includes a segment about the teddy bear, Mortimer, which Sara's father gives to her as his last gift before he goes off to war. These adorable features from the French peas allow them to take the stage more prominently, since they only have minor roles in the actual DVD. Even Bob the tomato, although normally a leading role in many veggies DVDs, also is only seen briefly as a minor character in the story. Not to be a spoiler, but it might be worth mentioning the possibility that some viewers might come away from the story thinking, "was Bob really only the baker in the story?" Fortunately, I think viewers of all ages will thoroughly enjoy this new installment from Big Idea, when they are given the chance to see just how effectively some of the other new VeggieTales characters are able to eloquently deliver the very special message about the importance of loving others at all times.
- Review date: 8/18/12; Written by Amy DiBiase of Jesusfreakhideout.com
Disclaimer: All reviews are based solely on the opinions of the reviewer. Most reviews are rated on how the reviewer enjoyed the film overall, not exclusively on content. However, if the content really affects the reviewer's opinion and experience of the film, it will definitely affect the reviewer's overall rating.
To find out why we don't typically review R-rated movies,
click here