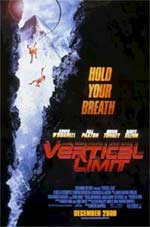 Vertical Limit


- for intense life/death situations and brief strong language.
Director:
Martin Campbell
Starring:
Bill Paxton, Chris O'Donnell, Robin Tunney
Running Time:
2 hours, 4 minutes
Plot Summary

When Peter Garrett (Chris O'Donnell)'s younger sister, Annie (Robin Tunney) joins an expedition lead by wealthy Texas businessman, Elliot Vaughn (Bill Paxton) to conquer climbing K2 in Pakistan which goes horribly wrong, he ventures up the mountain with his own team to try to rescue his sister from being trapped on the mountain.
Film Review
I wanted to see this movie from the intriguing previews and although I don't regret seeing it, the film easily could have been better. Without much strong acting, without a gripping story flowing with plausibility, Vertical Limit is a souped-up, frost-bitten action movie that's suspenseful and often fun to watch.
As much as I have to admit I like Bill Paxton, his character as Elliot Vaughn rather stunk in this movie. His acting job wasn't the best and his character was never likable. Chris O'Donnell was decent as Peter but never was all too strong in the acting. Robin Tunney served her purpose as his sister but never really flowed with much character. But if you're looking for a movie that's visually exciting, a suspenseful thrill ride and just a good action movie, Vertical Limit's the one for that. Even though the acting's as frozen as the mountaintop, I still found the movie enjoyable.
Observing the content, for language, Vaughn screams "F--- you" at the mountain during a storm, and there are 3 other "s" words as well as some other colorful words. Cyril and Malcom, the comic relief, tend to have relatively crude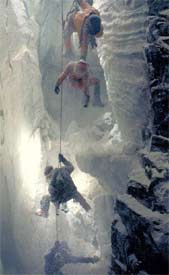 speech from time to time, but it isn't entirely in abundance (but is present). Sex/nudity remains in occasional suggestive/sarcastic comments. And in one scene we see Malcom and Cyril sunbathing nude, but see nothing explicit. Blood and gore are kept to similar lows occurances, yet we do see a man's toeless foot (not bloody, but the toes were previously lost to frostbite), Monique with a severely broken finger, and a 'chunky' bag of blood taken from a dead body to use as a landmark for where the lost survivors are buried. All these "objectionable" inclusions in the film tend to weaken it's enjoyment level (as it usually tends to go).
At one point in the film, a character complains about a Muslim character who stops and prays while on their trek uo K2. In his lament, he takes the time to complain about all religions, specifically naming Christianity and born again Christians and their beliefs. While it didn't seem like a direct attack against Christianity, it did bother me. However, the character who makes this comment does indeed gets what he deserves for that, but the comment is made. Despite its intentions for comic relief, it may be offensive to some (and I wouldn't blame them), but I didn't get the feeling it was aimed to offend anyone.
I thought the story was interesting, the action was good, and it was overall a decent, OK movie, but I have to say, if I never see it again, I wouldn't miss it much. Not at all that bad, but certainly could have been a really good film, I give Vertical Limit a rating of 2.5 out of 5.
-
John DiBiase
,
(reviewed: 12/24/00)
Parental Guide: Content Summary

Sex/Nudity
: About a half a dozen of crude comments are made; Malcolm and Cyril are naked while sunbathing nude, but we don't see any explicit nudity.

Vulgarity/Language
: 1 "f" word, 3 "s" words, 2 "g*dd*mn," 7 "h*ll," 5 "d*mn," 2 "a" words, 1 "w*nker", 1 "sh*g," 1 "scr*wing," 1 "d*ck," 1 "cr*p," 1 S.O.B., 1 "J-sus," 1 "J-sus Chr-st"

Alcohol/Drugs
: Some people have drinks.

Blood/Gore
: We see a body hit the ground and die, but no blood or gore is seen. We see a person's severely bent, broken finger. We see the toeless bare foot of a man who lost his toes to frostbite. To signal above the surface where people are trapped below, a bag is filled with blood and guts from a dead person (the action of filling is not seen, but we see the bag), and we see its contents drip a little on Annie's face. We then see the bag explode from a flare and blood is splattered in a wide radius on the snow to show where they're trapped.

Violence
: A person falls to their death while climbing, several explosions where people die or that causes avalanches where people die, a man murders another man, a helicopter blade slices a person's coat sleeve, etc.
Disclaimer: All reviews are based solely on the opinions of the reviewer. Most reviews are rated on how the reviewer enjoyed the film overall, not exclusively on content. However, if the content really affects the reviewer's opinion and experience of the film, it will definitely affect the reviewer's overall rating.
To find out why we don't typically review R-rated movies,
click here