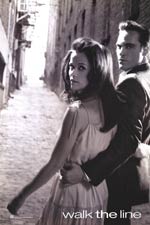 Walk The Line


- for some language, thematic material and depiction of drug dependency.
Director:
James Mangold
Starring:
Joaquin Phoenix, Reese Witherspoon
Running Time:
2 hours, 16 minutes
Theatrical Release Date:
November 18, 2005
Official Site
Plot Summary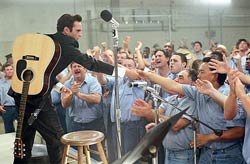 He was a voice of rebellion that changed the face of rock and roll. An outlaw before today's rebels were born - and an icon no one would ever forget. He did all this before turning 30. And his name was Johnny Cash. Walk The Line explores the early years of the music legend, an artist who transcended musical boundaries to touch people around the globe.
(from MovieWeb.com)
Film Review
Biopics can make for tricky filmmaking. While the purpose of the films can be to honor a specific figure in history or educate viewers about the person's life or accomplishments, they are also created with the intent to entertain, with embellishment of the story becoming commonplace. While watching a word-for-word, moment-for-moment account of an event or person's life could make for boring entertainment, there's a part of me that prefers accuracy when being educated on a person's life via film. Walk The Line is the latest in a string of celebrity biopics that tiptoes along the line between fact and fiction. The subject's life in question? Country music singer and all-around music legend Johnny Cash.
I'll be honest and admit that I haven't been too familiar with the details of Cash's life before seeing this film. And since viewing the film, I've become interested to delve a little deeper into the details, researching accounts of what actually did happen in Cash's life. One can nitpick when they find some things don't line up exactly, but ultimately what Walk The Line is is a tribute to an artist held together by tremendous acting and a well-directed story.
Joaquin Phoenix embodies the legendary Cash in Walk The Line. While no prosthetics were used on his face to make him resemble Cash more (cause frankly, he doesn't much at all), or to cover up the signature scar on his lip, Phoenix nails Cash's signature mannerisms and, to a degree, his deep drawl. In fact, to solidify Phoenix's own version of Cash, all vocals for Cash's song performances in the film are provided by Phoenix himself. I was in awe while watching the film how much Phoenix managed to sound like Cash. However, after comparing the versions on the film's soundtrack with Cash's originals, a distinct difference can be drawn. Reese Witherspoon steps into the iconic shoes of singer, and second wife of Cash, June Carter. Witherspoon also lends her own vocal talents to the role and seeing the two together on screen is wonderful. It's a shame Carter and Cash passed on before the film was completed. I'd be curious to know their thoughts on the film.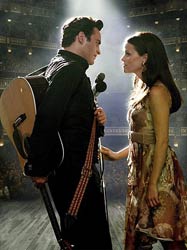 The story is an emotional one to say the least. We follow Cash from childhood when he experiences the loss of his older brother which leaves his father to blame Johnny for the loss of his son for decades to come. We follow Cash from his stint in the service to his first marriage to the birth of his first child and finally his first recording gig. Director James Mangold and Phoenix seem to have no trouble reeling in the audience for the film's long haul. And as we watch Cash slowly slip into drug addiction and his forbidden love with Carter, our heart can only go out to the troubled musician.
Morally, the film never glorifies or glamorizes Cash's drug addiction. However, the filmmakers do guide our emotions to support the forbidden love between Cash and Carter, even eluding to a one night stand affair while Cash was still married to his first wife, Vivian. The film also sort of paints Vivian as a tyrant, never supportive of his craft and only wildly jealous of his closeness to Carter (...but rightfully so?). Cash fans know Johnny and June will remain married till the day they die, but this shouldn't excuse the affair the two struggled with. I was also kind of disappointed the film never really touched on Cash's faith, but focused almost exclusively on the drama between Carter and Cash. Johnny's faith would prove to be an important part of his life and music and it seemed incomplete to not really address it. The film ends at a point in his life before he really rededicated his life to Christ. Those who know Cash know the story, but those who don't wouldn't get the most important part. While they do touch on his redemption from drugs, it's only suggested in one line from Carter that it is a second chance from God.
Language is rather mild with the exception of 1 "f" word that Cash utters in a rage while high on drugs. Sexuality is limited to hints of Cash's infidelity while on the road, but no direct sexual encounters are shown. We see some violence as Cash trashes a bathroom while high and a short scene of his brother on his deathbed after a fatal accident (that we do not see). Finally, drug content is heavy as we are taken through the struggles Cash faced in detail. But again, it is never promoted and, if anything, is shown in a completely negative light.
Overall, I was impressed by this film. Walk The Line gives viewers a little insight into the life of the country music star, and is likely to cause many to revisit his music and delve deeper into his story. While it's a heavy film in theme, it does tell a fine story of redemption. Phoenix and Witherspoon turn in fantastic, Oscar-worthy acting performances. It's a well-casted, well-written glimpse into the life of one extraordinary musician.
-
John DiBiase
,
(reviewed: 2/8/06)
Parental Guide: Content Summary

Sex/Nudity
: It's implied that Johnny sleeps with some of his fans; A fan visits Johnny backstage and kisses him. It's implied he then sleeps with her; We see Johnny kissing a couple other girls; It's implied that Johnny and June sleep together while in Vegas (he's still married, she's divorced)

Vulgarity/Language
: At least 1 "f" word, 1 "J-sus," 2 "s" words, 7 "d*mn," 4 "a" words, 4 "h*ll," 2 "S.O.B.s," 1 "Oh my G-d"

Alcohol/Drugs
: There are many, many scenes that show Johnny drinking with other celebrities and acting drunk and also many sequences where we see him taking pills (drugs); Johnny is busted from bringing pills over the border from Mexico; Under the influence of drugs, Johnny trashes a bathroom in a rage; Johnny passes out on stage from overdosing; Johnny goes through withdrawls from the drugs when he tries to quit, etc

Blood/Gore
: We see bloody clothes and rags in a wash basin; We see a boy with bloody bandages on his chest and slightly convulsing before he dies.

Violence
: A boy is presumably killed by a table saw accident (we don't see it happen, but see him die afterwards); Under the influence of drugs, Johnny trashes a bathroom in a rage; June throws beer bottles at Johnny and his bandmates for their behavior; Vivian finds Johnny hanging photos of him and June or of just June and she takes one and smashes it. She then starts hitting him and he holds her down on the floor till she relaxes; While going through drug withdrawl, Johnny smashes a dresser drawer; June's parents chase away a drug dealer with a shotgun
Disclaimer: All reviews are based solely on the opinions of the reviewer. Most reviews are rated on how the reviewer enjoyed the film overall, not exclusively on content. However, if the content really affects the reviewer's opinion and experience of the film, it will definitely affect the reviewer's overall rating.
To find out why we don't typically review R-rated movies,
click here