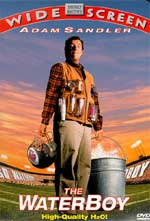 The Waterboy


- for language and some crude sexual humor.
Director:
Frank Coraci
Starring:
Adam Sandler, Kathy Bates, Henry Winkler
Running Time:
1 hour, 30 minutes
Plot Summary
Bobby Boucher (played by Adam Sandler) is a waterboy. After being one since her was a little kid, he gets fired and is forced to stay home with his overprotective mother (Kathy Bates) in the bayou of Louisiana.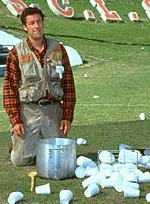 While looking for a new waterboy job, he finds Coach Klein (Henry Winkler) of the Muddogs, who is a pathetic, nervous basket case and hires Bobby for no money. Harassed all his life, Bobby never stood up for himself. Once Coach Klein convinces Bobby to fight back when the players tease him, Bobby reacts in a fit of rage and tackles a player with full force. Klein puts Boucher on the team immediately, in hopes to break their 40-game losing streak. It is left up to the help of the socially-declined Bobby to help the Muddogs break their losing streak and possibly send them to the Bourbon Bowl.
Film Review
The Waterboy is one of those movies that's funny, but really stupid. (Hence the undecided ranking of being between 2.5 & 3 stars) The film was pretty funny, and amazingly wasn't too crude, yet still contained some crude humor. Many people could probably relate to the character of Bobby Boucher who is constantly picked on to no end. But Boucher decides to take matters into his own hands. With the encouragement of his coach (you may recognize him from being "the Fonz" from the old show Happy Days), he fights back whenever taunted. The brunt of the comedy is derived from this. Aside from Sandler's voice and stuttering which is quite comical, the amazing flying kicks & bone-crushing tackles are hilarious!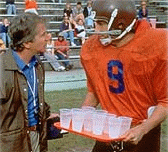 The language is unnecessary with 1 "f" word used by a hick who screams for Boucher's girlfriend to kill someone who is threatening Boucher. There are many uses of the "a" word, and characters are constantly making fun of Bobby.
The sexual innuendo is mild but it exists. A couple references are made to homo & bisexuality. None which really come out and support it, but it's used in a comedic style. Themes can be questioned throughout the film. Bobby's mother is hinted at being a crazy Christian calling everything "the devil," while Bobby's girlfriend, Vicki, is an criminal & astrologer, who comes across as being a sort of "hero" for Bobby. Again, this may be a theme you'll have to interpret for yourself.
Overall, the movie is pretty good, however, due to the sexual innuendo and it's overall stupidity despite it's times of being hilarious, I'm forced to only grant this film somewhere around 2 and a half stars.
-
John DiBiase
,
(reviewed: 11/27/98)
Parental Guide: Content Summary

Sex/Nudity
: There are many uses of sexual innuendo, but not as much as is now commonly used in current films. In one scene, Coach Klein pulls down his pants to expose at tattoo on his bare butt. Vicki shows Bobby her bare chest, but all is seen his Bobby's reaction (no nudity). Vicki wears rather revealing clothing.

Vulgarity/Language
: 1 "f" word, 6 "s" words, 14 "a" words, 4 "h*ll," 2 "d*mn," 2 "a-h*le," 5 "needled*ck," multiple uses "sucks," 1 "G-d"

Alcohol/Drugs
: The cheerleaders and mascots are falling over drunk in a couple of scenes, while various other characters are shown with alcoholic beverages.

Blood/Gore
: A fan is shown eating some furry animal and a little blood is on his mouth.

Violence
: The bone-crushing tackles by Bobby, Vicki holds a knife to a player's throat, players beat up Bobby & wreck his equipment.
Disclaimer: All reviews are based solely on the opinions of the reviewer. Most reviews are rated on how the reviewer enjoyed the film overall, not exclusively on content. However, if the content really affects the reviewer's opinion and experience of the film, it will definitely affect the reviewer's overall rating.
To find out why we don't typically review R-rated movies,
click here