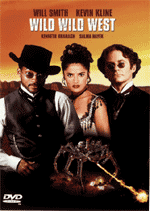 Wild Wild West


- for action violence, sex references and innuendo.
Director:
Barry Sonnenfield
Starring:
Will Smith, Kevin Kline, Salma Hayek
Running Time:
1 hour, 47 minutes
Plot Summary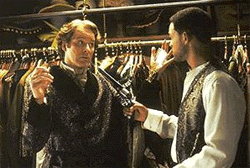 James West (Will Smith) is an impulsive gun slinger/ secret agent who meets up with U.S. Marshal Artemus Gordon (Kevin Kline), a master of disguises and inventions, while chasing after "Bloodbath" McGrath. When President Grant (also Kevin Kline) assigns the 2 to work together to apprehend McGrath, the 2 learn of Dr. Arliss Loveless, a diabolical genius who is a Confederate war veteran missing the lower half of his body. West and Gordon now have to stop Loveless, who had kidnapped some important scientists to build weapons for him, before he overtakes the United States and seizes a part of the country for his own.
Film Review
*Sob* I wanna cry. OK, it's not that bad, but my hopes for a kickin' summer blockbuster went down the toilet, folks. No Men In Black in the Old West here (Considering it's the same director as 1997's Men in Black). What we have is a "could-have-been-awesome-but-for-some-reason-falls-quite-short" blockbuster.
Why is it still a "blockbuster," you ask? One word: hype. But then there's also Will Smith. But can everybody's favorite "prince" save a movie dud? Mmmmm... maybe... then again...
OK, so kids may dig Smitty in the western garb, but the parents say, "Hang on just a cotton-pickin' minute!! Jim West was white in the TV show!!" True. Hmmm... Well, that does propose a problem now. And it does seem a little weird that a post-slavery black man is a secret agent and a chick magnet. But as a person of the 90s, I ain't got a problem with it. However, I have found that the "baby boomers" do. But I guess it's sorta like if they made a movie out of the show MacGyver and placed Will Smith as Mac. I guess I'd be upset. But all melanin tones aside, let us review the flick, shall we?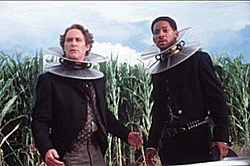 First off, the acting lacked. Will was cool, but didn't deliver many witty lines or chuckle-inducing comments. Kevin Kline was good, but seemed a little uneasy in the role at times, otherwise he had one of the better acting jobs. Salma Hayek... well, she was beautiful, but that's about it. She didn't deliver a memorable acting performance, and to be honest, border-lined on annoying at times. Kenneth Branagh delivered the typical "insane bad guy" who, by the way, Hollywood, I'm really tired of. If he had a little more substance instead of the silly dramatic bad guy music surrounded plastic villain, he would have helped the film out some. Instead, I found his presence on the screen unenjoyable and it was nice when he wasn't being shown.
The humor was almost non existent. Although a lot of comments were made to be funny and some modern jokes were thrown into this old west setting, most of the jokes flopped. Nothing was really interesting. Although they weren't really bad or just plain stupid, they just didn't cause us to laugh. But this didn't mean the film wasn't enjoyable. Hardly.
The language in the film wasn't too, too bad. The worst comes in the form of sexual references and some innuendo, but other than that, there's only 4 "s" words and some other minor profanities.
The violence is pretty bad at times. A big metal blade decapitates a man, lots of fighting and gunplay-- people being shot and such. An entire army is mowed down by machine gun fire, as well. Blood and gore is minor. We see the decapitated head twice but it isn't bloody or gory. When a man is shot, we see his blood covered shirt, but that's pretty much the most of it.
One thing that bothered me was the scene in the bar/tavern where a lot of attenders seemed to be there with the intentions of having sex and getting drunk. Prostitute-looking women were all over the place and in one scene where West smashes a man through a wall, we see a sickly-looking woman in her nightgown looking as though she was interrupted from "something." Anyway, the whole scene seemed sleezy and unnecessary, and proceeded to put a damper on the film's overall feel as well.
One thing I'd like to warn ya'll about is the film's presence of tarantulas (those big hairy spiders). I hate them!! They freak me out. So here's a couple warnings for anyone who shares my feelings: In a scene where Gordon and West meet with the president and a cake in a case is present, Gordon proceeds to remove the lid. As he does so, the president warns him to not do that, and when he replaces the lid, a swarm of tarantulas crawl up the sides of the case. Later, while Gordon and West are sitting around a campfire at nite, Gordon says "You have a big spider on your hand" to West and he flicks it off. Shortly after, they comment on a bug attacking and killing a tarantula and they show the spider again as the bug approaches and attacks it. Also, although it didn't bother me much, Loveless' 80-foot mechanical machine resembles a large tarantula.
The movie was decent, but a major let-down. More was expected from the star cast and the good potential-laden storyline. So due to the major disappointment, the innuendo, and those big spiders, I can't give the movie more than 1 and a half.
-
John DiBiase
(reviewed: 7/1/99)
Parental Guide: Content Summary

Sex/Nudity
: Lots of innuendo and some sex talk. There are several implied/obvious notions that the one saloon has lots of prostitution going on on the upper floor. In the beginning of the film, we see West in a water tower with a woman, both are naked, but all we see is the top of the womans chest and West's torso as they passionately kiss. When they fall from the tower, West grabs his hat and places it in front of his crotch as he stands there naked. Several paintings in the film show nude women. In one scene Gordon and West discuss womens' breasts and how they should feel and the train conductor over hears them discussing it and assumes they're gay. The top of Rita's butt is visible through the back of the long johns she is wearing. A lot of women are scantily clad. There is a lot of innuendo (implied stuff, double meanings).

Vulgarity/Language
: 4 "s" words, 11 "d*mn," 7 "h*ll," 6 "a" words, 1 "G-d," 1 "Good L-rd"

Alcohol/Drugs
: Various instances of alcohol used among the characters.

Blood/Gore
: The movie opens with a man running through a field with a metal disc around his neck and a blade flying after him. We then hear, but don't see the impact of it hitting him. When someone approaches his remains, we see his decapitated, bloodless head still attatched to the collar. We later see the same bloodless head used as a projector for a projection screen. McGrath has a small metal horn in his ear as a hearing aid. In one instance, he clears his throat, and tilts the horn to let the stuff from his throat drain out. After McGrath has been shot, the lower half of his shirt is soaked with blood. We see a field of dead bodies that aren't bloody or gory. A man almost completely made of metal has a metal cranium with skin bolted on that looks slightly gross.

Violence
: Lots of shooting, kicking, punching, fighting, people stabbed with a knife, people shot at point-blank range, people falling, hitting other people with objects.
Disclaimer: All reviews are based solely on the opinions of the reviewer. Most reviews are rated on how the reviewer enjoyed the film overall, not exclusively on content. However, if the content really affects the reviewer's opinion and experience of the film, it will definitely affect the reviewer's overall rating.
To find out why we don't typically review R-rated movies,
click here