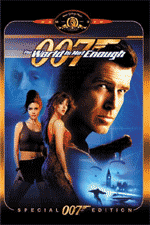 The World is Not Enough


- for intense sequences of action violence, some sexuality and innuendo.
Directors:
Michael Apted
Starring:
Pierce Brosnan, Sophie Marceau, Denise Richards
Running Time:
2 hours, 8 minutes
Plot Summary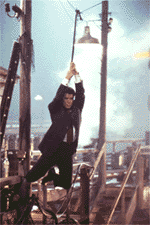 James Bond (Pierce Brosnan), feeling somewhat responsible for the death of a British oil tycoon and friend, decides to be play bodyguard for his daughter, Elektra (Sophie Marceau). Meanwhile, terrorist Renard (Robert Carlyle) plans to steal a warhead for a nuclear war and use Elektra's father's oil pipeline to transport it. It's up to James Bond to stop him...
Film Review
James Bond movies are in a league of their own. I must admit I only remember seeing 3 full-length ones and they were all 3 Pierce Brosnan ones. I've seen parts of older movies before but never in their entirety. Altough none of the Bond films I've seen have been spectacular or really good, they've always been entertaining and sometimes fun. They have that childhood imagination of being a super spy who can do anything. But of course, each Bond film comes complete with many flaws.
1st of all, Bond's basically a womanizer when you get down to the nitty gritty. He sleeps with pretty much any girl he's known for more than 5 minutes. And, of course, the movies could do without that, but unfortunately, it's a Bond trademark. Also, there must be tons of violence. Most of the time, it can be looked past because it's expected, but at times, some of the action sequences tend to cross the line once an automatic weapon is introduced.
One plus the movie does have, however, is the almost complete absence of cursing (see below). It's nice to be able to see an action movie with no "s" words, "f" words, and other assorted colorful phrases. However, The World is Not Enough, as compared to Tomorrow Never Dies seems to have a lot more sexual innuendo and double meanings, and a lot more overall violence.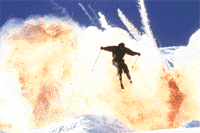 The World is Not Enough is a good Bond film. Brosnan does his best job yet as the secret agent and continues to add an essence to the character that will make people think of him when the name James Bond is mentioned. With the plot being decent and good enough to carry some stellar action sequences (especially the opening scene and the boat chase scene). And if you can get past Bond's typically and occasional cheesey or corny cliched comments and one-liners, you'll enjoy it better. Some of the films sequences can seem outrageous and to some, silly, but keeping in mind that it is just another James Bond adventure film, it automatically gives the film plenty of imaginative slack to create some entertaining scenes.
The acting was good, and the introducion of R (John Cleese) to soon take over Q's role was fantastic, creating the funniest scene in the film. It's cool to see Cleese in new roles since his days in Monty Python. The "Bond girls" were relatively good in this installment, too. Sophie Marceau did a pretty good job as the mysterious Elektra King. However, although Denise Richards' performance as Dr. Christmas Jones, she just didn't seem to fit too well, and it almost seemed as though her character was just placed in there so Richards could be in it. The nauseating thing was her abnormal chest size. For a skinny girl, she was pretty "blessed," and that tended to emphasize that "those" were the only reasons why she was in the movie in the first place.
If you're able to look past the violence and the sexual content, you'll find a fun, exciting thriller with some amazing action/spy sequences. Not for everyone, and definitely a tattered film, I give the movie 3 stars** on a Bond scale for it's overall good production and entertainment value. However, if the sexual content was nonexistent (or really toned down) and the violence kept to a minimum, the film would have been more enjoyable.
-
John DiBiase
,
(reviewed: 11/20/99)
Parental Guide: Brief Summary of Content

Sex/Nudity
: At least 11 "double meaning" instances of innuendo. The opening credits show the trademark Bond credits complete with nude women in silouette and at times dripping with oil. Bond seduces his doctor and we see him remove her skirt to reveal her underwear, then her shirt to reveal a small bra before the scene ends. While wearing a pair of see-through glasses at a casino, Bond searches the people there for weapons. While he sees some, he also stops when he sees women whose underwear & bras can be seen through their clothes. We see Bond and Elektra in bed together and we see her bare back as well as a brief glimpse of part of her bare chest as she rolls over. In another scene, we see Renard laying in bed next to a nude Elektra who has a sheet covering her except for her hip and part of her back. We see Christmas (
Denise Richards
) in a wet, white t-shirt while Bond and her are on the submarine. At the end, we see a group of people trying to locate Bond, and find him via a thermal graphic. They see a top view of him on top of Christmas. The image goes from orange to red as we then see Christmas' legs move out from under Bond. It then switches to see a side view of Bond on top of Christmas as they kiss under the covers before the scene ends.

Vulgarity/Language
: 1 "a" word, 1 "d*mn," 1 "h*ll," 2 "Oh my G-d," 1 "G-d"

Alcohol/Drugs
: There are roughly 5 instances of people using liquor or champagne or other various drinks throughout the film.

Blood/Gore
: We see a hologram image of Renard's head with the path of a bullet entering his head into his brain. We briefly see a semi-bloody bullet hole in a person. We see a man fall into Bonds arms dead with a knife handle sticking out of the back of his neck. Renard has a bloody cut on his head after a fight with Bond. Some people who are shot in a gun battle are a tiny bit bloody. Renard punches a glass table in anger, resulting in a shard sticking in his hand. Elektra removes it and there is some blood on his hand. Valentin has quite a bit of blood on his head from an explosion. Part of Elektra's earlobe is missing from her past kidnapping with Renard. Bond uses a man's head to ram a submarine door, resulting in some blood on the man's head. Although not bloody, we see a man impaled by a metal rod.

Violence
: An extreme amount. In some scenes, villains are just mowed down my machine gun fire. A lot of explosions, shootings, punches, kicks, and other forms of action violence.
Disclaimer: All reviews are based solely on the opinions of the reviewer. Most reviews are rated on how the reviewer enjoyed the film overall, not exclusively on content. However, if the content really affects the reviewer's opinion and experience of the film, it will definitely affect the reviewer's overall rating.
To find out why we don't typically review R-rated movies,
click here