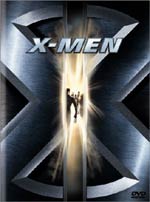 X-Men


- for sci-fi action violence.
Director:
Bryan Singer
Starring:
Hugh Jackman, Patrick Stewart, Halle Berry, Famke Janssen, Rebecca Romijn-Stamos
Running Time:
1 hour, 44 minutes
Plot Summary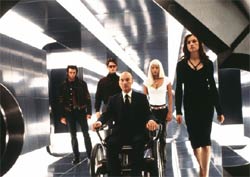 It's the "not so distant future" and evolution has progressed to form humans who have mutated to acquire super-human traits. Prejudice and fear make these mutants outcasts and it becomes a more political issue to rid the world of them. Soon, mutants begin to war against mutants as a team of evil ones lead by Magneto try to turn the world into mutants, while the heroic X-Men try to stop them and try to gain trust from the normal humans.
Film Review
I've prolonged this review as long as I could. But I felt the need to review it. Some of you will misunderstand right away, and others will not be able to grasp it at all. But like Superman and Batman, there have more modernly been the X-Men. The X-Men have been around for as long as I can remember and although I never got into them as a child, I had a mild appreciation for them since a lot of my peers were/are into them, and they were around throughout my adolescence. The plot is basically like above. They're an example of another step of "evolution." Now, as much as I despise and loathe the "theory of evolution" which is the biggest load of pig swallow known to the human race, the story of the X-Men is an intriguing, entertaining piece of Science Fiction. (Read that again... science FICTION!) I don't think we have to worry about anyone taking this seriously and thinking, because of this film, "Hey... wait a second! This is a good point! Michael Jordan jumps pretty high! I bet you there is a thing to this evolution and... Michael Jordan's a mutant!!" Nope. Not at all. Sorry. See, I found 2000's X-Men to be entertaining and wow-ing in special effects and creativity.
But of course... You can't have a story about a shapey scantily-clad shape-shifter, a strong man with metal claws on his hands, and an evil villain set out to wreak havoc on humans with magnetic powers to all be in a movie without lots of violence and parial nudity now can you?? No, silly. Well, although I would have like it another way, the movie has its share of violence and gross content. Who wouldn't find Rogue's contact with humans causing their faces to momentarily shrivel and get all "veiny" kinda gross. And Senator Kelly suddenly becoming reduced to merely a disgusting gelatinous blob that melts into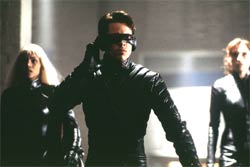 water... all in a matter of seconds-- who wouldn't find that yucky. Well, for me, I won't look at clear jello the same way.
I was suprised that the amazingly beautiful Rebecca Romijin-Stamos as Mystique was so obviously "shadowed" and shown for as little time as possible to reserve the PG-13 rating since all the supermodel-turned-actress was wearing was... paint and other "prosthetics." Aside from that, there is no real nudity. Violence is heavy, with one of the possibly most-violent scenes thankfully being a fake-out. At one point, Magneto holds a gun in front of a cop and fires at his face off screen. When you think he's been shot, you see the bullet hovering just in front of his face. Thankfully, the bullet ceases to kill him and no one is harmed. We do see Wolverine's claws wreak havoc sometimes. In one scene, we see Wolverine accidentally put his claws through Rogue's shoulder. with 3 small bloody "dots" on her back where she was wounded. We also see 3 smaller bloody dots on a villains chest after they are defeated by Wolverine towards the end. We see twice-- at the beginning, and in the end -- Wolverine with cuts and later many bloody open cuts on himself that later heal on their own in seconds.
The language is stereotypically mild (for super hero movies). 1 "s" word presides along with several more minor colorful words. In conclusion, the film is amazing visually and intriguing conceptually, with being entertaining and enjoyable overall. With some gross visualizations briefly plaguing certain scenes, it tends to lower the enjoyment level a tad and will limit the amount of viewers for this movie. It's too violent for small children, but in essence, not all too graphic. And Mystique's "outfit" is ambiguous enough to not be too offensive, while it wouldn't have been better for her to wear some much more "appropriate" clothing. Also, the "evolution" topic is so benign and "fantasy"-like that no one should take it seriously in the slightest. I was suprised enough to hear the villain Magneto aknowledge God as a creator in the midst of the evolutionary theme.
Overall, it was pretty good. It was better than I anticipated and a worthy representation of a super hero film (unlike the later Batman abominations). It's definitely no family film and is not suitable for younger kids. If you'd like to see it but without some of the violence, catch it on TV in a couple years (in all seriousness). And if you have any questions or comments about the film before you see it, feel free to contact me.
-
John DiBiase
(reviewed: 7/22/00)
Parental Guide: Content Summary

Sex/Nudity
: Mystique's outfit consists of blue paint on her nude body with some scale prosthetics. However, she is usually cropped in view, or hidden in the shadows.

Vulgarity/Language
: 1 "s" word, 1 "d*ck", 5 "h*ll," 3 "d*mn," 1 S.O.B., 1 "G-d." Also, Wolverine gives someone the "middle claw" (to act as the middle finger).

Alcohol/Drugs
: Some beers at a bar.

Blood/Gore
: We see the skin of whoever Rogue touches throughout the movie shrivel and show dark veins briefly as they react to it. One of Wolverine's claws cuts a man's skin and draws a very small amount of blood. Wolverine has some bloody gashes on his forehead after being thrown through his windshield. They rapidly and completely heal in seconds. We briefly see Jean Grey insert a needle into Wolverine's arm. Wolverine accidentally impales Rogue's shoulder with his claws. As a result, we see the blades sticking through her back with three slightly bloody holes. We see Senator Kelly as his body has begun to break down and suddenly turn into a grotesque blob before dissolving into water on a table. Wolverine has some bloody cuts on his face.

Violence
: Lots of kicking, punching, explosions, shooting, blasting, and other assorted sci-fi related violence.
Disclaimer: All reviews are based solely on the opinions of the reviewer. Most reviews are rated on how the reviewer enjoyed the film overall, not exclusively on content. However, if the content really affects the reviewer's opinion and experience of the film, it will definitely affect the reviewer's overall rating.
To find out why we don't typically review R-rated movies,
click here