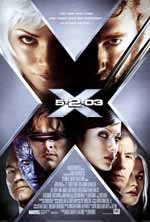 X2: X-Men United


- for sci-fi action/violence, some sexuality and brief language.
Director:
Bryan Singer
Starring:
Hugh Jackman, Patrick Stewart, Halle Berry, Famke Janssen, Rebecca Romijn-Stamos
Running Time:
2 hours, 14 minutes
Plot Summary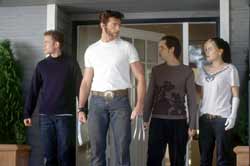 They are the next link in the evolutionary chain. Each was born with a unique genetic mutation, which manifested itself in extraordinary powers. In a world increasingly filled with hatred and prejudice, they are outcasts who are feared and loathed by those who cannot accept their differences. Yet despite society's pervasive ignorance, the X-Men and thousands of mutants across the globe survive. Under the tutelage of Professor Charles Xavier, the world's most powerful telepath, these "gifted" students have learned to control and direct their respective powers for the greater good of mankind. They fight to protect a world that fears them. In X2, the next adventure in the X-Men saga, the X-Men face their most dangerous mission ever, and must stand united with their enemies to combat a menace that threatens mankind - and mutantkind.
Film Review
In 2000, the classic comic book series of mutant humans with extraordinary abilities graced the silver screen. Receiving global success, a sequel was inevitable and quickly put into motion. With the entire significant cast returning, lightening was bound to strike twice. For director Bryan Singer and the cast of X2: X-Men United, this is just what happened.
I enjoyed the original X-Men film, but it seemed to be missing something. Well, this time around, Singer & company put together a fast-yet-thoughtful-paced comic book action flick that stops to develop some characters while doing its best to rock the audience's socks off. The effects are better and more intriguing, the moderated humor is witty, the acting noteworthy, and the plot more than sufficient. The longer running time, while it may seem to some like it drags on, allows more room for character and plot development accompanying the action without losing its audience's attention. The movie continues the focus on the Wolverine's character and his search for information on his origin while the Professor Xavier and crew are forced to defend themselves against an attack on their school. X2 is a first rate sequel and, in a lot of ways, surpasses its predecessor in many ways.
Spirituality was introduced into the series with this film on a very positive level. The mutant named Nightcrawler is a firm believer in Catholicism and offers a positive light on Christ and faith (and at one point urges Storm to trader her anger for faith which later is brought back up). While never preachy by any stretch of the imagination (as with also the film's premise that toys with the idea of mankind's evolution), it was handled very tastefully.
Concerning objectionable content like language, sexuality, or graphic violence, the second time around unfortunately includes a little more of each. Mystique, embodied by the infamous super model Rebecca Romijn-Stamos, is present once again, suited in merely blue paint and strategically placed prosthetics (leaving her otherwise virtually nude -- and looking it). She also takes a moment to seduce characters twice in the film in a sensual manner (but both stop before going in any explicit direction). Violence includes more bloody instances of gouges, etc to characters like Wolverine (and in his case heal up quickly). Language-wise, a few "s" words are present as well as several other colorful words. The film could have benefited easily from much less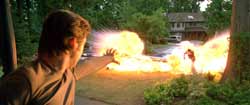 of these moments but are, nonetheless, unfortunately present here.
X2 raises the bar on comic book based film making. While Spider-Man seized the attention of millions globally last year, X2 is bound to be the one drawing the crowds this year. The film takes carries itself very well leaving no room for campy humor or poor acting. The end product is the result of top-notch directing from Bryan Singer and it's great to see these characters on the silver screen again.
Overall, I was really impressed with this sequel and found X2: X-Men United to be the best cinematic offering of 2003 so far. It's got its content problems that need to be looked into, but the overall story and film is excellent. If you read the below content and are concerned about some of it, we suggest catching it edited on TV or rent the release on DVD and watch it with the ClearPlay program or something similar to omit the offensive material. If you have any questions or comments about the film before you see it, feel free to contact me.
-
John DiBiase
(reviewed: 5/3/03)
Parental Guide: Content Summary

Sex/Nudity
: Mystique's outfit consists of blue paint on her nude body with some scale prosthetics. In one sequence, Mystique (disguised as a normal woman -- Rebecca Romijn minus makeup) seduces a man in a bar, drugs his beer and takes him to the bathroom. We then seem them passionately kissing and she sits him inside a stall. The drug kicks in and the guard passes out, to which Mystique undoes his pants and injects something into his rear end (we just see him in his briefs). At Bobby's house, Rogue begins to disrobe (we don't see anything), and Bobby looks away, but then looks over his shoulder and smiles (we only see him and not what he sees). In another scene, Wolverine kisses Jean who then walks away. Later, while in his tent, Jean crawls inside and comes on to him. He begins lifting her shirt (exposing her stomach) and finds scars that reveal that it's really Mystique. She then shape shifts several times and licks his ear before he throws her off of him and she leaves. We later see Wolverine in a flashback fleeing a laboratory and he appears to be nude. Due to extreme lighting, no explicit details are seen.

Vulgarity/Language
: 3 "s" words, 2 "d*ck", 1 "t*t", 6 "h*ll," 1 "a" word, 1 "d*mn," 7 uses of "G-d", 1 possible "J-sus"; Mystique gives some soldiers "the finger" as she slides away across the floor.

Alcohol/Drugs
: A man has a beer at a bar; Wolverine has a beer.

Blood/Gore
: Some mutants are seen with a circle on the backs of their necks where Stryker uses an unknown acidic-looking chemical to control them. Wolverine puts his cigar out in his palm which leaves a charred burn mark which quickly heals. After attacking some men, Wolverine has some blood and scratches on his arms. When kissing Rogue, Bobby's face begins to look a little distorted with his veins popping out as she begins to apparently suck the life from him (accidentally). Magneto extracts iron from a guard's body (through his blood), and we see a red mist float from his body and many tiny bloody spots appear on his shirt. A man is shot in the forehead and we see the bloody hole as well as a tiny trickle of blood come from it before the wound quickly heals and pushes out the bullet. In a flashback, we see Wolverine, shirtless, covered in blood. As Wolverine and Deathstrike battle, each bear numerous bloody marks (which oftentimes healed quickly). We then see some blood droplets in a pool of water. We see a little bit of molten metal come from a character's eyes, nose, and mouth after being injected with a great deal of it.

Violence
: Wolverine slices and stabs numerous men in a fight (with lethal results but none of it is graphic); Wolverine and Deathstrike repeatedly stab each other violently (with some bloody); Film also has lots of fighting, explosions, some shooting, and other assorted sci-fi related violence.
Disclaimer: All reviews are based solely on the opinions of the reviewer. Most reviews are rated on how the reviewer enjoyed the film overall, not exclusively on content. However, if the content really affects the reviewer's opinion and experience of the film, it will definitely affect the reviewer's overall rating.
To find out why we don't typically review R-rated movies,
click here