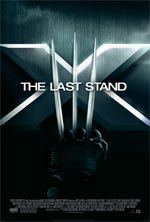 X-Men: The Last Stand


- for intense sequences of action violence, some sexual content and language.
Director:
Brett Ratner
Starring:
Hugh Jackman, Patrick Stewart, Halle Berry, Famke Janssen, Rebecca Romijn-Stamos
Running Time:
1 hour, 44 minutes
Theatrical Release Date:
May 26, 2006
Official Site
Plot Summary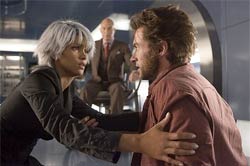 In X-Men: The Last Stand, the final chapter in the "X-Men" motion picture trilogy, a "cure" for mutancy threatens to alter the course of history. For the first time, mutants have a choice: retain their uniqueness, though it isolates and alienates them, or give up their powers and become human. The opposing viewpoints of mutant leaders Charles Xavier, who preaches tolerance, and Magneto, who believes in the survival of the fittest, are put to the ultimate test - triggering the war to end all wars. (from MovieWeb.com)
Film Review
Marvel Comic mutant heroes X-Men have returned to the screen in what is said to be the third and final film in the franchise, X-Men: The Last Stand (although murmurs of a fourth have begun). With the director of the previous two films busy working on Superman Returns, director Brett Ratner (Rush Hour films, The Family Man, Red Dragon) steps in to take Singer's place. The end result is a dark and serious finale to a relatively strong comic book trilogy.
X-Men: The Last Stand bears that final chapter feeling from beginning to end. Nearly the whole film carries a sort of story climax feel, in which little character development exists as we're expected to be very familiar with these characters already. And those loyal to the previous two films or the comic books will definitely have no trouble jumping right in. However, the X-Men and X2 handled their characters with love, fleshing out leads like Wolverine, Rogue, Xavier, and Magneto. While never perfect (Storm and Cyclops were barely touched on, much to Halle Berry's discontent), the film's pacing and length made it possible for audiences to really enter in to the X-Men world. In The Last Stand, Ratner ties up loose ends, brings significant characters to their shocking demise, and resolves several key relationships. It all adds up to a bittersweet and entertaining popcorn flick with an emotional story that includes some of the most action-packed moments of the trilogy.
With a new director and new composer behind the project, it's difficult to make a film that will fit in seamlessly with the previous installments. Springer's style is missed, but Ratner definitely gives it his all, successfully taking X-Men: The Last Stand in a slightly different direction to bring it all to a probable bang-up finish. But with so much action and many, many new mutants introduced this time around, it really does leave little room to get to know some of the characters properly or beyond the surface. For example, we're introduced to Angel in the beginning of the film, briefly see him again once or twice later in the film, and are never really introduced to his character by name or really see him interact with the other X-Men much. His character felt more like a line drawing or afterthought, with most of his scenes left on the cutting room floor. On the other hand, we are also introduced to Beast (wonderfully played by Frasier's Kelsey Grammer), who does get a decent amount of screentime and even some action before the film's end.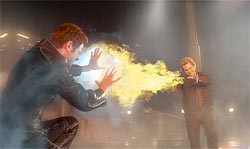 What holds this movie back is its attempt to accomplish too much in the alotted time, virtually tackling a plot and storyline that could have spanned another movie or two. Instead, X-Men: The Last Stand crams as much action and as many characters as possible into its hour and forty five minute length. Also, this film is possibly the most violent of the three. While the others had their moments indeed, The Last Stand has some pretty intense scenes where mass destruction ensues. In addition to violence, there's some mild sexual content which sees two characters passionately making out before they abruptly stop, as well as a handful of cuss words. Also, we briefly see a nude woman lying on a floor (we see her bare hip, side of her butt, while her arms and legs cover anything explicit) after turning from mutant to human.
What The Last Stand has going for it is an exciting story and the emotional tension that rivets the film. Wolverine remains a central character, although not quite as deeply explored as the previous films, with Hugh Jackman's portrayal easily being one of the best aspects of this entire franchise. Ian McKellen's Magneto is delightfully sinister as usual, and Famke Jenssen delivers an intense performance as Phoenix. The action is first-rate, although the CGI effects at times ranged from perfect to embarrassing, but most of the time still works for the film. While a few of the characters we've come to know from the previous films take on a greater role here, others are shortchanged early on or given mere minutes of screentime, which is rather disappointing.
Overall, Ratner did a decent job picking up where Singer left off, while expectations are high all around. X-Men: The Last Stand might not be quite the finale we all were expecting, but this trilogy goes out with a thunderous and emotional bang that will satisfy most fans of the franchise. Too violent and edgy for families, this film is best off left to the adults. It's sad to think The Last Stand is the final chapter for the X-Men on the big screen (at least for this particular story of characters), but the end result is a memorable comic book-based film series that should be revisited for years to come... Oh, and make sure you definitely stay until after the credits have finished rolling...
-
John DiBiase
(reviewed: 5/26/06)
Parental Guide: Content Summary

Sex/Nudity
: Mystique's outfit consists of blue paint on her nude body with some scale prosthetics; We see a nude woman lying on the floor on her side, but her arms and legs block any explicit detail (we do however see the side of her bare hip; Logan and Jean begin kissing heavily and start to disrobe (Logan takes off his outer shirt, leaving just a tank top on underneath), and he straddles her on a table. After she digs her nails into his arms, scraping him and their passion escalates, he backs off, realizing something isn't right. She encourages him that it's ok, and she uses her telekenetic abilities to force the belt from his pants as he stands there (nothing else happens)

Vulgarity/Language
: 1 "a" word, 2 "h*ll," 1 "d*mn," 1 "d*ckhead," 2 "b*tch," 1 "G-d"

Alcohol/Drugs
: None.

Blood/Gore
: We see a young boy standing in front of a mirror with a pained look on his face as he holds an unseen object against his back behind him (and we hear fleshy scraping sounds). His father barges in on him and we see bloody tissues and a bloody scraping tool before seeing two grossly bloody wounds on his back (from where he was trying to cut off his wings); We briefly see a wound on Wolverine's forehead heal (and also during other fights); A woman kissing Logan causes scrapes on his arms from her fingernails and we see them heal quickly; A man is pulled into the air by a telekenetic force that is so intense, it begins to disintegrate his clothes and peel the skin off of his hand (only briefly seen). The force then becomes so intense that the person explodes into tiny dust-like fragments; A projectile spike impales Wolverine's shoulder. We briefly see it sticking through his shoulder as well as the would as it heals after he pulls it out. He's then hit again in the abdomen with two more spikes that leave bloody holes on his shirt when he removes them; We see some bloody scrapes on Wolverine after he's fallen to the ground; Wolverine slices the arms off of a man who's limbs just keep regenerating quickly; A force vaporizes many humans and mutants; A force tears the skin off of Wolverine's body repeatedly as we see it healing and peeling continuously

Violence
: Lots of comic book action. Mystique breaks a man's neck, A man dies when vaporized, many mutants and humans die when vaporized; A person is instantly killed (not seen) after kissing someone; Magneto walks down a freeway and crushes and flips many cars and trucks, killing the passengers inside; A bridge is uprooted, causing many car accidents; there are many hand-to-hand combat fights; Wolverine slashes many villains and kills them (not explicit); Wolverine pulls spikes form his body; Some characters are shot by a gun containing a cure for being a mutant; Juggernaut and Wolverine fight; Iceman and Pyro fight; and other related comic book violence...
Disclaimer: All reviews are based solely on the opinions of the reviewer. Most reviews are rated on how the reviewer enjoyed the film overall, not exclusively on content. However, if the content really affects the reviewer's opinion and experience of the film, it will definitely affect the reviewer's overall rating.
To find out why we don't typically review R-rated movies,
click here