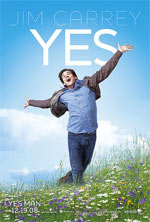 Yes Man


- for crude sexual humor, language and brief nudity.
Director:
Peyton Reed
Starring:
Jim Carrey, Zooey Deschanel
Running Time:
1 hour 44 minutes
Theatrical Release Date:
December 19, 2008
Official Site
Plot Summary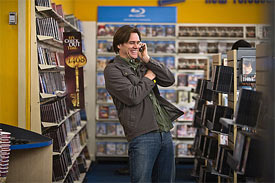 Yes Man stars Jim Carrey as Carl Allen, a guy whose life is going nowhere--the operative word being "no"--until he signs up for a self-help program based on one simple covenant: say yes to everything... and anything. Unleashing the power of "YES" begins to transform Carl's life in amazing and unexpected ways, getting him promoted at work and opening the door to a new romance. But his willingness to embrace every opportunity might just become too much of a good thing. (from YesisthenewNo.com)
Film Review
It's true that humans need Godly discernment in life to get through our daily lives. However, in Jim Carrey's latest comedy, saying "yes" to anything and everything proves to be an overall positive experience despite some rather serious consequences at times. Yes Man is inspired by the true story of Danny Wallace, a man who decided at one point in his life to say "yes" to absolutely everything. In the film, Carrey plays Carl Allen, a depressed divorced bank loan officer who has pretty much given up on even trying in life. Completely unmotivated, it isn't until a friend who has experienced the 'saying yes to everything' concept that he begins to really live again.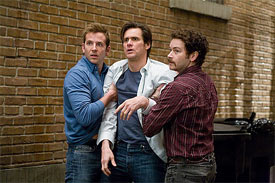 While the idea is absurd, the realization that someone - like Wallace - has actually tried this before makes the plot for Yes Man more tangible. However, director Peyton Reed packages it in a primarily comedic dressing with most of it being exaggerated or over-the-top instead of realistic. This works for it being a comedy, but Reed and Carrey still take it a bit further to inject some heart and seriousness into the story. Carrey plays it more like he did in Bruce Almighty as sort of a mix between silly and serious than in Liar Liar where he was considerably more devoted to the silly side of comedy. Conceptually, I can see why a lot of people feel Yes Man is just like Liar Liar, but it's really hardly similar at all. As someone who liked the 1997 comedy (it is too crude but does offer a redeemable theme by its end), I really don't see many similarities at all in Yes Man to Liar Liar. Carl Allen is a significantly different character from Fletcher Reede, and Carrey fleshes him out as much more of a regular guy than Reede's cartoony antics.
Sadly, Yes Man isn't any cleaner content-wise than either aforementioned comedies. There's an icky oral sex gag where he feels he has no choice but to agree to the service of an elderly woman who really wants to do it. In addition to that, we briefly see Carrey's butt crack as he's riding a motorcycle in a hospital gown, and we later see a full auditorium of naked people who are covering their privates (I won't ruin why they're naked, but it's one of the last scenes). In addition, a few comments are inappropriate, but the sexual content isn't nearly as frequent as in Liar Liar, or any number of current PG-13 comedies (including the recent Four Christmases). Language is on the heavy side, but thanfully not frequent. Carl utters an "f" word to himself while frustrated about running out of gas, and there are a series of "s" words and, more importantly, blasphemy scattered about (a couple "g*dd*mn's" and a handful of "Oh G-d" and "Oh my G-d," as well as about 3 uses of "J-sus"). It's unfortunate because the majority of gags aren't vulgar and the story doesn't need this kind of content. It's the kind of film that, if edited right, could have been made decades ago as a family film. But the filmmakers include enough profane and crude content here to nearly completely ruin it.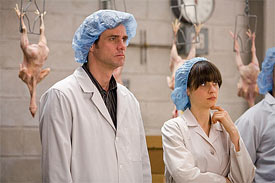 Carrey turns in a fine performance in Yes Man, and the young talent of Zooey Deschanel is a nice compliment. She plays things pretty straight as Allison to Carrey's Carl, but makes a good match for the new "Yes man" version of Carl. Not all the best laughs were spoiled in the trailers, but there certainly aren't a whole lot of gut-busting moments in Yes Man. Compared to Bruce and Liar, this one stays pretty light on the comedy, but still finds time for heart when necessary -- even if the pay off morally isn't as impacting as either of those films. Saying "yes" to every opportunity that comes your way is really a stupid and thoughtless way to live your life, and the film does prove this to be relatively true. It makes it clear that discernment is crucial when deciding on important life decisions, but saying no to everything isn't really living either. Of course, when it comes to the Christian walk, striving for holiness is crucial in our decision-making process, so making the right choices is very important.
Well, I'm not going to lie. I enjoy watching Jim Carrey in action and it was great to see him return to comedy for the first time in about three years. It's just unfortunate that the humor gets as crude as it does. So, because of its content, I can't recommend Yes Man. Please keep the film's content in mind when you are deciding whether or not to see this one for yourself or others. Unfortunately, we probably won't have a family-friendly effort from Carrey until next year's A Christmas Carol from Robery Zemeckis, so in the meantime, you might just want to say "No" to Yes Man.
-
John DiBiase
(reviewed: 12/20/08)
Parental Guide: Content Summary

Sex/Nudity
: Carl sees his ex-wife at a bar getting frisky with a guy and he comments that they're "touching each other's genitals." When awkwardly confronted, he remarks he's "gonorrhea" instead of "gone" (as in leaving), but realized he didn't mean to say that; At the yes convention, Terrence describes Carl to himself, saying he's so unmotivated he can't even "summon the enthusiasm to masturbate;" While having to say yes to everything, Carl reads aloud an ad for enlarging the size of his penis and he clicks "yes" (but we hear nothing else about that); Carl's elderly neighbor Tillie asks for his help to put up shelves and he says yes. She can't repay him financially so she offers to give him a "release" and adds "a sexual release." He's opposed to it and says no, but a series of bad things immediately follow, so he decides to go back and accept her offer. We then see her throw him on a bed and go out of view of the camera (and then reach back into view and put her dentures in a glass next to the bed) for her to perform oral sex on him. We then see his face and reactions -- first horror and then sort of a disgusted pleasure before the scene ends (all played for laughs); While drunk at a bar, a girl taps Carl on the shoulder and he turns and passionately kisses her (but that's not what she was going to ask him for). He spits out gum that was apparently hers; Allison and Carl kiss passionately outside on an amphitheater stage and then move out of the camera's view (which kind of implies more, but then we see them fully clothed again while sitting in the stands of the empty theater); Rooney sees Tillie at a party and knowing what she did to Carl seems interested in her. She asks him for help with something and he gladly finishes his drink and walks off with her; Carl's exwife asks him to come over and she vents to him before kissing him and asking him to stay the night. He declines and leaves; We see Carl's bare butt in a hospital gown while riding a motorcycle; We see a convention full of completely naked people, but they're covering up any bare chests or genitals. We do see partial views of their bare butts very briefly, however.

Vulgarity/Language
: 1 "f" word (+ 1 written in a song title in the credits), about 8 "s" words (+ 2 during a closing credits song and 1 in a song title in the credits), 3 "g*dd*mn," 3 "J*sus," 2 "a-hole," 2 "a" words, 2 "d*ck," 2 "s*cks," about 11 derivatives of "G-d," 3 "h*ll," 1 "b*stard"

Alcohol/Drugs
: There's drinking in several scenes, including a scene where Carl buys his friends a bunch of drinks at a bar and he himself gets plastered (and we see him very drunk during a fight outside the bar); Carl puts what looks like hot sauce on his hand and snorts it while drunk at a bar

Blood/Gore
: We see a brief clip from the movie
Saw
on Carl's TV where a character is about to cut his foot off (and then we see the guy's face and hear him screaming, with Carl yelling at the TV for him to break it off already). We don't actually see any blood or gore; We see some scrapes on two people's faces after a car accident; In a nightmare, Carl's friends find him lying dead on his couch frozen with a contorted face. A fly lands on his eyeball and then flies into his mouth; While at a chicken butcher, we see some blood on the walls and hear about how they kill the chickens, which causes Carl to pass out

Violence
: Nick throws a rock through a window and is tackled by security; A man wants to fight Carl at a bar and punches him a couple of times. Carl tries to hit him but is too drunk and punches a different person by accident; Carl accidentally falls backwards down some stairs and then has a dog barking viciously in his face; Carl is startled by a black cat and jumps into and over a parked car; A car is hit by an oncoming truck (landing the two people in the hospital with minor injuries)
Disclaimer: All reviews are based solely on the opinions of the reviewer. Most reviews are rated on how the reviewer enjoyed the film overall, not exclusively on content. However, if the content really affects the reviewer's opinion and experience of the film, it will definitely affect the reviewer's overall rating.
To find out why we don't typically review R-rated movies,
click here