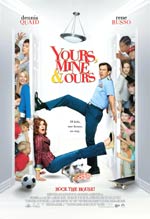 Yours, Mine, & Ours


- for some mild crude humor.
Director:
Raja Gosnell
Starring:
Dennis Quaid, Rene Russo, Hawk Nelson
Running Time:
1 hour, 28 minutes
Theatrical Release Date:
November 23, 2005
Official Site
Plot Summary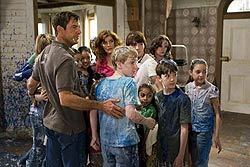 A widowed Coast Guard Admiral and a widow handbag designer fall in love and marry, much to the dismay of her 10 and his 8 children. In this family comedy, single parents Frank (Dennis Quaid) and Helen (Rene Russo) plan to tie the knot... but with 18 children between them trying to sabotage the marriage, they discover that weddings – and families – can't be built in a day. (from MovieWeb.com)
Film Review
Remakes, remakes, remakes... Hot off the success of the 2003 remake of Cheaper By The Dozen (which sees a sequel this Christmas as well), is the Raja Gosnell-directed modern take on 1968's Yours, Mine, & Ours. This latest comedic look into the lives of large families approaches the material from a unique angle by joining two large families that don't want to be together to make one truly gigantic family. However, Yours, Mine, & Ours never really gets out from underneath the shadow of its predecessor Cheaper By The Dozen.
Considering how similar these films are, it's ultimately hard not to compare the two. While the inherently funny Bonnie Hunt and Steve Martin headed up the roles of the parents in Cheaper, here we have two leads more fit for dramatic roles trying their hands at slapstick family comedy. While it may not be their strong points, they still pull it off pretty well, especially when the material at hand calls for them to be more serious. Dennis Quaid is definitely one of my favorite actors (with such great films on his resume like Frequency, The Rookie, and In Good Company), but comedy isn't really his cup of tea. Rene Russo seemed a little more comfortable in the role as a mother of ten kids, and the film's saving grace was the chemistry between the two.
Storywise, Yours, Mine, & Ours is somewhat problematic at times. In the joining of the ultra strict, by-the-rules parenting of Quaid's Frank with Russo's almost-hippie, free-spirited parenting, there are heaps of tension and clashing practices, without a common ground ever really reached. The film sort of sends a mixed message about the two, leaning towards "spanking" as a negative form of disciplining your child, without ever really settling on a final point. Also, the fact that Helen and Frank are so quick to get married without consulting their respective families first immediately sets the tone for their kids to object to their union. It does make most of the film's plot development possible, however, and it's made clear by the end that communication, respect, and unity in family is crucial.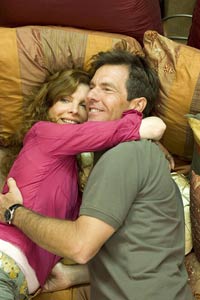 With that said, it's only right to address some things I thought the film lacked. First of all, there seemed to be a complete disregard for anything spiritual in the movie. It even stood out to me that Helen and Frank never marry in a church, either. Of course you could use this film as a "how not to run your family" drill, but it still would have been nice to see some faith brought into their household. Also, it seemed really strange that none of the eighteen kids ever compare their new mother or father to their former mom and dad who passed on. While one little boy expresses that he never wants to lose his mother again, none of the other kids ever seem to even really acknowledge there ever really were previous parents.
Nitpicking aside, the content for the film is pretty clean. The biggest problem it may have for some people, is how cruel the children could be to each other (and then, to their parents). The film is riddled with such cruelty and pranks that include pouring/splashing paint on each other, tying a sibling to a boat sail, lying, destroying property, starting fights, throwing a party without their parents' permission, and lots more. But a lot of the "violence" is slapstick at best. In fact, the film utilizes plenty of stereotypical and cheesey sound effects to aid in some of the more corny comedic moments, but thankfully doesn't use them exclusively. And random things will happen that won't make much sense and may appear just to excuse the use of a classic "splat" sound or the presence of some random thick, liquidy substance for a character to fall into (like Frank falling into a kiddie pool filled with green slime at a hardware store?? I've been to dozens of hardware stores and have never seen that!).
Now, believe it or not, I actually did like Yours, Mine, & Ours. Although flawed, I found some of the strongest moments to be between Helen and Frank and when the kids began uniting. I actually found myself with a lump in my throat by the story's end. But my favorite scene -- of course, given the type of site this is -- was when the kids threw a party at their house without their parents' knowledge. Christian Canadian pop/punkers Hawk Nelson actually star in the film as the band at the party, performing a new song just for the film called "Bring 'Em Out," and even a portion of their song "Things We Go Through." It was fun to see our Hawk boys on the big screen and to hear some quality music at the movies. Although brief, it was indeed a highlight of the film.
Overall, I thought Yours, Mine, & Ours was an enjoyable hour and a half at the movies. Although it has its mess of problems and is not nearly as good as 2003's Cheaper By The Dozen, it remains to be decent entertainment to say the least. And hey, our friends Hawk Nelson are in it, so it's hard not to like it even for the brief moment they do appear in it.
-
John DiBiase
,
(reviewed: 11/27/05)
Parental Guide: Content Summary

Sex/Nudity
: In reminiscing about their past, Frank and Helen recalled that when they were younger, they hid under a row boat in the rain and "didn't come out" even when it had stopped; We see Phoebe kissing a boy passionately; While the kids are doing the laundry they find a skimpy pink thong which Mrs. Munion claims to be hers; When trying to come up with ideas to tick off their parents, Dylan suggests that the parents find William and Phoebe "together" or William and Christina (who are brother and sister). When they object, he suggests his step-sister and sister be found kissing.

Vulgarity/Language
: 1 "h-ll," 6 "G-d"

Alcohol/Drugs
: We see the nanny, Mrs. Munion, pouring herself a martini; someone brings a keg to a party the kids throw at their house

Blood/Gore
: We see one of the children projectile vomit while at sea on a boat

Violence
: Mostly non-lethal slapstick comedic violence...
Disclaimer: All reviews are based solely on the opinions of the reviewer. Most reviews are rated on how the reviewer enjoyed the film overall, not exclusively on content. However, if the content really affects the reviewer's opinion and experience of the film, it will definitely affect the reviewer's overall rating.
To find out why we don't typically review R-rated movies,
click here