You've Got Mail


- for some language.
Director:
Nora Ephron
Starring:
Tom Hanks, Meg Ryan
Running Time:
1 hour, 59 minutes
DVD Release Date:
February 5, 2008 (
Amazon.com
)
Blu-Ray Release Date:
February 1, 2011 (
Amazon.com
)
Plot Summary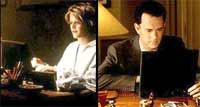 Joe Fox (Tom Hanks) is heir to a big book superstore chain. He lives with his girlfriend, Patricia who he doesn't even really love, and at night chats online with a woman he's never met and knows nothing about, but soon falls in love with. That woman happens to be Kathleen Kelley, the owner of a small children's' bookstore that has been around for 40 years and was started by her late mother. Joe's store is serious competition for Kathleen's. Before long, Joe & Kathleen are at war with each other. Unknowingly, however, they are chatting online with each other and falling in love in the process. As this crazy story unfolds, the mystery in this romantic comedy lies within when and how they will learn of each other's identity.
Film Review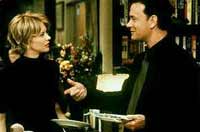 You've Got Mail is easily the best romantic comedy to come out of Hollywood this year. Director Nora Ephron takes the 1940 Jimmy Stewart classic Shop Around The Corner and updates it nicely for the late nineties. Ephron makes Mail funny without being crude, and creates characters that are not only tangible, but likable. The film thankfully shies away from sexual innuendos (save a minor and unnecessary joke about cybersex), which is uncommon for most romantic comedies these days, and serves as a fun, adult romantic comedy. The film does, unfortunately, show two central relationships involving couples who live together without being married with the two main characters secretly beginning in a relationship together online. The love story and comedic aspects of the film are its real charm, but there are plenty of moral downsides to keep this from being a true family film. The battles of wit between Hanks and Ryan, coupled with a budding romance between the two, make this film especially fun to watch.
The movie seemed a little long at times, especially for a film of this genre, but the suspense of how the two will find out each other's true identities holds the viewer's interest throughout the film. Overall, I thought You've Got Mail was a sweet little film, but due to some language and some significant moral issues, it just doesn't have the innocence factor the original it's based from possessed.
If you're looking for a little romantic comedy to curl up with your spouse to watch on a rainy night, You've Got Mail might be a good choice, but definitely check out Shop Around The Corner for you and your family.
-
John DiBiase
,
(reviewed: 12/28/98; revised 12/29/04)
Parental Guide: Content Summary

Sex/Nudity
: A few minor comments are made about "cybersex," and Joe & Kathleen both live with other people, unmarried. A comment is made about Joe's future stepmom running off with the nanny.

Vulgarity/Language
: 1 "s" word, 1 "g*dd*mn," 1 b*tch, 2 "h*ll," 2 "d*mn," 1 "b*stard," 2 "a" words, 4 "G-d," 5 "Oh my G-d," 1 "p*ss"

Alcohol/Drugs
: Many instances show people drinking beer or wine or martinis.

Blood/Gore
: None.

Violence
: None.
Disclaimer: All reviews are based solely on the opinions of the reviewer. Most reviews are rated on how the reviewer enjoyed the film overall, not exclusively on content. However, if the content really affects the reviewer's opinion and experience of the film, it will definitely affect the reviewer's overall rating.
To find out why we don't typically review R-rated movies,
click here