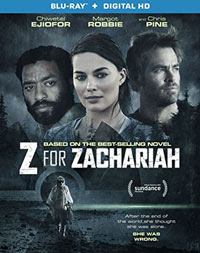 Z for Zachariah


- for a scene of sexuality, partial nudity, and brief strong language.
Director:
Craig Zobel
Starring:
Margot Robbie, Chiwetel Ejiofor, Chris Pine
Running Time:
1 hour, 38 minutes
Theatrical Release Date:
August 28, 2015
Blu-Ray Release Date:
October 20, 2015 (
Amazon.com
)
Plot Summary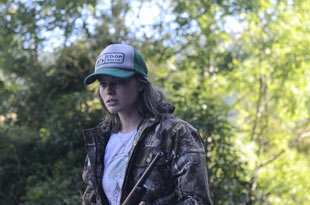 In the wake of a disaster that wipes out most of civilization, two men and a young woman find themselves in an emotionally charged love triangle as the last known survivors. Chiwetel Ejiofor, Margot Robbie, and Chris Pine deliver thought-provoking performances in this twist on the post-apocalyptic story. (from Lionsgate)
Film Review
With all the craziness in the world, it's no surprise to find more post-apocalyptic stories coming out. Granted, the book Z for Zachariah--written by Robert C. O'Brien--was first published in 1974, but adapting it for film probably couldn't be more relevant than it is today. The movie adaptation differs greatly from the book, going so far as to add a third character into an otherwise two-character story, as it centers around what might be the very last people on earth. The third character turns the story into a love triangle, adding more drama and tension to the story, but the film's goal is to explore relationships during what could very well be the end of the world.
Indie director Craig Zobel tackles the cinematic telling of the story, capturing a slick and surprisingly bright look for the post-catastrophe future. He's also assembled a truly impressive and reliable cast in Margot Robbie, Chiwetel Ejiofor and Chris Pine. Robbie is essentially the lead, named Ann, and plays the daughter of a preacher in the south whose tiny hometown happens to apparently be the only place not affected by nuclear fallout. As such, she brings a background of faith to the table, which serves as a contrast to Ejiofor's character, a scientist named John Loomis. They immediately form a unique bond and help each other cope with their loneliness. It's also interesting to see Ann cling to her faith, despite the death that has decimated her way of life, while Loomis tends to look at things for face value and with a more practical viewpoint. This is evidenced when he tries to convince Ann to tear down her father's church so they can use the wood to build a wheel to turn a nearby waterfall into something to power a generator (so they can have electricity). She can't imagine ever pulling a single plank from the old church walls, while Loomis just sees it as an unnecessary structure being repurposed in a gravely necessary way.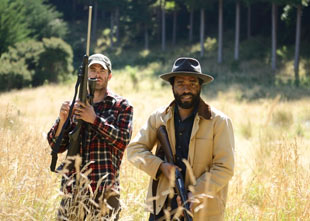 And, of course their relationship begins to morph into something more romantic, which almost comes to a head just as Chris Pine's character Caleb shows up. He's another survivor who apparently had been hiding out in a mine shaft during the fallout, and surfaced to survey what was left. As it turns out, Caleb is a southerner like Ann and also has a background in faith, and his charming demeanor disrupts the otherwise good thing that Loomis had going with Ann. Still, Ann seems to be more comfortable with Caleb, and as one could imagine, this causes a heap of trouble.
Z for Zachariah is more of an examination of humanity and how love and relationships would perform in dark and desolate times. The story is pretty slow, with some occasional tension (some of it mildly to moderately violent), but it's more of an opportunity for the actors to show off what they got than a nail-biter. I'd say it's slightly more akin to All Is Lost than, say, The Martian. While the latter is an acting vehicle with great performances (and also coincidentally starring Chiwetel Ejiofor), it also has big set pieces, a big cast and lots going on. The former, however, is entirely a one-man show, and it's a snoozer if you can't appreciate good acting and human storytelling (with about 2-lines of dialog the whole time, too).
I found Z for Zachariah to be rather engaging, and I enjoyed watching the dynamic between the three characters. The tension created by their situations kept things interesting, but it's not until the ambiguous finale when things finally come to a dramatic climax. And, unfortunately, the ending is kind of dark and not entirely clear on what transpires. It's done intentionally so, too, which is liable to spurn quite a bit of debate (like the spinning totem at the end of Inception). This ending, while somewhat predictable, kind of damaged the overall feeling the movie generated for me. I know it'll resonate differently with different people, and that's cool, but I think the ending alone will make or break the movie for most.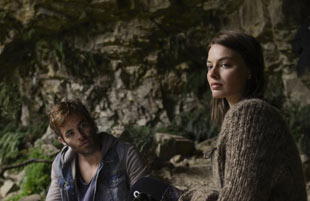 The content of the film is certainly PG-13, especially given the plot taking place in the wake of an undetermined nuclear disaster. There is 1 use of the "F" word, spoken by Loomis while drunk and unnecessarily belligerent. Later, Ann removes her dress down to her underwear thinking it's what Loomis wants, but he warns her that if they do anything, it'd change their relationship (and doesn't do anything with her). Later, Ann and one of the guys share a really heated moment where there's passionate kissing and groping before the scene cuts away, implying they spend the night together. There's also just a couple other minor uses of profanity and a sequence of scenes where a man is sick and we see them throwing up and feverishly fighting an illness in bed.
When all is said and done, Z for Zachariah is a decent drama that's well-acted and beautifully shot, but it's most certainly not for everyone and is anything but uplifting. The spiritual elements are a nice touch that add a little extra depth to the story, but for the most part, it's a pretty mature story and an examination of the human condition during desperate times.
-
John DiBiase
(reviewed: 10/20/15)
Blu-Ray Special Features Review
Z for Zachariah
is available through digital retailers or via physical copies on Blu-Ray and DVD separately with a digital copy. The film looks great in HD and includes the following features (along with the theatrical trailer -- but no audio commentary)...
Deleted Scenes (6:00) - There are four deleted scenes. They're untitled and are available to watch separately or together with a "Play All" option. The first scene is an interesting one. It shows Ann finding John having fallen down the stairs. She notices he had with him a bag of supplies in order to leave and she's instantly hurt and confused as to why he'd try to leave while she's caring for him. The second scene is just a short moment where Ann tells Caleb he doesn't have to call her "ma'am." The third is an extended version of the party scene involving the three of them. In it, we see more flirting between Caleb and Ann. The final scene seems to be an alternate take of Ann and Loomis wondering if Caleb is being honest about the town of Anson.
Making of Z for Zachariah (11:28) - This is a short but insightful making-of featurette that has the cast and crew talking about the story and their characters. They also talk about working together and working with the director.
Extended Interviews - Lastly, there is a batch of extended interviews (over 20 minutes of them) from director Craig Zobel, writer Nissar Modi and actors Margot Robbie and Chiwetel Ejiofor. If you enjoyed the film, you'll want to watch these. The actors add some insight into their characters while the writer and director talk about the story, production, and their love for the original book.
-
John DiBiase
,
(reviewed: 10/20/15)
Parental Guide: Content Summary

Sex/Nudity
: We see Ann's bare back as she bathes in a small kiddie pool while standing; When Ann drinks wine with John, she gets drunk and in the next scene, we see her pulling up her panties as she gets off the toilet. She then sits on John's bed waiting for him. He approaches her and she removes her dress down to her bra and panties. He then hands her her dress and tells her he wants to but that it'll change things. Nothing else happens; Ann approaches a man in the bathroom who is just wearing a towel around his waist. They begin kissing and he grabs her butt under her dress. He then lifts her onto the sink roughly and it looks like he pulls her panties off (out of view of the camera) and she looks scared. The scene ends but it's implied they sleep together.

Vulgarity/Language
: 1 "F" word, 2 "S" words, 2 "d*mn," 1 "h*ll"

Alcohol/Drugs
: John finds a fridge full of beer in the abandoned convenience store. We then see him sitting on the floor drunk. Later he gets angry and a little violent because of it;

Blood/Gore
: We see John throw up onto the ground from radiation poisoning; John and Ann have wine with dinner. She gets drunk off of it; John, Caleb and Ann have wine with dinner and we see them acting silly afterwards; There's a bloody scrape on Ann's knee but it's not focused on.

Violence
: Ann first talks to John while he's in a natural pool under a waterfall. She tells him to get out, but he panics and pulls a gun on her. She then tells him it's because of radiation and he panics and gets out; We see John throw up onto the ground from radiation poisoning; We see a needle going into John's arm as she gives him drugs for the radiation exposure; We see John's bed shaking and hitting the wall repeatedly as he's acting feverish from being sick; While totally drunk, John shoves Ann against a wall and tells her he doesn't always need her help (and yells the "F" word at her in this moment). It's an awkward and kind of disturbing moment; Caleb tells a story about two men who kill each other with their bare hands; We see John and Caleb shooting rifles at a turkey; A man slips on a cliff but is saved by another man with a rope. This happens two times in a row; Ann pushes a water glass off of the table and it falls to the floor.
Disclaimer: All reviews are based solely on the opinions of the reviewer. Most reviews are rated on how the reviewer enjoyed the film overall, not exclusively on content. However, if the content really affects the reviewer's opinion and experience of the film, it will definitely affect the reviewer's overall rating.
To find out why we don't typically review R-rated movies,
click here