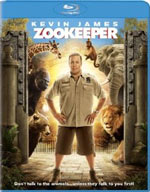 Zookeeper


- for some rude and suggestive humor, and language.
Director:
Frank Coraci
Starring:
Kevin James, Rosario Dawson, Leslie Bibb, voices of Nick Nolte, Adam Sandler, Cher, Slyvester Stallone
Running Time:
1 hour, 42 minutes
Theatrical Release Date:
July 8, 2011
Blu-Ray Release Date:
October 11, 2011 (
Amazon.com
)
Official Site
Plot Summary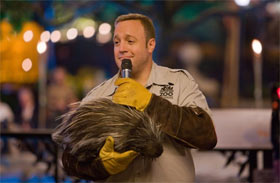 In Zookeeper, the animals at the Franklin Park Zoo love their kindhearted caretaker, Griffin Keyes (Kevin James). Finding himself more comfortable with a lion than a lady, Griffin decides the only way to get a girl in his life is to leave the zoo and find a more glamorous job. The animals, in a panic, decide to break their time-honored code of silence and reveal their biggest secret: they can talk! To keep Griffin from leaving, they decide to teach him the rules of courtship - animal style. The film also stars Rosario Dawson and Leslie Bibb and features the voices of Cher, Nick Nolte, Adam Sandler, and Sylvester Stallone. (from MovieWeb.com)
Film Review
Like many popular comedians before him, Kevin James seems to have found what shtick works best for him. It doesn't hurt either that James has teamed with Adam Sandler's Happy Madison film company to offer a considerably more tamed, family friendly film in Zookeeper. Most of Sandler's films carry the same feel from movie to movie, and so it has been with James. So if you've seen Paul Blart, you'll know what to expect from Zookeeper.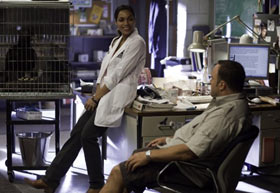 Paul Blart: Mall Cop was one of those ridiculous comedies that actually worked to a degree due to the absurdity of it, coupled with James' charm and comedic style. Zookeeper isn't nearly as broadly effective (as evidenced by its poor reception at the theaters, while Paul Blart was an unexpected hit), but in some ways it's more enjoyable due to an impressive voice cast that supports James throughout the film. The story revolves around James' lovable loser Griffin who really enjoys his job as a zookeeper, but becomes torn about it when he's given a second chance with the love of his life... after she'd dumped him five years earlier because of his job. So at the core of the movie is not only a love story but Griffin's personal soul searching to discover what he's really meant for in life.
As I mentioned above, what makes Zookeeper a little above average is James' presence and his cast of animal co-stars. Among the all-star cast are Sylvester Stallone as a lion, Cher as his lioness, Sandler as a little monkey, Nick Nolte as a gorilla, and Maya Rudolph as a giraffe. Sandler knocks it out of the park with a voice delivery that could only be described as a more confident Bobby Boucher, while it's great to see Sly stepping into a comedic role again (even if it's just his voice), and Nick Nolte is excellent as the gruff-voiced gorilla, Bernie. Each character gets a couple really funny lines while James provides his usual physical and reactionary comedy. It's all handled ridiculously and the film never takes itself very seriously right out of the gate when Griffin gets dumped by Stephanie. The film does have a sweet side, but it's a long road for Griffin when he loses himself for a time, kind of turning into a bit of a jerk before the film's end. It changes the tone of the entire film and makes it feel somewhat uneven, but the ending redeems any negative points and that lead up to it.
Obviously, the biggest plot point of Zookeeper pits Kevin James as Griffin the zookeeper against a zoo full of animals who can actually talk. They first open their mouths when they think he may leave his job at the zoo, and from there, the film takes on a little bit of a Night at the Museum feel. Talking animals is nothing new, even harkening back to the days of the popular Dr. Dolittle franchise, but Zookeeper handles it in a slightly different way. It's not entirely fresh, but the filmmakers make it amusing. The live action cast that supports James are nearly all pretty good. Rosario Dawson does a nice job making you like her infinitely better than the more shallow object of his affection, Stephanie, who's played by Leslie Bibb. Donnie Wahlberg isn't given a lot to do here, but he does well enough as the rotten egg amongst the other animal lovers at the zoo. But not every character fairs all that well. Ken Jeong, who was just one of the many smudges on Michael Bay's Transformers: Dark of the Moon this summer, stars as "Venom" and is equally irritating and a waste of space here. Nick Bakay is Franky, Venom's buddy, who dons an unexplained eye patch throughout the movie and just seems to be present to fulfill some kind of Happy Madison bizarre supporting character clause. Both characters were pointless and only gave the movie a little more of that bargain bin feel.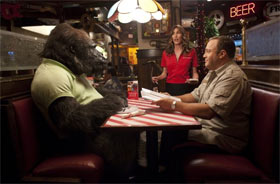 The content is relatively mild for a PG film, but there is still some crude humor and a little bit of language to take into consideration. The biggest concern for some parents may be the slapstick violence, but there's a handful of "Oh my G-d" and related uses of "God" as well as a few prominent uses of "h*ll" that seemed really unnecessary (especially when uttered by some of the animals). Also, there's a crude sequence, where the wolf encourages Griffin to pee on a tree to mark his territory (While you're watching, you're kind of surprised Griffin's dumb enough to go through with it). Just as Griffin starts to do it, Kate comes by and sees him peeing on a tree in the zoo (and she apparently sees explicit details as well) and Griffin proceeds to make up an excuse that involves saving the wolf's life. In the next scene, we see Griffin peeing in public into a fine restaurant's potted plant. We don't see anything explicit ourselves during theses scenes, but parents certainly wouldn't want their kids copying these actions if they found them humorous enough.
Zookeeper won't be remembered for being a highlight of 2011, but for a family comedy, you could certainly do a lot worse. It's probably one of those fun, lighthearted films that is decent entertainment for when you don't want to think too much and just need a few laughs. James' comedy style is definitely an acquired taste, but it's refreshing to see a comedy these days that doesn't rely so heavily on sexual humor to get a laugh (although, much like last Christmas's Gulliver's Travels, they resort to some lowbrow peeing jokes instead).
Overall, I enjoyed Zookeeper. It's not a perfect film, and it borrows from familiar territory to get the job done, but I found it to still be a pretty fun and entertaining hour and a half. And frankly, I think that's really all James and company set out to do.
-
John DiBiase
,
(reviewed: 10/18/11)
Blu-Ray Special Features Review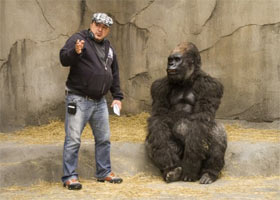 Sony's Zookeeper comes home on Blu-Ray and DVD in a nice combo pack option. The movie itself looks great in HD; although it's not a film that screams to be seen in high definition, it's a colorful film and with all the real animals in the movie as well, the HD picture offers wonderful detail. Alongside the feature film is an array of extras...
Deleted Scenes - There are a total of 8 deleted scenes. The first one shows Venom with a boa around his neck, using it for a back adjustment. During this, he tries to encourage Griffin to hook up with a friend (1 use of G-d). In the second scene, Griffin tries to get the zebras and goats to talk to him in between visiting the lion to see if he'll talk again. The next one is an alternate take where the monkey bites a bug instead of licking his armpits. In the fourth scene, we see Venom and Franky sun bathing under heat lamps in the snake cage, which continues the interactions from the first deleted scene. In the next one, Griffin and Kate talk about him asking out Stephanie. The sixth is an extended version of Griffin's encounter with Stephanie's fashion designer friend who insults him. Griffin then has a heart-to-heart with the designer's dog. That exchange is actually kind of funny and may have worked in the finished film. Next, Kate looks in on the lion pen and makes eye contact with the lioness, almost hinting that the two make some kind of a connection. The last deleted scene is an extended version of when Bernie drives the van into a car. In this version, Griffin gets out and leaves a note on the crashed car's windshield.
Laughing Is Contageous - While most DVD/BD releases only include a short montage of outtakes, this is a really long series of bloopers and goofing around on set during filming. Some of these were also in the movie's credit roll. (3 G-d, 1 J-sus)
Bernie The Gorilla - This is dedicated to how Bernie was filmed using an animatronic gorilla with a human inside and the great lengths they went to to create the character. It's pretty neat to see what all was involved with making Bernie come to life - and the fact that due to gorillas being endangered, they couldn't use a real one for the movie (1 use of G-d here).
The Cast of Zookeeper - This is a great little featurette that covers just about every possible cast member in Zookeeper, from Kevin James to Donnie Wahlberg, everyone gets some screen time here. We're given glimpses of outtakes, goofing around on set, and even some brief footage of almost every voice cast member in the studio recording their lines as the animals. It's a fun watch.
Creating The Visual Effects - Curious as to just how they filmed the talking animals? Visual Effects Supervisor Pete Travers gives an in-depth look into how this was accomplished. It's a three-part segment with a handy dandy play-all feature that starts with how they filmed the animals, animated their mouths and incorporated the voice actors' performances. The next segment shows how they managed to film all of the various zoo animals congregated in one place for the big "meeting" they have before revealing themselves to Griffin. The last part shows how they had a stuntman wear a blue suit and saddle for James to jump on to make it look like he tries to ride the ostrich toward the end of the film. Each segment is very interesting if you're into how these visual magicians pull off these animated tricks, and they show plenty of before-and-after footage throughout.
Behind The Stunts is dedicated to the film's many stunts. We learn that Kevin James did most of his own stunts, and they reveal some great on-set footage of how they pulled off some of the great slapstick moments. What's interesting to find out here, too, is that when Joe Rogan's character Gale falls while biking in the film, it was an actual face-plant that the actor did by accident that they decided to use in the finished film! (1 use of G-d)
The Furry Co-Stars is a fun featurette that focuses on all of the live animals used for filming, their trainers, and how they got the animals to do what they wanted them to do on camera. It's amazing how painstaking the process was to get these guys on camera. (1 use of G-d)
Be The Bear - The final featurette opens with Doug, the bear's trainer, showing off the tricks the bear can do. Suddenly, Kevin James steps in and starts being wrangled by Doug in the bear's place. It's a short but funny extra.
If you enjoyed Zookeeper, this combo pack is a fun release with lots of great extras!
-
John DiBiase
,
(reviewed: 10/19/11)
Parental Guide: Content Summary

Sex/Nudity
: Venom hugs Robin and holds her awkwardly too long; We see a wolf licking its crotch; We see Griffin in the bathtub from the chest-up briefly; Griffin asks a co-worker if he's going home and he said "If by home you mean 'Uncle Bosoms,' then yeah, I'll be there in the back on a purple couch;" The wolf shows Griffin that he has to pee to attract the female. We then see the wolf's urine stream and then he encourages Griffin to pee on a tree to mark his own territory. Kate then comes by just as Griffin is peeing and sees him, commenting that "It's going to be very hard to unsee that." He then makes up a story that he had to pee on the wolf to neutralize venom in a scorpion bite he sustained. She then encourages his decision by telling him to pee all over the wolf. In the next scene, Griffin pees in a plant at a fine restaurant; Gale comments on making out with Stephanie "hard"

Vulgarity/Language
: 15 "G-d," 1 "cr*p, 5 "h*ll," 1 "suck"

Alcohol/Drugs
: People are drinking and partying in a TGI Fridays, but we don't really know if Griffin and Bernie are partaking or are just having a good time

Blood/Gore
: Griffin gets a porcupine quill in the face. There's a spot of blood on his face after he pulls it out

Violence
: Griffin swings on a tired and falls over; Griffin and the doc pull a can out of a tiger's throat; Griffin gets a porcupine quill in the face. There's a spot of blood on his face after he pulls it out; Griffin jumps across a pen and hits a wall; Griffin runs head-first into an elephant's hanging feeder; Shane throws an apple over Bernie's head and enters his cage with a stick. We don't see what happens, but later Griffin asks Bernie what happened to his eye; Bernie accidentally crashes the zoo van into a car; Griffin walks into Shane's house and kicks him in the chest, which sends him crashing into the wall; Bernie throws Griffin over a wall and he lands head-first on the ground; Griffin falls from the top of the bridge and crashes to the road; Bernie crashes onto a taxi cab's hood; We see outtakes where several people fall and get hurt
Disclaimer: All reviews are based solely on the opinions of the reviewer. Most reviews are rated on how the reviewer enjoyed the film overall, not exclusively on content. However, if the content really affects the reviewer's opinion and experience of the film, it will definitely affect the reviewer's overall rating.
To find out why we don't typically review R-rated movies,
click here