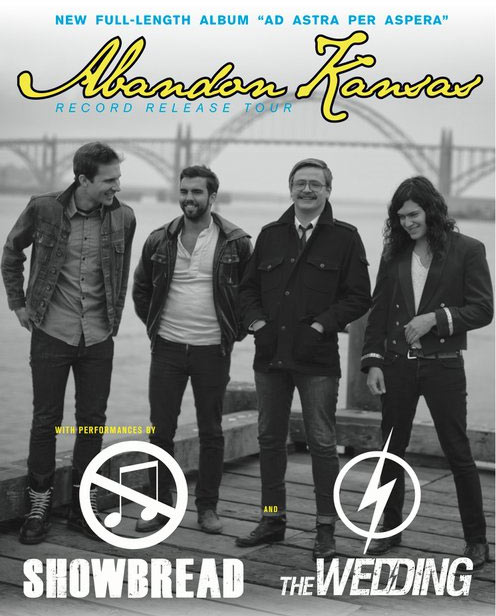 Abandon Kansas Record Release Tour
Abandon Kansas, The Wedding, Showbread
5/6/11, at The Record Bar in Kansas City, KS
Kansas City sometimes goes overlooked when it comes to being a musical breeding ground. As far as bigger names go, it's home to bands (Christian and non-Christian) like Queens Club, Puddle of Mudd, Tech N9ne and Reggie and the Full Effect. So naturally, there would be a ton of different venues in the Kansas City area where you can find a plethora of bands in different genres playing. Just off of 43rd and Westport is a little place called The Record Bar, which was home to one of the final shows on Abandon Kansas' first headlining tour. The Ad Astra Per Aspera Tour also featured two currently-independent artists, The Wedding and Showbread.
Let me just say that if you're not a resident of Kansas City, and only kinda good with directions, you're initial trip to The Record Bar may end up being a confusing one. But once you get there, it's easy to remember. So, with this being my first trip - yep, confusion. But we arrived, as Come&Live! artist Showbread was well into their set. They were playing the brutally-honest "A Man With A Hammer" from Who Can Know It? to a rather subdued crowd. After the song, they talked a little bit about going to see the movie Thor, and then on a much more serious note, vocalist Josh Dies talked about their reason for making music, as well as who they are as Christians, which included their opinions on the world celebrating the death of Osama bin Laden. It all appropriately led to their final song of the night, "Dinosaur Bones."
Next up, Arkansas rockers The Wedding came to blow the stage up. If you've never seen The Wedding live, it's mind-blowing. No light show. No videos. No fireworks. Just rock & roll. Not to say that all that stuff is bad, but it's a real testament to The Wedding's musicianship and stage presence that they can put on such a captivating show with only themselves and their instruments (not to mention lead singer Matt Shelton's signature extraordinary mic-swinging skills - you wouldn't think that something like that would be as entertaining and awe-inspiring as Shelton makes it). They gave us a good mix of songs from Polarity, The Sound The Steel and their latest release Distance, including a song called "Remedy." I hadn't previously heard anything from Distance, but "Remedy" was enough to convince me to hit up their merch table after the show. One thing I couldn't help but find ridiculously funny was their choice of song to cover. Shelton said "You all know that The Wedding is a band that likes to party. And sometimes, you have to fight for your right to party." I'm one of the few hip hop fans to find myself underwhelmed by the Beastie Boys, but The Wedding performing a cover of one of their most famous tracks was funny, and they killed it. They rocked the house down with "Fight For Your Right To Party," and for anyone who knows the lyrics to that song, The Wedding was delicate and didn't sing the parts about "porno mags." Rock fans who have never gotten a chance to see The Wedding live should take the first opportunity they get to do so.
Certainly no strangers to Kansas City, the night's headliners Abandon Kansas made the city a regular stop in their independent days before signing with Gotee Records, which may be one reason the crowd seemed to grow quite a bit when they took the stage. Another reason is that their first national full-length record, Ad Astra Per Aspera, has earned them somewhat of a reputation in the Christian music industry. They opened their set with a barrage of drums courtesy of not only the drummer, Brian Scheideman, but also Brad and Chet (guitarist and bassist, respectively) slamming on their own mini drum sets. It was a good intro for their set, which was officially started with the Ad Astra Per Aspera opening track, "Heaven Come My Way." In a slightly daring move, they played the song with the band's music video on a monitor in the background (daring because it absolutely required perfect timing and tempo). Another new song, "A Conversation With The Sky," was next, followed by a couple from their Gotee debut, We're All Going Somewhere. "The Harder They Fall" and "Months and Years" came one after the other, with the latter being accompanied by a video of a trip that the guys took to Africa with Compassion International. They talked a little bit about the organization and let people know what it's about. One thing vocalist Jeremy Spring said about Compassion that I really liked was that God wants more than just people who will send money over to them; He also wants people to go over and physically do things that will lead to those children being able to grow up and actually do something with their lives, instead of just sending money just so they can survive. Interesting thoughts. Anyone interested in finding out more about the organization can go to compassion.com.
Appropriately enough, after the bit about Compassion International, Abandon Kansas broke out an old hymn, "How Great The Father's Love." It was encouraging to hear a worship song in the midst of a secular venue. They went back into tracks from the new album, playing "The Golden State," "Like It Or Not" and "Take My Lead." It was somewhere around this point that I started to realize that, while I really like Abandon Kansas' music, there's something about the vocals that really strike a nerve to me. I hadn't figured it out yet, but the show was continuing, so I kept trying to. "Close Your Eyes" was next and seemed to be the last song of the night. The band left the stage, which prompted the crowd to demand at least one more song. Of course, it worked, and Abandon Kansas came back on stage. Spring said they would play not one, but TWO more, and then mentioned that the next song was on the new album, but was originally released in their independent days. It was called "Minutes" then, and on Ad Astra Per Aspera is called "Liar" (for the record, I did sort of predict the song's placement on the new album the last time I reviewed a concert that Abandon Kansas was a part of). I think I prefer the original composition of "Minutes" as opposed to that of "Liar," but regardless, they did a good job, and I'm glad they included it on their new album. To finish off the night, they played my favorite track from We're All Going Somewhere, "Make Believe." It was here that I figured out what I didn't like about the vocals. Spring is a good singer, but he draws out his words an awful lot. Sometimes he does so in such a way that it feels off from the rest of the song, and makes me anticipate the end of each line. But I digress. The song, and set, was ended the same way it began, with lots of beating on all the drum sets on stage, including one being played by Showbread's drummer, Drew Porter. A pretty cool ending that put a smile on my face.
It's weird to catch a tour near the very end of its run, because I would normally recommend catching it in your area, but in this case, the tour will be over by the time you read this. However, what I can do is tell you that Abandon Kansas was able to do their first headlining tour in such a way that shows Gotee Records that they made a wise decision in signing them. If you've purchased a copy of Ad Astra Per Aspera, you most likely have played it several times, and hearing the songs live will give you a new appreciation for them. And, as always, Showbread and The Wedding have music and a live show that you need to see if you haven't done so (or even if you have). The Ad Astra Per Aspera Tour was a fun night of talented musicians playing for a crowd that, in general, was excited about being there. Catch any of these bands live whenever possible.
--
Scott Fryberger
, 5/10/11
Abandon Kansas Set List
01. Heaven Come My Way
02. A Conversation With The Sky
03. The Harder They Fall
04. Months and Years
05. How Great The Father's Love
06. The Golden State
07. Like It Or Not
08. Take My Lead
09. Close Your Eyes
Encore:
10. Minutes/Liar
11. Make Believe
Raw Rock Theology 101 Tour
click on an image for a bigger size
**vertical images cropped for thumbnails**
Showbread:
The Wedding:
Abandon Kansas:
*all photos by
Scott Fryberger
and are the property of
Jesusfreakhideout.com