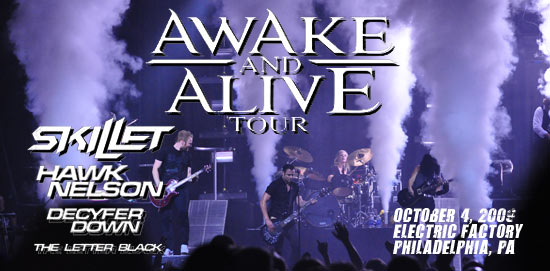 Skillet, Hawk Nelson, Decyfer Down, The Letter Black
10/4/09, at Electric Factory in Philadelphia, PA
Hot on the heels of the successful Comatose Tour as well as the smash hit release of their new album, Awake, Skillet is back on the road with the first tour in support of the new record, entitled Awake And Alive Tour. Like the Comatose Tour, Decyfer Down rejoins Skillet as tour support, this time with a new vocalist and a new album to promote as well. Since the release of the album Comatose and the subsequent tour, Skillet's popularity has only continued to steadily rise -- and so has their live show production.
I first saw Skillet perform live at Creation 1998. Back then, the guys were merely a three-piece and still performing cuts off their first two Ardent/Forefront Records releases. John's wife Korey wasn't in the band yet, in fact, all three original members were still performing together. It was a great live, garage rock band show, and it was something you could expect from the band for years to come. Once they stopped rotating guitarists to finally settle on Ben Kasica, and have since this time acquired Jen Ledger on drums, the rock quartet consistently offered a no-frills hard rock performance. I have a fond memory of seeing them performing in support of the Collide record at a small church in 2004. It was a fantastic live show, and they did it with just their songs and stage presence. With The Comatose Tour, they added lifts, pyro, major lighting, and even live stringed instruments for a bigger more theatrical feel. Does it improve their show? The "wow" factor is certainly there, but I may miss a little of the more humble-setting rock show elements as well.
The Awake And Alive Tour is primarily a hard rock show with a little pop rock thrown in for good measure. Consisting of new Tooth & Nail Records rock band The Letter Black, INO's Decyfer Down, BEC's Hawk Nelson, and our headliners Skillet, Awake And Alive Tour promises to be quite the night for rock and roll music. The Letter Black kicked things off, having recently released their underwhelming debut EP, which was named after their original band name, Breaking The Silence. The girl-fronted five-piece had a good stage presence and put on a pretty decent show, but knowing that they don't translate very well to the studio had already marred my enjoyment of their live show. However, they fit well with the genre-mates of the tour, so the band was a good match for the Awake And Alive Tour indeed.
After a brief set change, rock band Decyfer Down took the stage. Now, it's been several years since I'd seen the band live and when I had, original vocalist Caleb Oliver was fronting the group. Last year, Caleb exited for Fighting Instinct's vocalist TJ Harris to step in. I had seen TJ's former act on tour with Family Force 5 in '06, so it was a little weird to see him now fronting a different band altogether. Stylistically, Decyfer Down is kind of your usual brand of hard rock, and TJ's strong vocals and flowing blonde hair give them a bit of an 80's light metal flair. They opened with the song "Crash," and then proceeded with "Desperate," also from their new record. Their seven-song set mixed up cuts from both of the band's releases, but the same problem that plagued their latest record rings true during their live show -- Decyfer Down just sounds like too many other popular bands, to the point where they don't really have their own definable sound. Before long, the guys were off the stage and fans were gearing up for the first headlining act of the night.
When you look at the list of artists performing, the one that stands out as not really fitting in with the others would be pop punk band Hawk Nelson. Still, the guys are reliable for putting on an energetic and fun performance, so in that case, they fit right in. The Canadian four opened their set with the "Live Life Loud" cheerleader intro before using it to segue into the party anthem, "Bring 'Em Out," followed by "The Show" from their sophomore album Smile, It's The End of The World. Surprisingly, they then performed the title track from their popular debut release, Letters To The President, and moved into the rocker, "The One Thing I Have Left." Given their limited amount of set time, vocalist Jason Dunn still took some time to address the crowd, but they kept the music flowing pretty steadily. "California" was next, followed by "Everything You Ever Wanted," which Jason introduced with an encouraging word to anyone who has suffered from a broken home. "Meaning Of Life," from their new record Live Life Loud was a nice follow-up, and then Dunn paused again to explain the next song, "The Job," which he stated was written while he worked at a hospital toll booth when the band wasn't on tour. The angst-ridden song was then followed by the upbeat "Friend Like That," the bouncy "Let's Dance," and the set was concluded with the title track from the new album, Live Life Loud.
A much longer set change was next, and when things were ready to go, a dry ice cloud floated across the stage as a deep, creepy pre-recorded voice issued a campy warning (or disclaimer) for the rock show that was about to be unleashed upon the audience (i.e. it was almost like one of those Surgeon General warnings). With that, Skillet ripped into "Whispers In The Dark" from their previous release, Comatose, as the foursome stayed dimly lit for dramatic effect. Ben Kasica and Korey Cooper both stood on illuminated platforms at the back of the stage which rose and fell slowly several times before they dismounted. It was a strong opening, even if just a bit overly dramatic. "Better Than Drugs" was a great follow-up, while one of the weakest tracks from Awake was next, "It's Not Me, It's You." Despite being rather corny and not one of Skillet's strongest songs all-around, it seemed to get an enthusiastic response from the audience. After "The Older I Get," the band's live, touring violinist stepped out to provide the intro and accompaniment for "Comatose." And, to my surprise, the song was succeeded by one of their current hits, "Hero." From there, front man John Cooper asked the audience if they knew what power ballads were and then took a moment to comically explain what they are and how they originated. He then played an acoustic cover of what he labeled the ultimate power ballad, performing "I'll Be There For You," complete with audience participation. It was Cooper's signature lead-in for "Yours To Hold," which he then followed with a brief intro about the meaning of the next song, "The Last Night."
When the lights dimmed again, drummer Jen Ledger received a spotlight as she offered a fun and impressive drum solo. The band then broke into the pop punk anthem "Those Nights," before Cooper took a serious moment to talk to the crowd. He mentioned how some artists have defined rock and roll by their own depressing music and musings, while Cooper says he feels like it the music is really whatever the person with the microphone feels like saying. With that, he insisted that because Jesus Christ has affected and changed his life, that that is what he is going to sing about whether Skillet's audience likes it or not. It was a powerful moment, and Cooper followed it nicely with the tour's titular song, "Awake and Alive." Their hit "Savior" was a great follow-up, and the band really got into utilizing the stage space for the remaining songs. After the lights went dim once again, a single spotlight illuminated Ben as he ripped into a fantastic guitar solo. When he finished, Cooper introduced the next track, the new fan favorite, "Monster," and the band exited the stage. An encore was a given, and the band returned for the rocker "Obsession" and then the ballad "Lucy" which is the emotional closer from their newest record. But, as expected, the foursome weren't going to end on a mellow note, and with dual cello and violin intros, Skillet performed "Rebirthing" for an intense finish (complete with smoke air jets and the return of the lifts).
Overall, it was a great night of rock music. Skillet has really not only found their niche but have grown into quite the headlining performing band. Love 'em or hate 'em, they certainly know how to put on a solid rock show, and their performance on the Awake And Alive Tour is no exception. Don't miss it if it rolls into your town!
--
John DiBiase
, 10/9/09
Awake and Alive Tour 2009 Photo Gallery
click on an image for a bigger size
**vertical images cropped for thumbnails**
The Letter Black:
Decyfer Down:
Hawk Nelson:
Skillet:
*all photos by
John DiBiase
and are the property of
Jesusfreakhideout.com