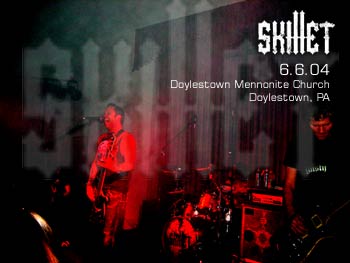 Skillet
6/6/04, Doylestown Mennonite Church, Doylestown PA
Skillet is a seasoned rock band that knows to do nothing less than impress. Although they would humbly disagree, they haven't exactly been on the receiving end of one their live performances. I can proudly say I've been a "panhead" since just before their debut released in 1996 and watching the band's metamorphosis from the trio they were to the quartet they've become has been nothing short of exciting.
It didn't surprise me that the church sanctuary was packed tightly the night of the show. We'd taken trips to this church before to see shows but the crowd was never this large. The band had just had their new record released to a mainstream label and it was our first time getting to see their new material performed live since the release of Collide. Skillet opened their set with the aggressive "My Obsession" before heading into the crowd-pleasing "Best Kept Secret". John paused several times throughout the show to address the crowd and connect with the audience. Following the always intense "Kill Me, Heal Me," John introduced and explained the title cut from their new album, Collide.
A message of love preceded "A Little More" while an explanation of the mainstream Collide release that features a new song introduced "Open Wounds." "Open Wounds" is a different song than Skillet is used to playing as it focuses more on reflecting on a bad relationship than on Christian living. However, the subject matter is relevant as Cooper had written it about his relationship with his father growing up. But from there, the mood shifted to worship as they began playing their radio-friendly "You Are My Hope" and later returned to more Skillet original worship tunes with the incredible "Angels Fall Down." The hit single "Savior" abruptly ended the set, but a rousing encore of the fan favorite "Alien Youth" brought the evening to a close in a more satisfying fashion.
Following the show, the foursome graciously spent some time with the fans before calling it a night. While the set seemed to whiz by pretty quickly, Skillet had put together a delectable list of hits and favorites to serve up what was yet another great evening of hard rock and heavenly worship.
--
John DiBiase
, 6/9/04
Skillet Set List

01. My Obsession
02. Best Kept Secret
03. Kill Me, Heal Me
04. Collide
05. Forsaken
06. A Little More
07. You're Powerful
08. Open Wounds
09. You Are My Hope
10. Fingernails
11. Locked In A Cage
12. Angels Fall Down
13. Savior
Encore:
14. Alien Youth

Skillet Photo Gallery
click on an image for a bigger size

Skillet
*all photos by
John DiBiase
and are the property of
Jesusfreakhideout.com