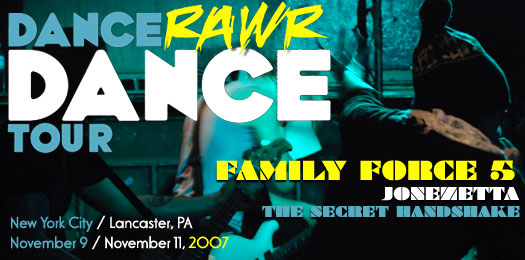 Family Force 5, Jonezetta, The Secret Handshake
11/9/07 at The Knitting Factory, NYC / 11/11/07 at The Chameleon Club, Lancaster, PA
At the beginning of 2006, shortly before Family Force 5 released their debut album, Business Up Front, Party In The Back, we rode out to New York City to catch the band's tour with Gotee labelmates, Fighting Instinct. The show was late at night and the audience was rather thin, but the boys put on an incredible show nevertheless. Fast forward close to two years later, Family Force 5 returns to New York City headlining the Dance Rawr Dance Tour with Jonezetta and indie act The Secret Handshake, selling out the same venue they played the year before, even having to turn away at least three hundred people this time.
You've probably heard me say this before, but a Family Force 5 live show is one of the best live performances you can get today. Even on their most "off" day or without their unmistakable lead singer (like during the late Summer for a few dates due to a baby arrival), the band still puts on a wild, high energy show. You just can't go wrong seeing them live. Jonezetta, who we first saw live earlier this year on Anberlin's Spring tour, fits in well enough with FF5 in the roster, also having an engaging dance-friendly stage show, although not nearly as unbridled as their successors. The one-man show (with a live drummer), The Secret Handshake was a sufficient choice as the Dance, Rawr, Dance Tour's warm-up act, but not especially memorable, particularly when stacked up against the two bands that would follow.
Considering that Lancaster, PA and New York City are both close enough for us to easily make the trips, we decided to check out both performances in one weekend. It's interesting to notice the differences between two shows separated by only a day, but both were mostly the same in the sense that it was the same lineup and the audience was predominently maded up of passionate Family Force 5 fans. Because of NYC traffic, we'd missed most all of The Secret Handshake and about half of Jonezetta on Friday's show, but caught it all on Sunday. Both venues - NYC's The Knitting Factory and Lancaster's The Chameleon Club - are similar in that dark, gritty bar kind of atmosphere, but The Chameleon was clearly a larger venue - stuffing a sold out crowd of 700 into its tightly packed setup. The Secret Handshake's set opened rather promptly around the show's proposed start time, and Luis Dubuc emerged in a ballcap and hooded sweatshirt. Throughout his set, Dubuc alternated between sitting and playing keys and hopping around in front of the audience. The entire time, he used an arguably cheesy vocal effect that makes his voice sound digitized or electronic in a way - an effect that was overused in mainstream electronic pop years ago. Still, Dubuc and his drumming accompaniment put on a decent enough show, revving the audience up a bit for the night's second set...
When we walked into The Knitting Factory and Tooth & Nail dance/rock band Jonezetta was mid-set, the guys seemed even more energetic than I'd seen them earlier this year. And the audience was so much more engrossed in their set. Sadly, at The Chameleon, it seemed the band wasn't having quite the same connection. And after vocalist Robert Chisolm announced that their van had been robbed during their performance in New York City on Friday night, it seemed to explain why it appeared the wind had been knocked out of Chisolm's sails. The NYC show was so much more vibrant, and on Friday night, Jonezetta inserted a cover of The Beatles' "Oh! Darling" that they didn't use at The Chameleon. But it just goes to show how the audience can also help make or break a performance. At The Chameleon, Jonezetta opened with "Burn It Down!" from their debut, Popularity, following it with "Love That Carries Me," the title track from their record, then "Man In A 3K Suit," "Imagination," "Communicate," and "Backstabber." When they announced their final song, "Get Ready (Hot Machete)," the crowd finally seemed to come alive for the first time all night, and it helped take the band's set out with a bang.
A set change followed before the lights dimmed one last time. As an intro track began to play inside the club, FF5's stage manager and dancer extraordinaire Xanadu stood with his back to the audience with his hands on a black cloth covering a backdrop (which was split into two stacks on Sunday instead of the one on Friday). At a key moment in the music, Xanadu pulled the cloth down to reveal a stack of signs that repeated the name Family Force 5, receiving thunderous applause. The band then emerged, immediately launching into a newer cut - which they learned to perform live specifically for this tour - "Never Let Me Go." The many previous times I've seen FF5 live before, there would often be talking between songs, or just your usual silence between song transitions. On the Dance Rawr Dance Tour, however, the guys inserted snippets of popular mainstream dance, hip hop, and R&B songs in between their own songs to fill in the gaps. Frontman Solomon "Soul Glow Activatur" Olds briefly introduced the next track as being for the ladies, and broke into the funky dance anthem "Lose Urself." Each FF5 show varies in delivery, but most have a momentum that builds up and just keeps building as the night progresses. "Never Let Me Go" had a pretty calm vibe compared to most of their songs. "Lose Urself" just picked it up slightly, but isn't exactly one of Family Force 5's more raucous songs. But when they moved on into "Drama Queen" and "Replace Me," the momentum railed forward and their stage performance, along with their fans, just got increasingly crazier. Following "Replace Me," the guys threw their fists in the air and began chanting "Hey! Ho! Let's go!" cueing a possible cover song, but they burst into "I Love You To Death" instead, immediately following it - to much audience enthusiasm - with "Kountry Gentleman." At both venues, Friday and Sunday night, Soul Glow told the same effective little story (which, in case he uses it again, I won't spoil it here), that served as a perfect intro to "Put Ur Hands Up," eliciting some laughs in the process. A clip from Robert Palmer's "Addicted To Love" made a nice intro to "Love Addict," and Solomon suited up with his usual silver-painted Hulk gloves and Optimus Prime mask for "Numb." At the Lancaster show, he was clearly experiencing some technical difficulties with the microphone in one of the gloves, so he tossed them aside, held up his bare hands and said, "Sometimes you just gotta use what the Lord gave ya, y'know what I mean?" A chorus of C&C Music Factory's "I Got The Power" was used as an intro to "Earthquake," also faking out another possible cover tune before the FF5 original began. The song, always one of the most unbridled displays of energy you can see on a stage, often makes for the ideal set closer and the band used it to finish off their set and exit on the Dance Rawr Dance Tour as well.
The audience cheered for an encore - partially due to Xanadu's encouragement - and Family Force 5 re-emerged for two final songs. Solomon exclaimed to the crowd, "We love you guys! But Jesus loves you more!" and informed the fans that if they don't know Him, then they're missing out on the party. "Supersonic" was a nearly inevitable encore offering, with "Whatcha Gonna Do With It" being the grand finale. For the latter, all of the guys sang along to a backup track, with Crouton stepping out from behind the drums to dance around with the rest of the guys - and this made it possible for guitarist Chapstick, the only one who does not sing on the song, to pretend to play the drums on Crouton's set at one point. For each song, the band offers their own kind of energy and craziness, and it's especially fun to see the guys all together dancing for this one.
When Family Force 5 left the stage, a "Love Addict" remix played over the house speakers, which seemed like a great way to cap off the night of fun, danceable music. FF5 still hold a spot as one of the best live shows you'll ever see, and this tour was a good lineup of electronic pop, danceable rock, and crunk rock for the kids to dance to. Although the tour may be winding down (if not totally over by the time you read this), hopefully you can catch these guys in a city near you real soon.
--
John DiBiase
, 11/16/07
Dance Rawr Dance Tour Photo Gallery
click on an image for a bigger size
The Secret Handshake
Jonezetta
Family Force 5
*all photos by
John DiBiase
and are the property of
Jesusfreakhideout.com