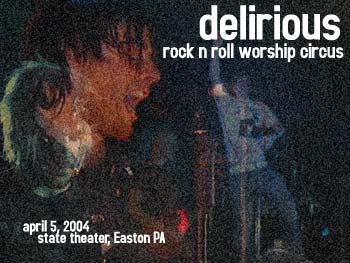 Delirious?, Rock N Roll Worship Circus
4/5/04, State Theater in Easton, PA.
Modern worship music was revolutionized as we know it by UK songwriting wizards Delirious? in the mid-90's. Their impact has rippled a chain of influences throughout a genre that continues to blossom without fail. A few years ago, this Brit quintet was followed up by the always impressive Rock N Roll Worship Circus. RRWC blends the sounds of classic rock made familiar by The Beatles, The Monkees, and even Pink Floyd, into what is possibly the most unique new way to worship our Savior. RRWC is all about unique heart-felt praise songs and coupled with amazing instrumentation, offer some of the strongest worship set lists around.
John: Right off the bat, I noticed a lineup change in the band. I later discovered through talking to lead singer Gabriel Wilson that his wife Blurr is taking time off for the band and is allowing Josiah Sherman to fill her spot. Also, their longtime drummer Zurn has decided to retire which shifts newer guitar player Eric (aka "E") to drums, allowing original guitarist Solo to return. The member setup was tight and they looked very comfortable on stage. They opened with an as-of-yet untitled new song which was followed-up by "Open The Gates" and the ever-chilling "The Undiscovered". A wonderful, dark and contemplative new song called "I Love The Rain" preceded the rocker "Loving You" and the crowd pleasers "Gift Of Cool" and "Blood Of Jesus". The Worship Circus boys did their best to get the crowd going, but sadly the audience was mainly shelling out the steep ticket prices merely for Delirious? It makes sense, however, considering that the sponsoring church's head pastor's daughter is married to Delirious? bassist Jon Thatcher. The band Delirious? boys are family! Since Kevin can give you a better take on his Delirious? experience, I give you his take on their set...
Kevin: This was my first time seeing Delirious? play and I wasn't sure quite what to expect, but I figured it'd be good. They had a good mix of new stuff and some older fan-favorite classics. Among them were "I Could Sing of Your Love Forever", "The Happy Song", "Did You Feel the Mountains Tremble", and "History Maker". They also played some stuff from the new album like "Every Little Thing", "God in Heaven", "Inside Outside", "Grace Like a River", "Rain Down" and "Majesty". Other noteworthy songs were also "Investigate" and "My Glorious" from Glo and "Deeper" from King of Fools.
During "Did You Feel the Mountains Tremble", the guys brought out their entire families and danced together. All five band members are related through marriage and they travel with their wives and 14 kids. They added a touch of new rock flair to some of their older songs, especially in "The Happy Song" where Stu substituted a guitar solo instead of harmonica. So if you don't like Delirious's older sound, you can still hear some of those songs live, but in a different light. One of the things I was real impressed with was Martin Smith's voice didn't seem to get tired during the course of the night. After playing fourteen songs, it didn't seem to falter. It was a little weird hearing all these songs I hear in church being done by their original author.
The only problem I had, which really wasn't a problem, was they have so much material that they couldn't have played all the songs you'd want them to. They didn't play "Fire", but did have the guitar solo of "Fire" worked into "Investigate". Also, some songs from Cutting Edge were forsaken. And they didn't play anything from Touch or Mezzamorphis. I'd say overall, for my first Delirious experience, it was a good one. I had been anticipating the show all day and was pleased to see them. It was a great worship experience to just let go and not worry about what people think. So if you haven't seen Delirious ever play go see them. It's like one big church service.
John: I was really impressed by Delirious' show, and especially enjoyed "Investigate", but I must admit I enjoyed the Worship Circus a lot better. While the Circus is more serious at times and even darker in tone, I found Delirious' show to be a little too showy for my tastes. I, personally, am more comfortable with intimate worship settings and I found myself having a hard time really getting into the groove of the band's electrifying performance.
Overall, you can't get a much better worship concert pairing than Delirious and the Rock N Roll Worship Circus. Both know how to work the crowd and lift hearts in their own unique ways. If this duo crosses your path sometime this year, you'd benefit from checking them out!
-written by
John
and
Kevin
Rock N Roll Worship Circus Set List

01. (untitled)
02. Open The Gates
03. The Undiscovered
04. I Love The Rain
05. Loving You
06. Gift Of Cool
07. Blood Of Jesus

Delirious? Set List

01. Grace Like Rain
02. Rain Down
03. Did You Feel The Mountains Tremble
04. My Glorious
05. I Could Sing Of Your Love Forever
06. Everything Is Gonna Be Okay
07. Inside Outside
08. Majesty (Here I Am)
09. Jesus, Friend Forever
10. Deeper
11. Happy Song
12. God In Heaven
13. History Maker
14. Investigate

Concert Photo Gallery
click on an image for a bigger size
Rock N Roll Worship Circus
Delirious?
*all photos by
John
and are the property of
Jesusfreakhideout.com