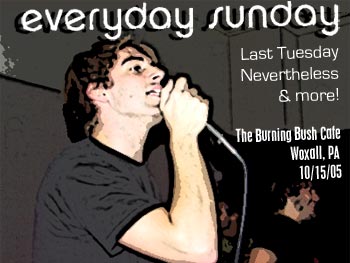 Everyday Sunday, Last Tuesday, Nevertheless, Dreaming Under Mercury, Farewell Flight, Rainy Day Theory
10/15/05, at Burning Bush Cafe, Woxall, PA
Small venues can serve as sort of double-edged swords. If it's a gymnasium, you're liable to suffer from poor acoustics. If it's one of those places, like the Tabor UMC's Burning Bush Cafe, it may just be the lack of stage, making the crowd completely level with the band (leaving those sitting in the audience or stuck in the back at a loss). But smaller venues also make for more intimate settings. You're more likely to get to talk to an artist you love in a smaller setup. This was the case for a recent show that brought together several local bands and the likes of Everyday Sunday, Last Tuesday, and newcomers Nevertheless.
The jam-packed night of rock n roll began with a reuniting of local artists Rainy Day Theory. Since one of the members is now the church's youth pastor and man's the soundboard for the shows, it'd been about four years since he and his band had played live before. Their sound, to be honest, was on the rustier side, but was still a noteworthy opening act. Farewell Flight, another local act, followed, and was probably put on the best set of the locals. Edgier Dreaming Under Mercury followed, turning in a noise fest that the crowd enjoyed slam-dancing and moshing to, but lacked substance to a degree.
Finally, the wider-known artists began, with Mono Vs Stereo pop-punk band Last Tuesday siezing the crowd's attention for their silly-laden, energetic show. Their stage presence was fun to watch even if their sound isn't necessarily one's cup of tea. Breaking often between songs for some banter with the crowd and venue crew was often humorous, but hindered the momentum of their set (especially as the longer the banter got).
New Provident Music Group artist Nevertheless followed, offering their brand of melodic indie rock. While their style may be more comparable to someone like Mourning September or Copeland, the vocals were strikingly similar to Relient K's Matthew Thiessen (which is even more noticeable on the band's debut indie EP). Joshua's vocal style changes slightly from song to song, but ultimately it's hard not to think of Thiessen when hearing him sing. The band put on an incredible set and, for such a group of young guys, they performed like pro's.
But my greatest anticipation of the night was still to come. I'd first seen Everyday Sunday at Festival Con Dios in 2002 and hadn't really gotten into their sound until after that show. This evening at the Burning Bush Cafe would be the first time seeing them since that FCD date. Sustaining a few member changes in the past year, the band's sound has grown quite a bit. And despite suddenly being abandoned by one of their newer guitarists earlier that week, the guys were able to make due remarkably well by enlisting the help of AJ from Nevertheless. Although AJ only had literally a few days to learn eight of Everyday Sunday's songs by ear to play live, you'd have never guessed. The five members played well with each other and vocalist Trey Pearson was a strong leader, doing well to move the crowd. The band even worked a brand new track into the mix, titled "Apathy For Apologies," giving the audience a taste of good things from the band ahead.
I enjoyed the Burning Bush Cafe. I was a little surprised, however, at the lack of control on the audience by the Cafe's staff. Several kids were thrashing and swinging their arms and legs around the crowd with wreckless abandon, narrowly missing kicking other audience members in the head (my wife included). I have nothing against kids getting a little rough or wild at shows, but when it seems as careless and as unbridled as it was in such a setting, it just didn't seem right. Hopefully the Cafe can help tone that down for future shows. It's amazing that people weren't really hurt as it is.
Overall, the evening was a great experience and it was nice to see a modest crowd really connect with the artists. The Burning Bush Cafe has something good going for it and I hope they continue to keep the bands rolling in. I look forward to seeing more shows there in the future!
--
John DiBiase
, 10/17/05
Concert Photo Gallery
click on an image for a bigger size
Nevertheless
Everyday Sunday
*all photos by
John DiBiase
or
Amy DiBiase
, and are the property of
Jesusfreakhideout.com