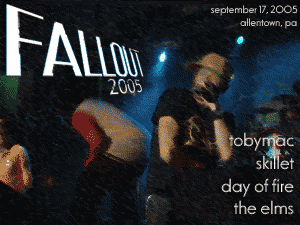 TobyMac, Skillet, Day Of Fire, The Elms
9/17/05, at Faith Evangelical Free Church in Allentown, PA
FallOut is an event that has been impacting the youth of the Lehigh Valley, PA area for several years now. One of the most convenient aspects of the festival is it's actually held at the church my wife and I attend (and got married at). But another consistency the festival has had since its beginning is its strong artist lineup. Over the years, they've hosted artists like The Supertones, Rebecca St. James, Five Iron Frenzy, Relient K, Audio Adrenaline, and now one-third of dc Talk in the form of TobyMac.
The year's I've attended, it's been easy to be rather casual about the event considering it's a See You At The Pole rally and I'm no longer in school. But I aimed to attend FallOut 2005 with the intentions of covering the fest a little more in-depth. And while I still failed to do so to a degree, I've asked JfH staff member and fellow PA-resident Justin Mabee to share his thoughts on the event. But first, I'll begin with my own experience with FallOut '05.
The gates opened at noon, inviting in numerous local youth groups and families. There's plenty to do for everyone at the fest. Immediately upon entering, there are an assortment of games from giant inflated playpens to full-on basketball tournaments. The church's "Family Life Center" was fully decked-out as a gym, split in half (divided by a net) to allow an area for people to sit. During the course of the day, dodgeball tournaments could be found being held there. The church's parking lot served as home to a gigantic tent that housed the main stage acts and speaker while a little cafe inside the church and another in a trailer allowed for local acts to do their thing while festival-goers relaxed to a nice cup of coffee or cold refreshment. Finally, another (rather stifling) trailer was devoted strictly to the bands' merchandise as well as tables for a few local businesses.
At about 12:45, which is shortly before the time we were able to get ourselves through the event's gates, Indiana's best classic rock band The Elms seized the main stage with significant force. Sadly, most of the audience was unaware of who The Elms were, despite the band having released two albums on Sparrow Records in 2001 and 2002 respectively. The band recently signed with Universal South and has finished tracking their next release (slated for January, 2006), so they treated the audience to several new songs. The band opened with "Nothing To Do With...," which of course Amy and I missed entirely as we made our way inside the gates. But the band continued on nonetheless, performing the popular "Speaking In Tongues" from their last record, Truth, Soul, Rock N Roll and another new song entitled "I Am The World." No matter how you slice it, The Elms are an exciting live act. Their sound live is stronger than probably any of their released recordings, and guitarist Thom Daugherty makes no hesitation in letting the guitar solos rip. The Elms have grown a lot musically over the years and it's just a delight to see the progression. They continued on with yet another new song, "Who Puts Rock N Roll In Your Blood?," their love song "Come To Me," and an excellent cover of The Who's "My Generation." They closed out their set with possibly their most recognizable song "Hey Hey." Sadly, the crowd wasn't very large for the band's set, and even more sadly, is it seems the majority of the festival's attendees used The Elms' time slot to play games and have fun around the fest before the other acts played.
Day Of Fire played next. Frontman Josh Brown has one of the most incredible testimonies. While I'm not all that familiar with much of their music, it's still fun to watch Josh's band perform. They mixed brand new songs into their set that consisted mostly of cuts from their Dove Award winning self-titled debut. This was my second time seeing DOF live. I'd first seen them last October on the Live Wire Tour with Third Day and TobyMac and the band is a lot tighter now. Their style of post-grunge rock fit in nicely with the lineup, especially with Skillet following...
Veteran rock act Skillet performed around 3:15, opening on a ferocious note with "Energy," and keeping it strong with "Obsession," and "Best Kept Secret." While lead vocalist/bassist John Cooper's wife Korey is normally present supporting the band on keys and occasional guitar, she wasn't present at the show (most likely due to recently giving birth to the couple's second child). Since the last time I saw them last year, the band has added another guitarist as well as a fill-in for Korey on keys. Their stage presence was as strong as ever, and the ferocity continued with "Collide," "Forsaken," "A Little More," "You're Powerful," "Alien Youth," "Open Wounds," and "Kill Me Heal Me." Preceding an inevitable encore to their extensive set, the band performed the hymn "Be Thou My Vision," before ripping into "Savior" and coming back to play their classic "I Can" from their 1996 debut.
During Skillet's set, a special basketball tournament was happening at the other side of the parking lot. Fest attendees were able to sign up to be apart of a tournament to play again none other than Toby McKeehan himself. Toby was accompanied by a few of his bandmates and played against some of the youth for quite awhile. Later on in the night, Toby was proud to announce his team had won... but can we really be all that surprised? Following Skillet's set, my colleague Kevin and I removed ourselves from the festivities to mingle a bit and grab some dinner. This also meant that we missed entirely the worship at main stage and speaker Josh McDowell. But thankfully Justin Mabee can give you a few words on his experiences...
"After Skillet finished their show, the worship team for FallOut came up on stage and started leading the crowd. What was interesting was that it seemed like these guys really were trying to imitate David Crowder Band, by even including a DJ in the worship group. Songs like "Every Move I Make" and "Undignified" (the singer identified the song being done by David Crowder Band) made up half of the worship, and the other half included some bluegrass/southern style worship. This even included a song from O Brother Where Art Thou?, entitled "Down By The River." It was a relatively short set, but well done. Josh McDowell shared his personal testimony, based on his relationship with his parents - his father primarily. He talked of himself as an eleven year old boy, and the fantasies he had of ways to kill his father because he hated him so much. But all the while, God was working on him. A few short video clips followed, talking of the salvation message, using scientific research to prove that it was true. Josh also showed a clip of The Passion Of The Christ, which brought tears to some eyes. Overall, though, The Elms put on a good, solid rock show. Personally, I don't know their music too much, but what I heard, I enjoyed. Day of Fire puts on a great show, and they really know how to rock. They even played a few new songs, which should appear on their next album. Skillet always steals the show, and FallOut was no different. They also did a longer set than usual, incorporating the worship that they are known for. TobyMac also performed an amazing show, and packed all the songs he could into his extended 100-minute set. It was a great mix of old and new favorites. And his band really knows how to rock too..."
Thanks Justin! By the time Kevin and I had returned to where the main stage tent stood, TobyMac and his entourage were beginning appropriately with "Get This Party Started." Toby and his team were given an extended hour and a half time slot (they're usually used to only about 45 minutes) but they kept everything moving quite quickly. I've been saying it a lot lately, and their set only reinforced this, but TobyMac has one of the best live shows you can see today. The energy is high, the music tight, and the talent great. Their set list continued on with "Where My Freaks At," "Somebody's Watching," "Diverse City," "Gone," "Hey Now," "J Train," "Irene," "Yours," and "The Slam." The set slowed down briefly for a few songs, and allowed Toby to encourage the crowd to share the love of Christ before "Love Is In The House." The worship ballad "My Will," a song dc Talk had recorded for the 1998 worship compilation Exodus followed, along with Charlie Peacock's "In The Light," a song made popular by dc Talk's rendition. But the pace picked right back up for their signature "Old School" mainstream mix of songs, including classics like "Moving On Up," "Rollercoaster," "That's The Way," and "We Are Family." It was at that point, the group left the stage, leaving the crowd hungry for more, which was remedied by the performance of the delectable "Catchafire (Whoopsi Daisy)." Fake flames illuminated the stage in an orange glow as the band performed. And to go out with a bang, they ended their set with "Extreme Days" and a performance of dc Talk's "Jesus Freak."
This year was probably one of the best FallOut experiences I've had, personally (we're not going to mention two years ago...). The lineup was one of the strongest and the festival just seemed more organized than in the past. It'd be great to see this event continue for years to come and continue to grow. I can definitely say I'm looking forward to next year...
--
John DiBiase
, 9/23/05 (with added paragraph by
Justin Mabee
)
FallOut 2005 Photo Gallery
click on an image for a bigger size
The Elms: Main Stage
Day Of Fire: Main Stage
Skillet: Main Stage
TobyMac: Main Stage
*all photos by
John DiBiase
or
Amy DiBiase
, and are the property of
Jesusfreakhideout.com