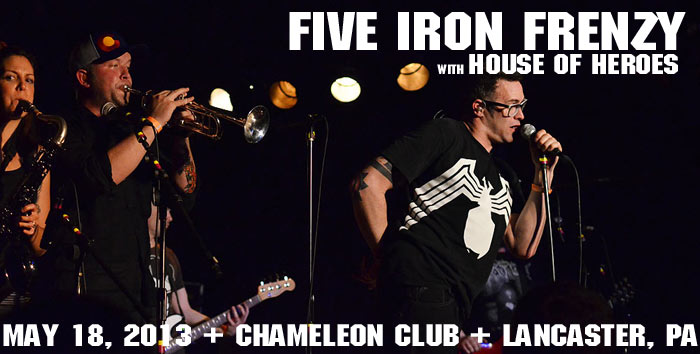 Five Iron Frenzy, House of Heroes
5/18/13, at Chameleon Club in Lancaster, PA
In 2003, ska band Five Iron Frenzy called it quits, playing their final show in Denver, Colorado. But due to popular demand, murmurs of a reunion sparked interest in the band saddling up again for a new album. They launched a Kickstarter campaign in November, 2011 with a goal of $30,000 to get a new album made. In one hour, that goal was met; in two, it was doubled. By the time the campaign was over, the band had raised over $200,000. And with that, Five Iron Frenzy was kickstarted back to life.
Since then, FIF has been hard at work on the new studio album, and touring a bit here and there. But this spring has been the first time that Five Iron has launched an official tour of sorts since reuniting. And along for the ride is Ohio natives House of Heroes as opening support. Even more exciting for fans of both bands is that the tour ONLY features these two bands, so fans can expect heaps of live music from both acts.
I missed my final chance to see Five Iron live in 2003. It was Fallout festival in Trexlertown, PA, and I actually had gotten into a car accident earlier that day following a performance by Skillet and before Five Iron's slot right before [the original] Audio Adrenaline. It was stupid, but I missed their set. However, I can honestly say that my appreciation for Five Iron Frenzy has since grown and been renewed since that fateful September evening. This 'second chance' to see them was one I wasn't about to pass up.
On a rainy May day, we gathered outside the Chameleon Club in great anticipation for the match-up of HOH and FIF. The venues doors were scheduled to open at 7, so the venue let in the VIP ticket holders around 6:30pm. However, those still having to wait out front were stuck in line till around 8:20, about 5 minutes after when the music was supposed to originally start. But this particular date of the tour was a sellout crowd, and it was apparent that the Chameleon Club was having a hard time managing the numbers that showed up. So it was closer to 8:45pm that House of Heroes finally took the stage, and they performed a generous eleven-song set, offering selections from all four of their Gotee Records studio albums. Frontman Tim Skipper is being backed on tour this round with HOH's original on-the-road-again/off-the-road-again drummer Colin Rigsby, longtime (now) guitarist Eric Newcomer, and former Wavorly bassist Matt Lott. This line-up has been touring since late last year, but this was my first time getting to see them in action. I've seen Lott on stage with Wavorly a few times, so it was a trip for sure to see him playing with the HOH boys. Still, he fit in quite well and added to the on-stage energy of the group. House of Heroes opened with "God Save The Foolish Kings" from their junior album, Suburba, and then offered up the first song of the night from their latest album Cold Hard Want, "Touch This Light," before continuing on with "In The Valley of the Dying Sun." The fact that they began with some of their most recognizable songs--and all singles from their past three albums--had me a bit concerned that their set would be a short one, but after Skipper greeted the audience briefly, they brought out the catchy "If," took a head count of who had previously seen them at the Pennsylvania festival Purple Door (R.I.P.), and then resurrected the fan favorite from their self-titled debut (and its re-release Say No More), "Friday Night." It was great to hear some old material from the band since most shows I've seen from them in recent years were short opening sets or 40-minute festival spots. "Elevator," from Suburba, was a nice surprise next, and then they broke into the opener from Cold Hard Want--and a personal favorite--"Out My Way." "Remember The Empire" was next, followed by another classic from their debut, "Serial Sleepers," and then "Code Name: Raven" from The End Is Not The End, complete with a brief interlude of the James Bond theme. Finally, a little after 9:30, the band played their final song of the night, the quirky "Comfort Trap," from Cold Hard Want.
After the foursome left the stage, there was a quick set change and then the main event was about to begin. The Lancaster audience was one of the most rabid and passionate group of fans I've ever seen for a band. While some of them could probably have dialed down their enthusiasm a bit (for example, by not throwing yourself violently through the audience, Mr. Blue-Five-Iron-Ringer-Tee-Shirt-Guy... you know who you are), the energy from the crowd was infectious. Being among the audience myself all night, it was amazing just to hear the anticipation verbalized in ways you seldom hear at shows (at least, not from a band whose fans aren't teenie boppers). It was like what I can imagine a Star Wars fan convention would be like moments before the premiere of the next new feature film. And when Five Iron Frenzy finally graced the stage with their presence, it wasn't a moment too soon for their fans. As I'm sure they all wondered, too-- what song will FIF break the ten year silence with? Excitement mounted as they suddenly opened with the silly but impossibly fun "Blue Comb 78." It served as the perfect opener, spurring on the audience to shout the lyrics back at the band. They moved right into "Handbook for the Sellout" next, followed by "Pre-Ex-Girlfriend" from their album Electric Boogaloo. Afterwards, the band took a moment to greet the audience and thank them for Kickstarting the band. Vocalist Reese Roper then announced the next song as one no one had heard before, but it was the first new song they debuted when they first reunited, "It Was A Dark and Stormy Night." "At Least I'm Not Like All Those Other Old Guys" was a fun, and rather appropriate, set addition, followed by a fan favorite in "One Girl Army." The show came to a brief halt between songs as security was called to a section of the audience where apparently a drunk guy had been causing grief for nearby fans. Roper then addressed the issue and encouraged the patron to behave himself. Reese then talked about another new song and debuted "Xenophobia." "The Phantom Mullet," a song about--you guessed it--the hideous hair style, was next, and then they moved seamlessly right into "American Kryptonite." Then, apparently due to Reese's hyper hijinks, the sound kicked out (possibly from a cable getting knocked loose?), so there was a brief scrambling to get things in working order again (Poor Leanor even shared that she thought she might have chipped a tooth by accidentally bumping her mouth with the microphone). To fill in the time, Leanor offered up the frenetic fan treat "When I Go Out." Reese then took a humorous spontaneous medical Q and A, since he's a nurse, and when everything was back om track, they collectively performed "Milestone." The nerdy anthem "You Can't Handle This," and then did a unique cover of Huey Lewis and The News' "The Power of Love" (from Back to the Future) followed. They did a nice job on the cover, and it was pretty fitting given the average age of their audience. "0 Meets 15" followed, then the ridiculous "You Probably Shouldn't Move Here," and the final new song of the night, "So Far." "Canada" was a great successor to the new track, and then the band thanked everyone once again before playing "Farsighted" and closing with what is possibly their most popular and celebrated song of their career, "Every New Day." What's interesting about the newer songs is that they're drastically different in tone and even sound than the classics that were played during the show. Most of the songs picked were silly and without much depth (but they sure made for a fun set list!), while the newer songs have a much more structured and serious presentation. I'm sure there will be a couple zingers on the new record, but it's interesting to notice the contrast in tone. Their performance, overall, however, was incredible. It was well worth the long wait and I don't think I've ever enjoyed their live show more than this particular performance. I can honestly say I can't wait to see them live again; they haven't lost their touch a bit! Reese has proven to be one of the best frontmans in music, and time surely hasn't slown him down. If you can catch either of these bands live sometime, don't miss it!
--
John DiBiase
, 5/20/13
House of Heroes Set List

01. God Save The Foolish Kings
02. Touch Light
03. In the Valley of the Dying Sun
04. If
05. Friday Night
06. Elevator
07. Out My Way
08. Remember The Empire
09. Serial Sleepers
10. Code Name: Raven
11. Comfort Trap
Five Iron Frenzy Set List

01. Blue Comb 78
02. Handbook For The Sellout
03. Pre-Ex-Girlfriend
04. It Was A Dark and Stormy Night
05. At Least I'm Not Like All Those Other Old Guys
06. One Girl Army
07. Xenophobia (new)
08. The Phantom Mullet
09. American Kryptonite
10. When I Go Out
11. Milestone
12. You Can't Handle This
13. The Power of Love
14. 0 Meets 15
15. You Probably Shouldn't Move Here
16. So Far (new)
17. Canada
18. Farsighted
19. Every New Day
House of Heroes / Five Iron Frenzy Tour
click on an image for a bigger size
**vertical images cropped for thumbnails**
House of Heroes
Five Iron Frenzy
*all photos by John DiBiase and are the property of Jesusfreakhideout.com