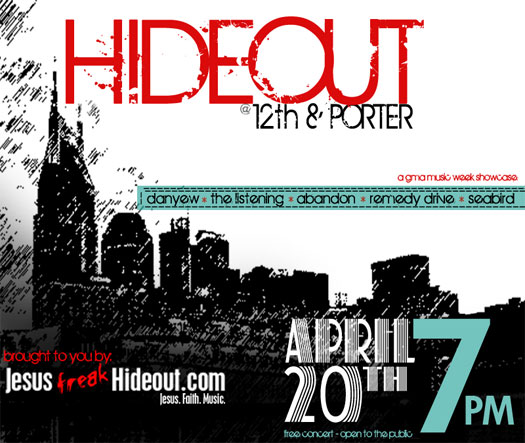 Hideout At 12th & Porter
Seabird, Remedy Drive, Abandon, The Listening, Danyew
4/20/09, at 12th & Porter in Nashville, TN
I'm not gonna lie, it's kind of strange to write a review on a show that I myself played a large role in. Of course, I didn't "perform" in this event, but it's the first time I've ever had to step into the shoes as "emcee" for a show. Hideout At 12th & Porter was Jesusfreakhideout.com's second (potentially annual) unofficial GMA showcase ("unofficial" because you have to pay GMA for them to get behind it and call it a "GMA Music Week Showcase"... which we didn't do), and incidentally some of the most fun I've had at a live show in awhile.
I'm no emcee. I'm not a speaker. I'm not a performer. I do my best while seated at a desk, most likely. But when JFH itself is sponsoring their own event during GMA Music Week in Nashville, TN, I suppose it only makes sense for me to give something like that a shot. Last year's "Hideout At..." event took place at The Rutledge, which is also a nice hot spot in Nashville. It was our first time putting on any kind of event, so this year was a little easier to know what to expect. With a venue change, we held this year's shindig at 12th & Porter, a seemingly more suitable location in the city of Nashville for the kind of show we're hosting, and it proved to be a great venue for us.
I wasn't my first choice for emcee, to be honest. But after the show's hour-or-so delay in starting (thanks to the lighting guy being late!), the night kicked off with new Sparrow Records artist Danyew. Phil Danyew performed keys and guitar on stage with drummer Ryan Hawk, formerly of the late Jackson Waters, accompanying him. It was actually the day before his debut EP release, which seemed perfect timing for performing in Nashville during GMA week. Danyew opened with the upbeat "Streetlight" before performing the more melodic, piano-based "Close Your Eyes," and then closed, surprisingly, with "Wake Up," which isn't one of the selections on his debut. Still, Danyew served as a great warmup act, and a set change followed immediately after.
Time didn't permit soundchecks before the show began, so several of the artists tested things out between sets (which also prolonged the set changes and made the night end later), but before too long, I found myself back up front introducing our second act, The Listening, which was an incredible honor for me. I've followed them since Gabriel Wilson was singing for The Rock N Roll Worship Circus, so to be able to not only have them perform a JFH event but to personally be able to introduce them was, well, pretty incredible. Bathed in low light, the foursome opened with "Sweating Blood and a Game of Spin The Bottle in a Jerusalem Garden (The End)," a new track from their Fall, 2008 EP, Transmission 1. Although Gabe is the only remaining original member of The Listening, the new incarnation hasn't lost the feel of the original lineup. The Listening was a great transition from Danyew with their melodic, pensive indie rock, and they picked the tempo and mood up for their second song, "14 Nights and 23 Days (When)." To my surprise, the band then launched not into other tracks from their new EP and not even from the first Listening release (unless you count the bonus disc), but dipped further back into the past to the first Worship Circus album to play the worshipful combo of "Open The Gates" and "The Undiscovered." It was an incredible moment and the most worshipful one of the night.
New Forefront Records rock act Abandon followed, who also were awaiting their debut CD release on Tuesday, as well as a brand new digital EP to accompany it. This was actually my first time seeing Abandon live (which was the same with Danyew, actually), and I was really impressed with their stage presence. While, musically, their recorded tracks bear sort of a common feel that is found in the current rock scene, the guys offered an engaging live performance, serving up five of the tracks from their first six-song EP. Abandon opened with "Providence," with "Be Alive In Me" close behind. Vocalist Josh Engler has a great stage presence which helps set the band apart from any similar acts. In fact, each member plays a significant role, which is evidenced later on in the set. After "Here Waiting," Abandon played the slower "Atmosphere," giving it a memorable and energetic finale. As the song drew to a close, bassist Bryan Fowler replaced Dave Vela on drums, who then took a standing snare drum to the front of the stage and played it while Fowler played the full set. It not only was unexpected, but it displayed just how talented these guys are. After "Atmosphere," the band then finished out their set with "Hold On."
Remedy Drive soundchecked a pretty sweet jam together before I had to return to my announcing duties. The all-brother band from Lincoln, Nebraska played our showcase last year before their debut had even released, so it was great to have them back once again. They're known for an incredible live performance and this evening was no different. The Zach brothers are unashamedly a jam band, so oftentimes between songs, they'd extend the intros and outros more than what can be heard on their album -- and it was always fantastic. Remedy Drive is all about stage presence, which is what makes their live show so engaging. They'll even sacrifice pristine sound and their own well-being just to give a rousing performance. By the end of their set, vocalist David Zach had even cut the palm of his hand up pretty badly -- all for a good show! Remedy Drive opened with the anthemic "Stand Up," complete with David standing atop his piano while playing guitar before jumping down to sing. "Something Made To Last" followed, along with "Heartbeat" and the band's radio single, the piano rock ballad "All Along." To lead into "Daylight," the band offered another extended jam before letting loose for their set's finale. As the song ended, David let the adrenaline take him all over the stage -- from throwing himself into his piano and banging his head repeatedly on it, to jumping into the drums and into his brother Paul on guitar. It was a jaw-dropping way to end their set and one that even intimidated the final act of the night.
While Seabird is also a piano-rock band, you won't see Aaron Morgan standing on his piano or throwing his body into it. The indie rock act is a more subdued way to end an evening, but are in no way boring. Seabird's live show won me over last summer at Vertical Fest, so I was pretty jazzed to be seeing them live again. To my surprise, the guys opened with the title track from their debut, 'Til We See The Shore, a beautiful piano ballad that ends with an epic finish. From there, they performed the album's opening track "Black and Blue," and then addressed the crowd, with Morgan admitting he can't believe the energy Remedy Drive displays while, at the same time, he loses his breath after a couple of songs. "Apparitions" and the catchy "Rescue" were next, with the darker but soaring "Let Me Go On" (complete with the chilling finish) following. Sadly, all good things must come to an end, and the night ended along with Seabird's set with "Cotton Mouth (Jargon)," which served as a fine finale.
While GMA Music Week was unmistakably scaling back this year from previous years due to cutbacks and the ailing economy (not to mention an overall hurting business), it was nice to be able to not only host but to attend a showcase that consistently displayed professionalism and promising new talent in the Christian music industry. I definitely recommend catching each of these artists live and looking into their recorded material, and hopefully we'll see you at our next "Hideout At..." GMA Week event!
--
John DiBiase
, 4/29/09
Check out highlight footage from "Hideout At 12th & Porter!"
Hideout At 12th & Porter 2009 Photo Gallery
click on an image for a bigger size
**vertical images cropped for thumbnails**
Danyew
The Listening
Abandon
John DiBiase - emcee (photo by Corrine Johnson)
Remedy Drive
Seabird
*all photos by
John DiBiase
and are the property of
Jesusfreakhideout.com