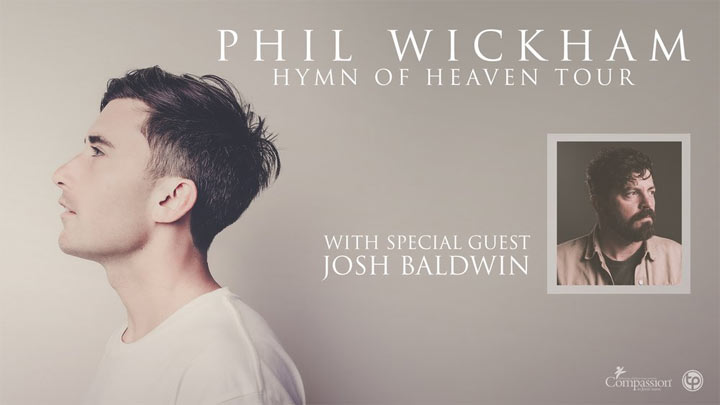 Hymn of Heaven Tour
Phil Wickham, Josh Baldwin, Mack Brock
2/18/22, at NorthRidge Church in Detroit (Plymouth), MI
On February 18, I had the opportunity to attend Phil Wickham's Hymn of Heaven tour, featuring Josh Baldwin. Each leg of the tour also includes a special guest they announce shortly before, with this show having worship leader Mack Brock. I expected Josh and Mack to have their own opening set, but I was happily surprised as the lights came up and saw them both on stage with Phil. Their voices together was nothing short of magical.
Phil Wickham is truly someone who is hard not to love. His voice is near flawless and he always has a huge friendly smile on his face that really brings a very calming and welcoming presence. Walking in, I didn't know a ton about the other two artists, but they both really wow'd me with both talent and creating such an uplifting worship atmosphere alongside Phil. Phil, Josh, and Mack opened with a well-known Phil Wickham song, "Great Things" and the room just felt like it lit up with excitement and worship. It was followed by "This is Amazing Grace" and "Stand in Your Love," which is probably Josh Baldwin's most well-known song, and it was so good. I really liked how the three artists took turns leading songs and all got to sing on each other's songs, too. It was just a really cool experience rather than the normal opening-band-then-main-artist set you typically see.
At this point, I started to realize this show was really something I needed. It's the middle of winter with most days being gray, and it's easy to start feeling a little down in this season. I also deal with a good amount of anxiety, especially when shooting shows, even though I really do love it. About halfway through the set, Josh went into "Great Are You Lord" and I was just really reminded that God is always working, and it gave me such an overwhelming feeling of peace and that I was right where I needed to be. It was nice to be able to forget about the stresses of everyday and just be able to focus on God, and worship alongside fellow Christ followers.
As the show progressed, Phil took a moment to talk about Compassion International and the importance of sponsoring children, and even talked about his personal experience with sponsoring a child. After this, he went into a stripped-back version of "Here I Am to Worship" which for me took me back to being a kid and remembering that was probably one of my first favorite worship songs. After this, the band went into a few Phil songs, like "Hymn of Heaven" and "It's Always Been You," followed by Mack singing probably his most well-known song, "Do it Again," and then "Evidence" by Josh Baldwin. As the show started wrapping up, the energy still stayed high both with all the talent on stage, and also with everyone in the audience still singing their hearts out. The last song was "Living Hope," but Phil started singing "Hymn of Heaven" again and then realized it was the wrong song. I loved that part because it just shows the people on stage are human too and make mistakes just like the rest of us! I like Phil a lot because he is someone who can just laugh off a mistake.
All in all, I really loved this show and seeing Phil Wickham perform is always a great experience. And with the addition of Mack Brock and Josh Baldwin, it was nothing short of amazing. I also loved the uniqueness of the show and that all artists performed together rather than doing their own sets. It was just a really cool take on what a worship concert can look like. I would highly recommend catching a show on this tour!
--
Megan Gorey
, 2/28/22
Hymn of Heaven Tour Gallery
click on an image for a bigger size
**vertical images cropped for thumbnails**
Mack Brock
Josh Baldwin
Phil Wickham
*all photos by Megan Gorey and are the property of the photographer and Jesusfreakhideout.com