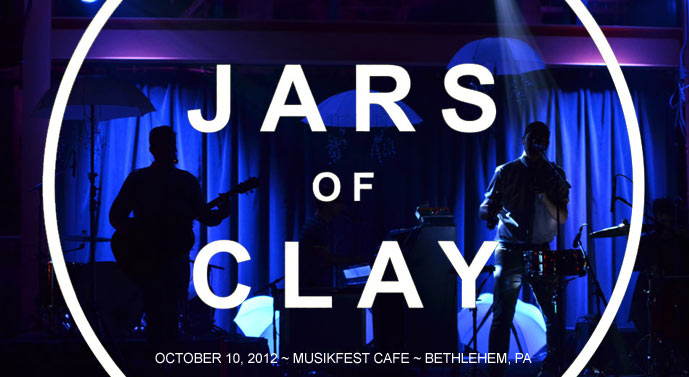 Jars of Clay, Sleeping At Last, Mariah McManus
10/10/12, at Musikfest Cafe in Bethlehem, PA
Not only is autumn my favorite season of the year, but it's also rife with fall tours, making the devout concert-goer a potentially busy (and very happy) person. One band to faithfully make fall tour stops in our neck of the woods is indie pop act Jars of Clay. Since hitting it big in the mid-90s with their debut album, Jars has been focusing on making intelligent pop rock music while pursuing social justices through their ministry Blood:Water Mission. For this short fall 2012 run, Jars of Clay recruited the talents of two other indie acts, the renowned Sleeping At Last and singer/songwriter Mariah McManus.
The Musikfest Cafe in the southside of Bethlehem, PA is still a fairly new venue, only having been around for about a year now. This is the third show I've seen at the Cafe and, each time, the setup inside has been different. Last summer, I saw Needtobreathe as my inaugural experience there and the inside was standing room only with a few tables and chairs on a balcony overlooking the stage area. In February of this year, I saw Leigh Nash perform a solo set there and the entire floor was covered with tables and chairs for a much more relaxed and formal setting. Last night, the setup was different yet again; the middle floor area directly in front of the stage was clear except for the soundboard in the back. Everywhere else, along the sides, were filled with tables and chairs. It makes for a relaxing dining/entertainment experience (Whoever has a table ticket is expected to spend a minimum of $10 for food or drink, which seems a little pushy after paying thirty dollars for a ticket. But it does work out if you go there with the intentions of eating dinner at the show), but it also made people rather timid toward the idea of standing up in front of the band and everyone else.
Singer/songwriter Mariah McManus opened the night around 7:30pm with just herself and an acoustic guitarist to accompany her. Her voice sounded remarkably like Lanae Hale at times, who is known for her unique vocal style. In all honesty, her voice and stage presence were charming, but it's undoubtedly an acquired taste. Still, this tour is a perfect fit for her and she was in good company with Jars and Sleeping At Last. McManus only played about three songs, including "Now That You're Gone," and soon exited the stage for the next act, indie rock group Sleeping At Last. This is a group I've heard a lot about over the years, and while faith plays a part in their music and personal lives, they haven't been a band who has sought after direct involvement with the Christian music realm. However, on an acoustic tour with the likes of Jars of Clay, they indeed are a right match. Ryan O'Neal and his band of talented musicians included a drummer, two violinists, and guitar/piano. Also, Matt Nelson, who's been touring with Jars of Clay on cello, was providing some additional string accompaniment. I didn't catch the name of the song they opened with, but "January White," complete with O'Neal strumming an electric ukulele, was next. "Emphasis," also from their latest Yearbook album followed (a mega, 36-song project), and O'Neal took a seat behind the keyboard for that one. He remained there as they then performed "Turning Page," a song that appeared on the Twilight: Breaking Dawn, Part 1 soundtrack last year, before picking up an acoustic and inviting Mariah back out on stage to sing a duet with him. The rest of the band sat back and let the two of them take center stage on the song (Possibly titled "Everything or Nothing"). O'Neal then expressed genuine surprise and appreciation to the audience for being so polite and pondered that this has possibly been the most polite group of audiences they've experienced each night of this tour in their career. They performed "Needle and Thread" and then O'Neal introduced his stage mates while tuning for "Next To Me," a song for which McManus came back out to sing background vocals on. Ryan then took a seat at the keyboard again, and Nelson provided cello, as O'Neal introduced a brand new song called "We're Still Here," which they had begun playing on this tour. Finally, while introducing the last song, O'Neal decided to proclaim that this is his favorite tour of his career to date and thanked the audience one more time. "Umbrellas" served as a rousing and poignant finish as Ryan sang lyrics like "you were meant for amazing things" to a lush musical backdrop. It was a strong finish to an intriguing musical presentation.
A set change and brief break ensued before the lights dimmed again for the final performance of the night. The stage setup was similar to Jars of Clay's acoustic tour last year in which several umbrellas were displayed open around the stage. This time, however, floral branches of some kind were hung from inside the umbrella blossoms, which added to the visual nicely, especially when the lights whirled around the stage. To the glee of Jars fans present, the guys opened with a couple oldies, starting with "Fade To Grey" (from their indie album Frail and their sophomore album Much Afraid) and moving into "Liquid" from their famed debut album. Being that the latter was primarily performed acoustic during the band's infancy, it was especially powerful to hear it again in this format. They soon moved into "Work," from Good Monsters, which feels remarkably different in its acoustic dressing. Since their show is without a drummer on this tour, vocalist Dan Haseltine provided an occasional bass beat with a beat box he stomped on and then would use drumstick brushes on a snare and cymbal set up in front of him. It's something Haseltine has been doing for a little while now while during their acoustic sets and it works wonderfully. Haseltine then took a breather to greet his Bethlehem listeners and joked about the Bethlehem Steel backdrop being a famous movie set (The beginning of Transformers: Revenge Of The Fallen was filmed there, but he joked about other films being filmed there instead, like Steel Magnolias). He then briefly talked about their upcoming 2013 new studio album and introduced "Age of Immature Mistakes," an upbeat pop song from the album. It's a new track they've been playing this year at most of their shows, and to compensate for the acoustic presentation of the tour, pianist Charlie Lowell used a Macbook to play the electronic drum and synth track for the song. It's a fun song and a nice addition to their set list. The love song "Closer" was next and then some audience members worked up the nerve to finally move to the standing area in front of the stage. Haseltine expressed appreciation for this move immediately and then joked about how it was great that they came up front just as they were about to "slow it way, way down." With that, Haseltine related a story about their song "Scarlet" and how a fan had asked them to play it at a show about a year and a half ago and told them how much it really meant to her and helped her. Since then, the band has worked it back into their set list. After playing that song, Dan and guitarist Steve Mason talked some about their 2010 album The Shelter and played the lone offering of the night from that album, "Eyes Wide Open," a song they said was about really listening to someone when they talk to you. The fan favorite "Like A Child" was next, which Dan prefaced as having been written at a time when they were in college and "knew everything." The room instinctively sang along to every word and Haseltine encouraged this when it came to the chorus. Then, for something completely different, they played a cover song they admitted to always wanting to play before but never have, and performed a rousing cover of Genesis' "Land of Confusion." It was a solid cover of a very recognizable song, and it went over really well with the audience.
Afterwards, there was a mood shift. Jars of Clay have an uncanny ability to be pretty candid and upbeat before getting extremely serious. "Oh My God," one of the standout tracks from Good Monsters, has always been a powerful live moment from day one. Here, however, was one of the first (if not the first) times I've seen them perform it with Haseltine simultaneously providing percussion accompaniment. Typically, Haseltine would hang his arms at his side and tighten his eyes closed as he sings the emotional, melancholic song. This time, Dan has something to do by providing drums, and as the song builds and escalates, it becomes spine-tingling when the song draws to its rousing finish. Without pausing, they transitioned "Oh My God" into the beautiful "Frail," and it merely continued the impactful feel. But with hearts quieted, and most likely more receptive now, Haseltine took the time next to talk about their Blood:Water Mission endeavors, providing clean water in Africa to those in need, and encouraged people to donate even just one dollar. "Weapons" followed, serving as almost the start of an entirely new set. The opening sounds of "Flood" won significant cheers from the audience and Haseltine provided the drum beat once again here. When it came time for the memorable cello solo in the song, Nelson performed it flawlessly. The talented cellist exited the stage afterwards, however, and the band closed their set with "Dead Man." Once the song was finished, the quartet waved goodbye as the audience kept on cheering. They stood there (a little awkwardly) for a moment and then joked that this would be their encore and that the crowd can just imagine the band walking off and coming back on stage. The started out with "All My Tears," with just the four guys on stage, and the song really played exceptionally well acoustically. Matt Nelson then returned to provide cello as the band surprisingly wrapped up their performance with "Love Song For A Savior." The guys then hung around a bit in the lobby, meeting and greeting fans before everyone disbanded to call it a night.
The band's fall tour may be a short one, but it's certainly sweet, and any fan--old or new--who has followed Jars of Clay at any point in their career would do well to see these guys. The band just keeps getting better with time and I'm quite eager for what the future has in store for them. This is another fall tour you won't want to miss!
--
John DiBiase
, 10/11/12
Jars of Clay Set List

01. Fade To Grey
02. Liquid
03. Work
04. Age of Immature Mistakes (new song)
05. Closer
06. Scarlet
07. Eyes Wide Open
08. Like A Child
09. Land of Confusion (cover song)
10. Oh My God
11. Frail
12. Weapons
13. Flood
14. Dead Man
Encore:
15. All My Tears
16. Love Song for a Savior
Jars of Clay Fall Tour 2012
click on an image for a bigger size
**vertical images cropped for thumbnails**
Mariah McManus
Sleeping At Last
Jars of Clay
*all photos by John DiBiase and are the property of Jesusfreakhideout.com