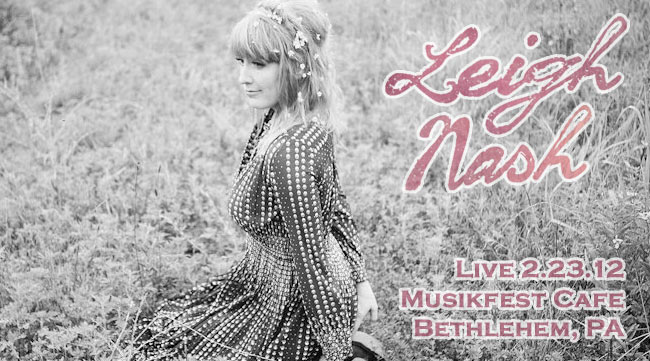 Leigh Nash
2/23/12, at Musikfest Cafe at ArtsQuest Center in Bethlehem, PA
Playing the waiting game is never easy, but Leigh Nash and her bandmates in Sixpence None The Richer have been doing just that for the past two years as they await the release of their first non-seasonal new studio album in ten years, Lost In Transition. After debuting her first solo hymns album last year with Kingsway Music, Nash has been performing solo shows with husband Stephen Wilson by her side on acoustic. One brisk Thursday evening in February, the new Musikfest Cafe at ArtsQuest Center in Bethlehem, PA hosted the couple for a relaxing night of lovely pop music.
When we had attended a NEEDTOBREATHE show last August at Musikfest Cafe, the venue was still in its infancy. It was standing room only (except for some balcony tables and seats), which seemed fitting for such a show as NEEDTOBREATHE. We were quite surprised to walk into the Cafe this time around to find the floor covered with tables and chairs, all accented by faux candles and table numbers in the center. Ticket holders were given assigned tables where they were let into the Cafe about an hour and a half before showtime and could order food and drinks from a limited dinner menu. Given Nash's musically simplified acoustic show, it was the perfect setting.
At 7:30 sharp, Nash stepped up on stage with Stephen and greeted the Bethlehem audience. And like in much of her recorded music, Nash tends to wear her heart on her sleeve when it comes to her on-stage presence. Nash candidly warned the audience that they were in for an awkward evening because of some of the things she might say, but it's this kind of candidness that is the singer's charm. And when she would inevitably say something she personally feels was unnecessary or potentially inappropriate, Wilson was always there to bail her out with a joke or some exchange of banter. It only added to the evening, even though Leigh would apologize from time to time for "talking too much" (to which the audience would reassure her that she was not). She opened with the title cut from her 2005 solo album, Blue On Blue, simply titled "Blue," and then initiated some of the above-mentioned banter between her and her husband. Sixpence's version of The La's "There She Goes" was met with much enthusiasm and applause when it came next. Leigh then moved into another cut from Blue On Blue, "Between The Lines," before talking briefly about the loss of her father a few years ago. This served as a segue into a new Sixpence song from their forthcoming album (but it also appeared on their My Dear Machine EP a few years ago), "Sooner Than Later," revealing that it was a song Stephen had actually started writing shortly after meeting her father. Afterwards, Leigh talked about the original break-up of Sixpence and the label woes the band has experienced throughout their career. She explained that it was label issues with EMI that has been holding up their newest album, but that it should finally be releasing this May. She then debuted a brand new song, titled "When You Call Me." It was exciting to get to hear some new Sixpence music, even if it wasn't with the full band.
She then chatted with the audience a bit more before breaking into two Sixpence None The Richer classics, both from their album Divine Discontent. "Breathe Your Name" was a wonderful set addition, while quite possibly my favorite Sixpence song to date followed, the melancholy "A Million Parachutes." I missed the emotional piano strokes the studio version bears, but Leigh compensated for their absence by adding in a little extra vocal parts here and there. She had preceded the song by sharing a bit about its origin and Sixpence partner Matt Slocum's original inspirations for the song. She then followed the track with some talk of her current solo album, Hymns and Sacred Songs, and performed her beautiful rendition of "Oh Heart Bereaved and Lonely." Before offering up a unique cover song selection, Leigh graciously gave a shout-out to JFH and then broke into a personal take on Radiohead's "No Surprises." As Stephen tuned between songs, Leigh decided to share a story about some travel unpleasantries she experienced while driving the night before. It garnered some laughs and effectively gave Stephen the extra time he needed before the duo performed "Ocean Size Love" from Blue On Blue. Afterwards, Nash shared about how the next song was inspired by the first evening she had to leave her son years ago--just overnight--and how it sparked the emotional "Just A Little." To close, she performed the Sixpence megahit "Kiss Me," which was again met with enthusiastic applause, and Leigh and Stephen walked off the stage.
The audience applauded for a short while until Leigh and Stephen returned for a two-song encore. Leigh warmly expressed her gratitude for the reception and reflected on her wonderful road experiences on this short run of dates with the fans she's been encountering. Stephen asked if there were any Gram Parsons fans in the house and the two launched into a cover of the artist's "In My Hour of Darkness." When the song finished, Stephen grabbed his guitar and walked off stage (but not before receiving a little kiss from Leigh) and left Nash standing alone to sing a song completely solo. Wilson gave Leigh a strum of his acoustic off-stage to get her started, and she proceeded to perform what she called her and her dad's favorite Leonard Cohen song, "Famous Blue Raincoat." After such an intimate evening, it was a really personal way to bow out by just leaving her audience with her vocals delivering a song that is so close to her heart. When she finished, she said goodbye, and the two of them stuck around for a while to spend time with the fans for a little meet-and-greet.
Leigh Nash has been making music--solo and as a part of Sixpence None the Richer--for almost twenty years. No matter what successes and hardships may befall this incredible artist, Leigh always brings a warmth and sincerity with her work that isn't a common thing to find in the music world. She loves what she does, loves her family, and loves her fans and it shows! If you get a chance to experience Leigh in concert, whether with her band or without, it's something you'd do well not to miss.
--
John DiBiase
, 2/24/12
Leigh Nash Set List

01. Blue
02. There She Goes
03. Between The Lines
04. Sooner Than Later
05. When You Call Me
06. Breathe Your Name
07. A Million Parachutes
08. Oh Heart Bereaved and Lonely
09. No Surprises
10. Ocean Size Love
11. Just A Little
12. Kiss Me
Encore:
13. In My Hour of Darkness
14. Famous Blue Raincoat
Leigh Nash
click on an image for a bigger size
**vertical images cropped for thumbnails**
Leigh Nash: (Images Approved by Artist Management)
*all photos by John DiBiase and are the property of Jesusfreakhideout.com