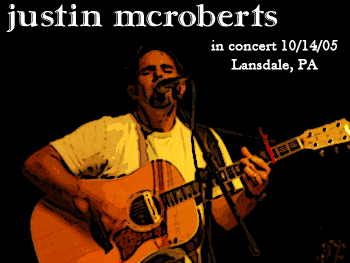 Justin McRoberts
10/14/05, at Christopher Dock High School, Lansdale, PA
Every once in a great while a singer/songwriter is born with perfect pitch and amazing talent. But enough about me, let's talk about Justin McRoberts (Note: Kevin can't sing. - John). Just like the US Postal Service, John and I trekked out through a fifth straight day of rain to Lansdale, PA to catch a glimpse of Justin's Fall Tour. After coming out with his seventh album Grace Must Wound... the day before, we were looking forward to hearing some new tunes as well as some old favorites. If you've seen Justin live, you know he doesn't disappoint.
Justin's shows have always been personal, honest, funny and all-around just really good. He's one of the few artists who can pull off an acoustic show with just himself and his Taylor, and still have a strong voice after an hour and a half of singing and talking. Infusing stories of his past and his friends make his shows unique. Justin immediately sets the atmosphere for the night by walking on stage and taking off his shoes and socks and putting his tea on a chair. He opens with "Keep on Driving," immediately setting the tone for the night with a slow song. "Change," a new song off his most personal album to date, Grace Must Wound..., was played next followed by one of his humorous stories about his teen and college years. "Holy Ground," a song inspired by his musical profession and taking life seriously, was then followed by "I Will Come," off of his amazing Untitled EP worship album. "You And I" was next, a love song from Grace Must Wound..., and also the first song directly written for and titled by his wife, Amy. "Whole Way Home" preceded "Picking Sides," a song inspired by a recent trip to a military base in Germany that revealed a personal side of Justin that many musicians chose not to reveal on stage. "One," a cover of U2 that Justin covered on his Intersections album, followed that.
The thing that makes Justin's concerts so great is his honesty. Having seen him live numerous times, and hearing him elaborate on his past and how God has worked in his life, is a treat rarely seen or heard. McRoberts included the new song, "Picture of You," which he had written about his father who committed suicide when Justin was in his early 20's. It is perhaps one of the saddest songs I've ever heard and opened a gateway into Justin's heart. However, "Be Not Far Off" was next, another new song, offering some hope on Justin's past and to anyone in a dire situation, praying to God for strength and help. "Haunted" followed with "Learning to Need You" serving as a very appropriate worshipful end for the night.
Writing a concert review is easy because you explain the events of the evening to a reader. Making it sound eloquent is the only catch. However some things just can't be explained, they have to be experienced. A Justin McRoberts show is one of those things. Justin is gifted with an amazing voice and has decided to share that with the rest of us. Now you can do your part to give back by going out and supporting him.
--
Kevin Chamberlin
, 10/24/05
The Justin McRoberts Photo Gallery
click on an image for a bigger size
Justin McRoberts
*all photos by
John DiBiase
and are the property of
Jesusfreakhideout.com