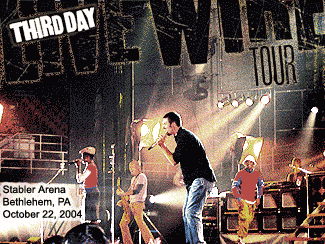 Third Day, TobyMac, Day Of Fire
10/22/04, Stabler Arena, Bethlehem, PA
The Live Wire Tour, featuring headliners Third Day, is a unique matchup of diverse musical styles and cultures combined into one evening's event. Third Day has toured with many artists over the past eight plus years including All Star United, Seven Day Jesus, Newsboys, Jennifer Knapp, and many others. The Live Wire Tour pits the Atlanta boys with possibly their most unique tour partner yet, the soulful hip-hop artist TobyMac.
It's always a treat for shows to hit Stabler Arena in Bethlehem, PA, because - quite frankly - it's only fifteen minutes from JfH HQ. Usually we have at least an hour or two of travelling time (not including "getting lost" time) when making these gig trips, so Stabler shows are a breath of very nice, much needed fresh air. The show was a Friday evening - also a plus - and got rolling shortly after 7:30 when newcomer rock band Day Of Fire opened. Before the band even assumed the stage, a video was projected on a large screen displaying background information on the band's lead singer Joshua Brown, who came to know the Lord following a heroin addiction that landed him in rehab. Once the video ended, the stage lit up to reveal the band poised to begin. They opened with "Through The Fire," offering their brand of 90's-influenced grunge style rock. Brown, easily one of the nicest and most outgoing guys we've met in a long time, had once been the frontman for secular act Full Devil Jacket. It was awesome to watch a life so changed by our Savior's grace and love singing His praises with a mouth that once denied him. Brown is a living billboard for Christ's redemption and the audience seemed to gravitate towards that. The band possessed a sort of retro rock persona, however, that was custom for the bands of the genre about a decade ago but has changed since. Regardless, Day Of Fire was a fine evening opener, aiding in the feeling of diversity that the tour was aiming for.
And who better to drive home that theme that Mr. Diversity himself, TobyMac. Hot on the heels of his brand new release Welcome To Diverse City, Toby McKeehan offered a solid set mixing old favorites and new ones, beginning with "Irene," "J-Train," and the always crowd-pleasing "Where My Freaks At." Clad in a black and white trucker hat and a beige and pink sweater, Toby was celebrating a milestone birthday that day, and even paused to lament consuming too much birthday cake. He began sharing about a song from his debut solo project Momentum, explaining how he had written it as a worship song but didn't know how to get away with recording one. From there his band launched into a much slower version of "Yours" and allowed it to gradually build as the song progressed. A raucous new cut entitled "The Slam," interestingly inspired by The Passion Of The Christ, followed. Keeping it fun and funky, Toby and his impressive live band pressed on with "Love Is In The House," "Better Is One Day," "In The Light," and "Diverse City." Toby knows how to keep his shows fresh and interesting. With incredible talent surrounding him on stage, so much energy is displayed. A jaw dropping highlight came when one of Toby's guys did a back flip off DJMaj's eight foot tall riser. After his signature 'old school medley' of funk classics like "Freak Out" and "Rollercoaster," Toby and company ended their set with the high energy rocker "Extreme Days."
A set change led to an extended intermission which began with Toby sharing a word on Bono's DATA project before Third Day's Tai Anderson emerged to confirm Toby's testimony. "Actually, we have an intermission so you'll forget everything you just saw," Tai joked in regards to TobyMac's performance. "We don't have any back flips or anything like that!"
As the lights went back down for Third Day's set, the stage lights kicked on, flooding the stage with an excess of bright lights, mimicking that of a grand cityscape. Here's Kevin Chamberlin with his take on the headlining performance from Third Day...
It had been two years since I had seen Third Day. Of course they have always been one of my favorite live shows. With brilliant songwriting and mixing an excellent brand of worship and rock, they invited the audience to their show for a one night experience with God. I've also always thought that, as a band, it's important to make the crowd feel welcome. They instantly had a connection with the crowd with the opener "Rock Star." And hey, let's admit it - we all want to be rock stars. "Sing A Song" continued that connection as everyone sang in unison, "I wanna sing a song for you, Lord." "Til the Day I Die," was next, prompting lead vocalist Mac Powell to grab a fan's sign and hold it up, reading "We will love Third Day Til the Day We Die."
"Come Together" and "Creed" played perfectly together and it felt as if Third Day was having a personal conversation with the crowd about their beliefs in Christ. The worship songs "You Are So Good to Me" off of Offerings and "I Believe" off of Wire came next. "It's A Shame" was probably one of the most emotional songs that I've ever seen live. With a video displayed on screen behind the band telling the story of an abusive and unfaithful husband and father, Third Day, having established a rapport with the audience, reached out and encouraged couples with bad relationships and kids with bad family situations. One thing I've always felt about Third Day was the way they seem so warm and down to earth. This was the perfect opportunity to offer those needing a little hope some encouragement and they took that opportunity and went full force. Mac's smile was so inviting to people to worship God regardless of their circumstances with "God of Wonders" and "Show Me Your Glory."
They got old school next, and for all the Gomers, played "Love Song" and the newer track "You Are Mine," which I love because of Mac expanding his vocal range and seeing just how talented he is. "Consuming Fire," another oldie, really got the people jumping and Third Day closed out the set with "I've Got A Feeling." Toby came out with Josh from Day of Fire, and Third Day broke into "Birthday," by the Beatles, for Toby's birthday. After the encore, they came back out and played Wire and left people in a state of intimate worship with "Your Love Oh Lord."
This was probably one of the best concerts I've ever been to and have appreciated Third Day's down to earth ministry. To see them mature in their songwriting and make worship fun has been a blessing not only to me, but to others as well. - Kevin
Well said, Kev. I had a similar experience and it was easily the most memorable of the many times I've seen Third Day live. The healthy mix of worship and signature Third Day songs made it especially memorable. If you have a chance to see the Live Wire Tour this Fall before it ends in December, don't hesitate - you'll be missing out for sure.
--
John DiBiase
and
Kevin Chamberlin
, 10/23/04
Day Of Fire Set List
01. Through The Fire
02. Reap And Sow
03. Cornerstone
04. To Fly


TobyMac Set List
01. Irene
02. J-Train
03. Where My Freaks At?
04. Yours
05. Gone
06. The Slam
07. Love Is In The House
08. Better Is One Day
09. In The Light
10. Diverse City
11. Old School Medley
12. Extreme Days


Third Day Set List
01. Rockstar
02. Sing A Song
03. Til The Day I Die
04. Come Together
05. Creed
06. You Are So Good To Me
07. I Believe
08. It's A Shame
09. God Of Wonders
10. Show Me Your Glory
11. Love Song
12. You Are Mine
13. Consuming Fire
14. I've Got A Feeling / Happy Birthday
Encore:
15. Wire
16. Your Love Oh Lord

Live Wire Tour 2004 Photo Gallery
click on an image for a bigger size
Day Of Fire
TobyMac
Third Day
*all photos by
John DiBiase
or
Kevin Chamberlin
, and are the property of the photographer and
Jesusfreakhideout.com