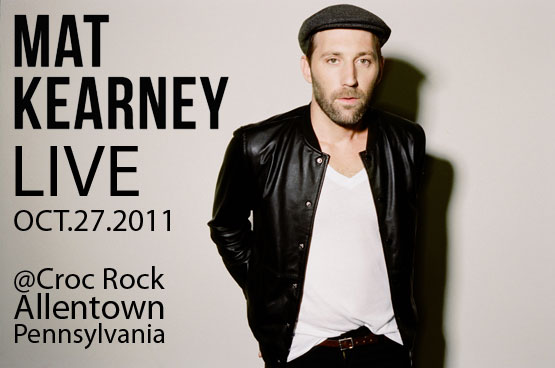 Mat Kearney, Leagues
10/27/11, at Croc Rock in Allentown, PA
On Thursday, October 27, we traveled to Croc Rock, a local club in Allentown, PA that has become a welcome venue for us due to its 10-minute travel time from home. On this cold, wet and windy Thursday night we went to see Leagues, a newer band from Nashville and Mat Kearney. Part of the draw was to see Tyler Burkum (formerly of Audio Adrenaline, and currently Mat's lead guitarist) and Thad Cockrell, the two frontmen for Leagues; and to see Mat, who I hadn't seen since a MuteMath show in NYC at the Knitting Factory when Mat first came on the scene. We were surprised by the low turnout, especially for Mat Kearney who has been on tour with Keane, Sheryl Crow and Train and who has a current radio hit in "Hey Mama." Croc Rock has an interesting setup and I've seen several bands there, like Project 86, Mae and Copeland, and it's not a large venue. There are two entrances, a 21-and-over-door and a 21-and-under-door. The 21-and-over area is next to a bar, slightly elevated to the right of the stage and there is another bar in the rear that is cordoned off from the 21-and-under audience. But on this night, most of the audience was in the 21-and-under area with about 20 people at the bar area.
Leagues opened the night with their post-modern rock with 80's pop-infused synths. They're closest to Foster the People, yet edgier musically. Thad's voice adds to their sound which complement each other really well. Their current EP can be found on iTunes, which features three songs that they played this evening - "Mind Games," "Magic" and "Haunted," along with several other songs that'll be released in the spring on their full length LP. The audience at first seemed uninterested in this new band, but their unique sound and excellent musicianship soon won them over. It was a treat to see Tyler have a chance to rock out and show us what he's capable of, which he never had an opportunity with AudioA's more pop-rock sound.
After Leagues ended, there was a ridiculously long set change until Kearney, which was unusual considering Tyler and Jeremy Lutito (the drummer for Leagues) also play for Mat Kearney. When Mat finally came on, he opened with "Fire and Rain," from City of Black and White, and went into "Young Dumb and in Love," "You Can Count on Me" and "Down," all from his new record, Young Love. Mat then slowed it down a bit and walked back to his piano and played "Breathe in, Breathe Out" from Nothing Left to Lose. "Closer to Love" came next and Mat opened up to the small crowd, calling out the "work release section" in the over-21 area. With such a small crowd, it was easy for Mat to interact on a personal level with his listeners. Next he played "Chicago" from the Chicago EP, which was a special treat. He then took requests and we heard shoutouts like "Hey Mama" and "Ships in the Night," along with "Lifeline," which he seemed surprised to hear. Mat went with "Learning to Love Again," which seemed planned from the beginning anyway. The vocals didn't disappoint and it seemed apparent that autotune isn't something that Mat needs or uses. "Here We Go" and "Runaway Car" came next and Mat jumped down from the stage and ran into the audience, lapping around the barrier and giving high-five's to the "work release prisoners" (as he dubbed them).
"She Got the Honey," a favorite from Young Love, was next and Mat slowed things down again by sitting at his piano with "All I Need," and shared a story about his friends who lost their house in Hurricane Katrina. "Undeniable" immediately followed and Mat freestyled the bridge with lines about being in Allentown and the work release program. He then invited Leagues on stage to play a new song which ended up being Foster the People's smash hit single, "Pumped Up Kicks." Everyone left the stage and after a small ovation, Kearney and his band came back on and encored with "Ships in the Night" and closed the night with "Hey Mama."
All in all, it was a really good show and we were pleased with ourselves that we went. Due to the size of the crowd, Mat could interact a lot more with the crowd, which might not have been possible in this venue with a packed house. Plus, in our older age, we watched the last two thirds of the show from the rear of the 21-and-under section and just enjoy the show. Musically, Mat is so much more intriguing to see with a band. There's no loss of lyrical talent with a full entourage of musicians and the full effect of the music adds to the vocal delivery. It would have been nice to hear some golden oldies like "Bullet" or "Girl America," and we were a little surprised that the middle of Mat's set was devoid of new music. "Chasing the Light" was mysteriously absent, as it's a vocal highlight of Young Love.
If this tour comes to your neck of the city, don't miss out. Mat is a delight and Leagues is phenomenal, so catch them while they're a young band.
--
Kevin Chamberlin
, 11/13/11
Mat Kearney Fall Tour
click on an image for a bigger size
**vertical images cropped for thumbnails**
Leagues:
Mat Kearney:
*all photos by John DiBiase and are the property of Jesusfreakhideout.com